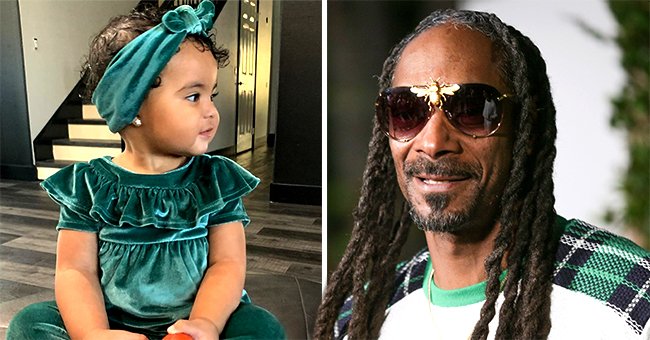 Instagram/bosslady_ent GettyImages
Snoop Dogg's Granddaughter Cordoba Looks beyond Adorable While Posing in a Velvet Green Outfit

Shante Broadus shares new pictures of her adorable granddaughter Cordoba dressed in a velvet green outfit on Instagram for fans to enjoy.
Shante Broadus and Snoop Dogg have always been proud grandparents, and Shante recently shared another update with her fans on Instagram. In the pictures, her darling granddaughter Cordoba smiled as she wore an all-green velvet outfit which consisted of a jumpsuit and a matching headband.
The little girl played with a couple of fruits as she smiled for some pictures, and it's an absolutely adorable sight to see. The proud grandmother has been sharing pictures of her grandkids on Instagram amid quarantine, spending time with them as much as she can.
Shante Taylor and Snoop Dogg attend the World Premiere of "Bad Boys for Life" at TCL Chinese Theatre on January 14, 2020 in Hollywood, California. I Image: Getty Images.
THEY ARE PROUD GRANDPARENTS
Cordoba is her grandchild from her second son Cordell. She is also a grandmother to Zion and Elleven, her eldest child Corde's children. Only their youngest daughter, Cori Broadus, does not have children of her own.
Although it hasn't been an easy ride for Snoop Dogg through the years, he's always remained a family man.
THEIR FAMILY'S ANGEL
Just last year, the Broadus family suffered a terrible and painful loss when Corde's third child, Kai Love, passed away just 10 days after the family welcomed him to the world. Although it devastated the family, they accepted the reality knowing that Kai was now in peace.
"My son did all he needed to do in his 10 days here on Earth. He has now graduated and continuing to do work. He died in my arms and that feeling of energy will never leave me."
HOLLYWOOD'S POWER FAMILY
Although it hasn't been an easy ride for Snoop Dogg through the years, he's always remained a family man. Even throughout his supposed divorce from his wife Shante, he decided not to push through with it and instead try and change his ways so that his family stayed together.
Now that they have grandchildren, it brought Snoop and Shante even closer to their children, and the happy family is often seen spending time together be it at home or in different events. Through the years, their relationships only improved for the better and they remain one of Hollywood's power families.
Please fill in your e-mail so we can share with you our top stories!