Getty images
Kevin Kimmel Is All Grown-Up and Looks a Lot like His Dad — Meet Jimmy Kimmel's Oldest Son
Kevin looks more like his father every day, and the two share an interest in humor and the entertainment business, even if the star's son has kept a much lower profile than that of the "Jimmy Kimmel Live" host.
Comedian and TV host Jimmy Kimmel has been a household name in the US for nearly 20 years, and at the beginning of his successful career as a broadcaster, he had trouble balancing his personal and professional life.
While still in his twenties, Jimmy fell in love with his college sweetheart, and the two married and started a family, but after more than ten years and two children together, they ended up going separate ways.
Today, Jimmy's older children are adults following their own dreams, and while the TV show host has re-married and fathered two other children, he is still close to his older ones, and they are all part of a big, blended family.
JIMMY'S FIRST MARRIAGE
Jimmy met Gina Maddy (later Gina Kimmel) when the two of them were students at Arizona State University, where he was taking his first steps as a professional broadcaster.
According to Jimmy's high school friend Jim Gentleman, the future TV host was very shy as a teenager, and he felt so comfortable around Gina that he made the big move and went on to marry her at the young age of 20, surprising everyone.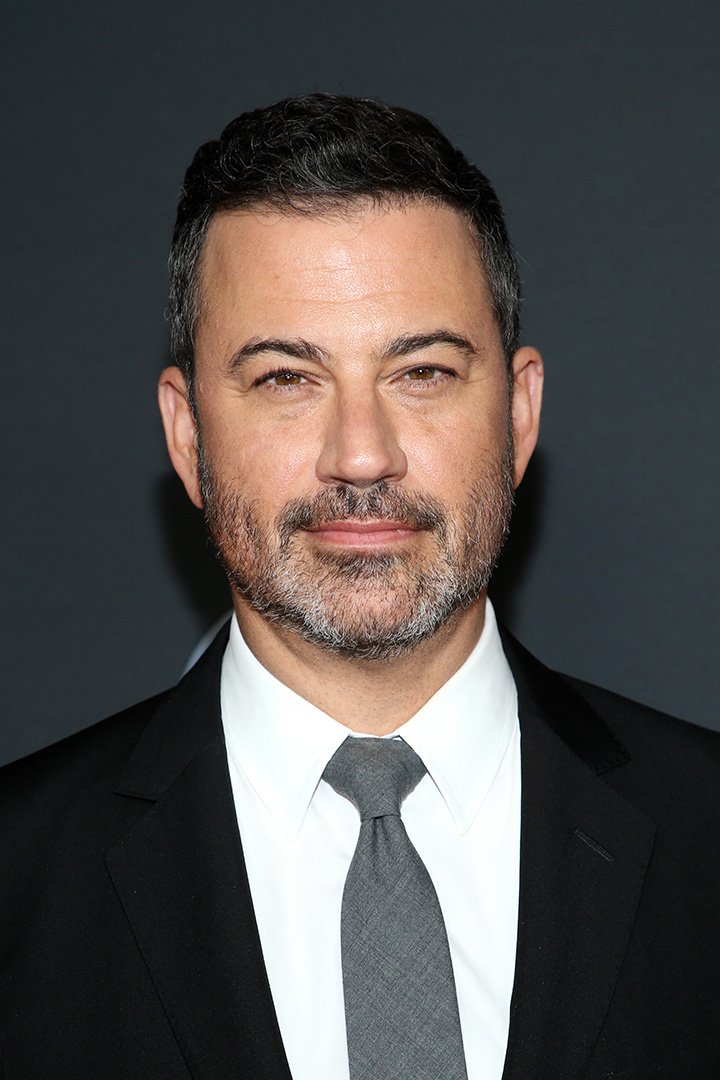 Jimmy Kimmel attends an evening with Jimmy Kimmel at Hollywood Roosevelt Hotel on August 07, 2019 in Hollywood, California. I Image: Getty Images.
"I was a kid. We were both very young. My mom was 19 when she got married, so it didn't seem unusual to me. It seemed unusual to all my friends, but not to me," Jimmy recalled in 2012.
In 1991, four years into their marriage, Jimmy and Gina welcomed daughter Katie, followed by son Kevin, born in 1993. By that time, Jimmy had dropped out of university and worked full-time as a broadcaster.
By 1994, the family had moved to California. Jimmy was so busy struggling with two jobs (he was slowly making his way into TV) and money was so scarce that it started to take a toll on the marriage.
It was "The Man Show," created by Jimmy and aired on Comedy Central, that turned Jimmy into a famous TV host in 1999, putting him on the map and leading to him landing his own late-night show "Jimmy Kimmel Live" in 2003.
Unfortunately, in parallel to his professional success came the collapse of his marriage to Gina, with the two divorcing in July 2003. Although the breakup wasn't friendly, they shared custody of their two children.
SON KEVIN KIMMEL
Jimmy's older son Kevin Kimmel is now 26 years old and has grown to resemble his famous father quite a lot, even though Kevin leads a much quieter and private life. "A simple man on a simple journey" is how Kevin described himself in his Twitter biography.
Even if Kevin eventually became interested in the TV industry, his roles would be mostly behind the scenes, where he has fulfilled various tasks of the trade.
Starting in 2001, Kevin worked in the sound department for the series "Survivor," and other sound credits of his include an episode of "Big Brother", and, more recently, 18 episodes of "Tosh.0" (2009-2013).
Kevin has also appeared in front of the camera as himself several times, starting in 1999 by joining his father on "The Man Show," on which he was featured for more than 20 episodes.
Lately, Kevin has been showcasing his writing, acting, and comedic talents in the web series "Beef in Brentwood," which, according to the show's Instagram biography, is currently developing its fourth season.
Kevin lives and works in the city of Los Angeles, and he is still very close to his parents and his older sister Katie.
DAUGHTER KATIE KIMMEL
Jimmy's older daughter Katie is now 29 years old, and she grew up to be a fine artist that works with ceramics, sculpture, painting, drawing, and even clothing. Part of her production is aimed at children and pets, according to her website.
Katie graduated with a Bachelor in Fine Arts at The School of the Art Institute of Chicago in 2015 and has her studio in the Mojave Desert, in California.
Like her brother Kevin, Katie has made appearances on their father's shows "The Man Show" (2001-2003), and "Crank Yankers" (2000-2004), but she has been away from the media ever since.
Katie has her own line of clothing on the market, and it made headlines in 2017 when her father took to his social media to publicly accuse the clothing brand "Reformation" of plagiarizing some of Katie's "food shirts."
Following Jimmy's tweet, the women's clothing brand responded with a statement shared by People, stating: "We have a deep respect for artistic integrity and would never replicate or appropriate the work of a young artist, or any artist."
Proving that she also inherited her father's sense of humor, Katie took to Instagram in reaction to the statement, photoshopping her face (pictured as she was eating a burrito) over one of Reformation's shirts.
"[I am] currently at the mall stress eating a burrito with cheese, queso dip, and a big scoop sour cream & then I'm gonna come fart in your store," she captioned the image, mentioning the brand.
SECOND WIFE MOLLY MCNEARNEY
After he found fame and saw the end of his first marriage, Jimmy tried to make some changes in his life. He made an attempt to enjoy his time at home more since he knew by that time that he was a workaholic.
Not only did he invest part of his newfound fortune in a home he could really enjoy more than his job, but he was also romantically involved with fellow comedian Sarah Silverman for seven years, collaborating with her on some projects.
Ironically enough, Jimmy found his current wife Molly McNearney right at work, since she was the co-head writer of "Jimmy Kimmel Live" before the two got engaged in 2012.
"One of the nice things is we have the same schedule and the same concerns. That might not always be the case, but she works pretty hard too. So we're very compatible," Jimmy said about his then-fiancée.
Jimmy and Molly tied the knot in a star-studded ceremony that took place at the Ojai Valley Spa and Inn in July 2013. Celebrities like Jennifer Aniston, Justin Theroux, Ben Affleck, Jennifer Garner, and Matt Damon were among the guests.
YOUNGER CHILDREN
By marrying Jimmy, Molly became his children Katie and Kevin's stepmother, and a year later the newlyweds welcomed their first child, daughter Jane, born in July 2014.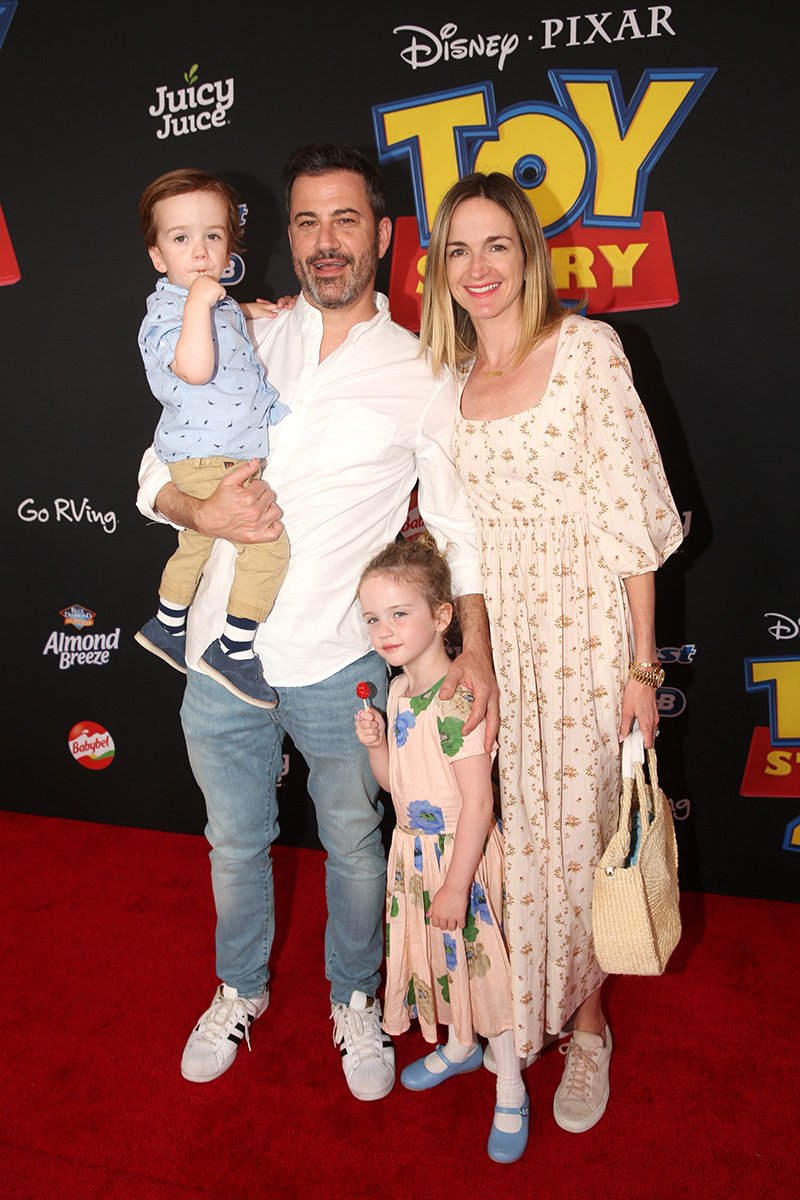 William Kimmel, Jimmy Kimmel, Jane Kimmel, and Molly McNearney arrive to the Los Angeles premiere of Disney and Pixar's "Toy Story 4" held on June 11, 2019 in Los Angeles, California. I Image: Getty Images.
A son, named Billy, followed in April 2017. Billy was born with a congenital heart condition and had to undergo several surgeries while still a newborn, something that inspired Jimmy to advocate for children to have better access to healthcare.
"I couldn't ask for a better partner. I'm so happy we had this baby together. I'm definitely getting a vasectomy after this," Jimmy said in one of his show's monologues, cracking jokes while he held in his tears.
Please fill in your e-mail so we can share with you our top stories!