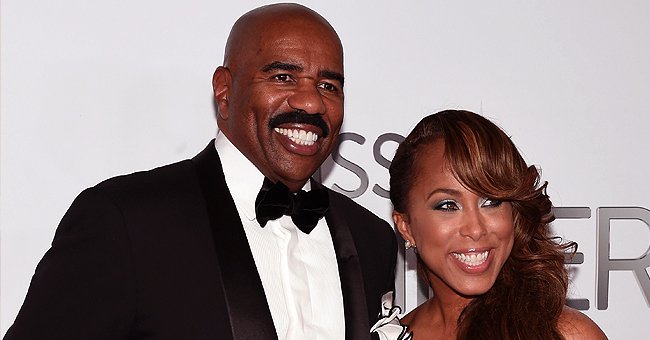 Getty Images
Marjorie and Steve Harvey's Doberman Pinscher Bear Is Super Adorable
Steve Harvey's wife doted on the family pet as she shared a video of their Doberman Pinscher. Fans gushed over how adorable the dog looked.
With the large brood from their blended family all grown up and living on their own, Steve Harvey and his wife, Marjorie, have been empty nesters for years.
However, Steve joked that having grandchildren has only made his family come around more and added additional members at a stage in his life that he was hoping would less chaotic.
Quarantine has given Steve and Marjorie, the kind of isolation he joked about wanting. However, they have one family member still rooming with them.
The couple has a black and brown Doberman Pinscher named Bear, who has been keeping them on their toes. In a hilarious caption of the dog deep in thought, Marjorie wrote: "even Bear needs answers."
Fans have been drawn to Bear's stoic facial expression that many people thought was hilarious in the video. One person admitted, "Bear is such a beautiful dog!! He looks so pitiful!"
Other fans expressed their appreciation for the dog and said he looked adorable. Another fan tried to guess what he could have been thinking as he sat with his head resting on the table.

A fan commented on a video of Marjorie Harvey's dog, Bear, resting his head on a table | Source: Instagram/com/marjorie_harvey
In 2012, Steve and Marjorie had a pet Yorkshire Terrier named Chocolate. According to
PEOPLE
, during a psychic pet reading with Sonya Fitzpatrick, the dog revealed its desire for the family to change the hardwood floors to carpet. In his reply, Steve
joked:
"Tell Chocolate that master said that if he can produce the income to change the floors, I would be more than happy."
Marjorie might need another session with Sonya after she posted a recent video of herself expressing her frustration with Bear after a difficult weekend with the dog.
In a video of Steve and Bear, the talked show host was recorded saying to the dog, "better you than me…glad it ain't me, she's something else when she gets mad. Glad it ain't me, though."
Bear is going to have plenty of room to get up to more mischief with Steve's latest purchase. According to TMZ, he bought a $15 million mansion.
Tyler Perry previously owned the Buckhead mansion in Atlanta. A source revealed that Tyler and his family shared many great memories in the home, and he is happy his friends are going to make it their own.
Please fill in your e-mail so we can share with you our top stories!