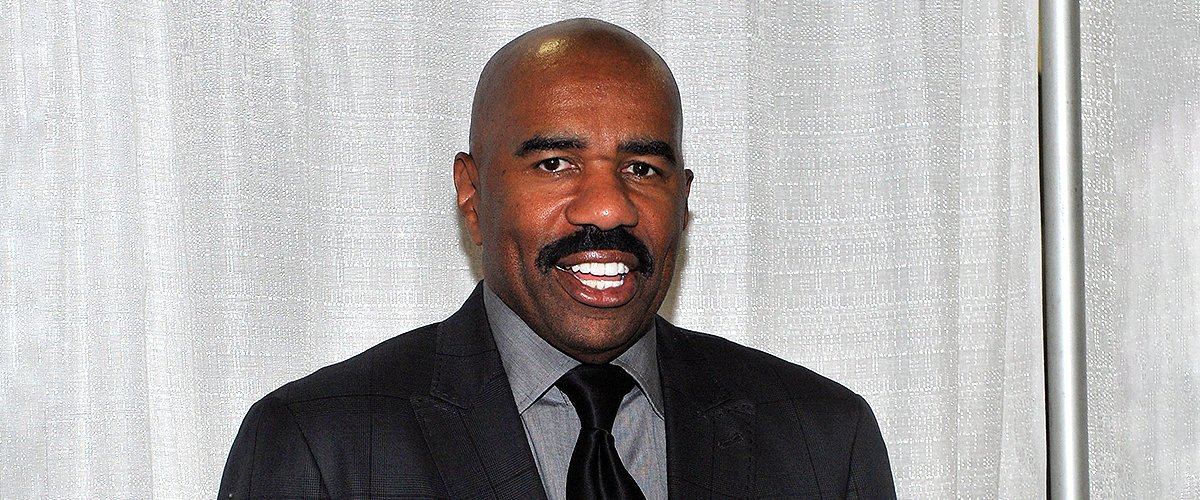 Getty images
Steve Harvey Is a Doting Grandfather — inside His Role in Raising His Sweet Grandkids

Steve Harvey stunned Jimmy Kimmel in an interview with his views on grandfatherhood and being an empty nester.
Comedian and talk show host Steve Harvey has been complaining loudly about the behavior of the children in his blended family he shares with wife Marjorie, especially as it pertains to their own offspring.
Between the two of them, the couple shares seven children, including three Marjorie's three which Steve adopted when they got married.
According to Steve, their grown children take shameless advantage of Marjorie's adoration of their grandchildren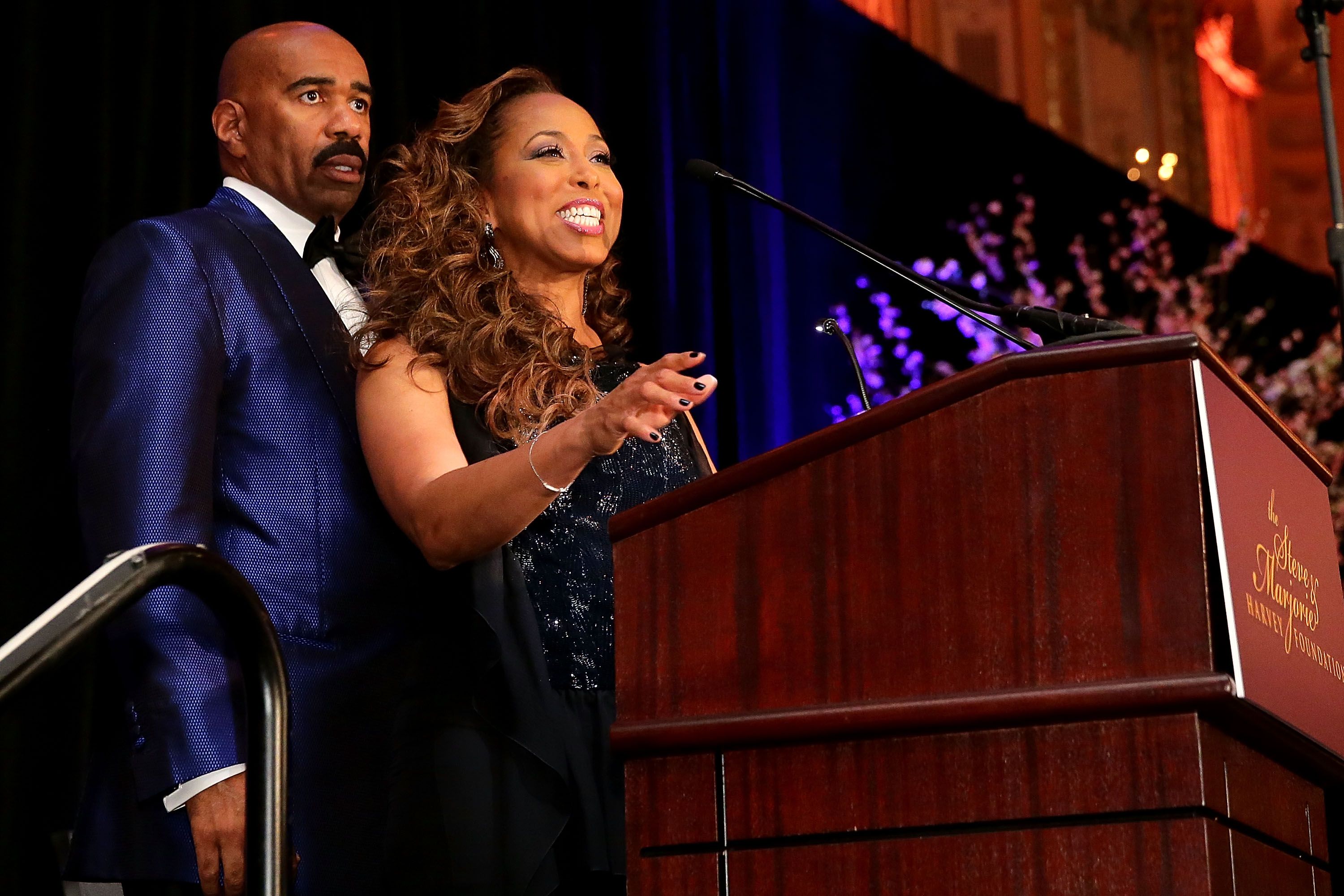 Steve and Marjorie Harvey on stage at the 2014 Steve & Marjorie Harvey Foundation Gala | Source: Getty Images
STEVE AND MARJORIE HARVEY'S MARRIAGE
Steve and Marjorie married in 2007, and admit that at that time none of their children were happy about the change in their parents' marital status.
Marjorie and Steve laid down the law and told her children that they weren't asking for their permission and that the 7 of them would have to learn to live with the new situation.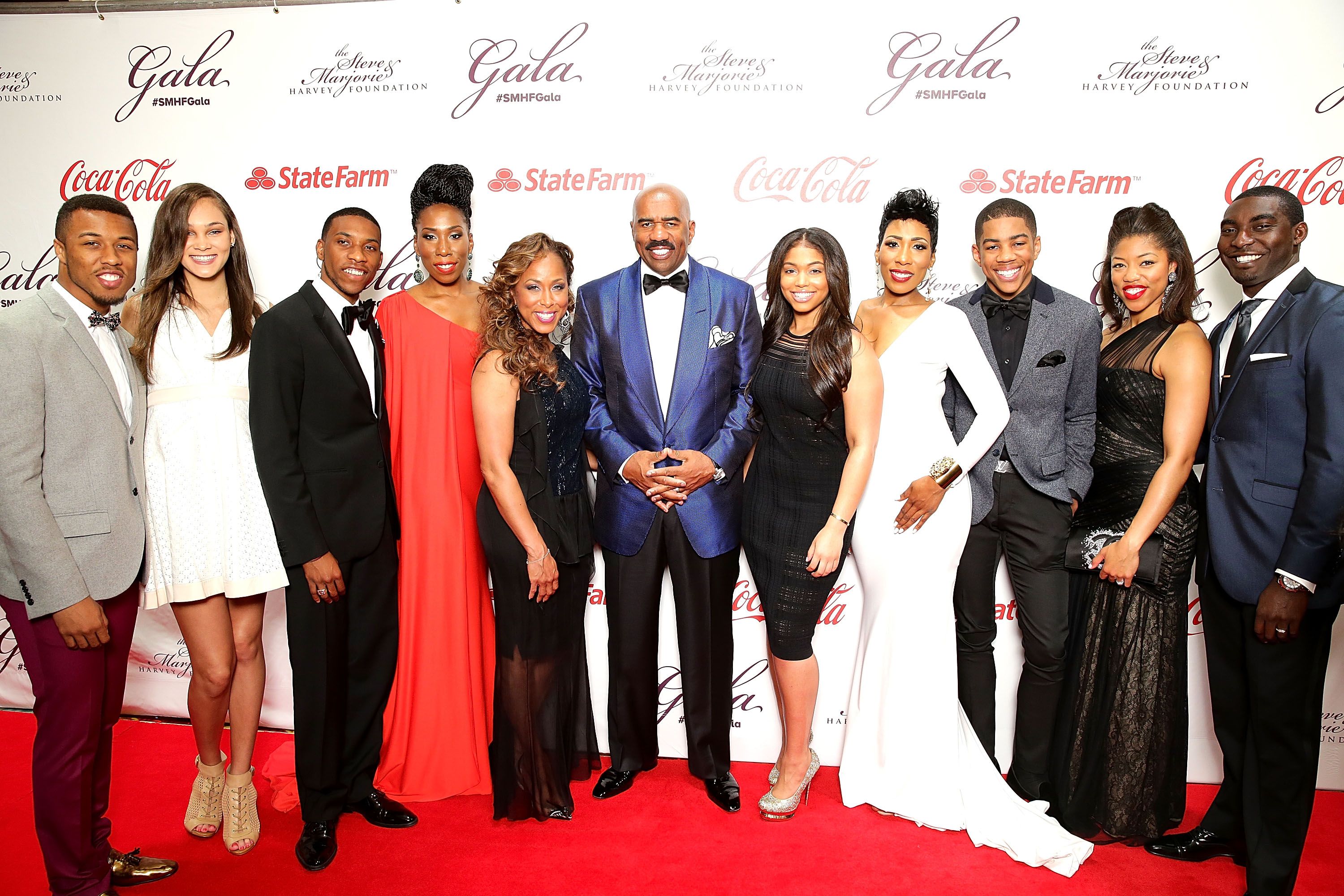 From left to right: Jason Harvey, Amanda Harvey, Broderick Harvey Jr., Brandi Harvey, Marjorie Harvey, Steve Harvey, Lori Harvey, Karli Harvey, Wynton Harvey, Morgan Hawthorne, & Kareem Hawthorne at the Steve & Marjorie Harvey Foundation Gala in Illinois in 2014 | Source: Getty Images
STEVE AND MARJORIE HARVEY'S BLENDED FAMILY
When they married, Steve already had 4 kids: twins Karli, and Brandi, 37, Broderick Jr., 28, and Wynton, 22. Marjorie is the mother to three children of her own: Lori, 22, Jason, 28, and Morgan, 32.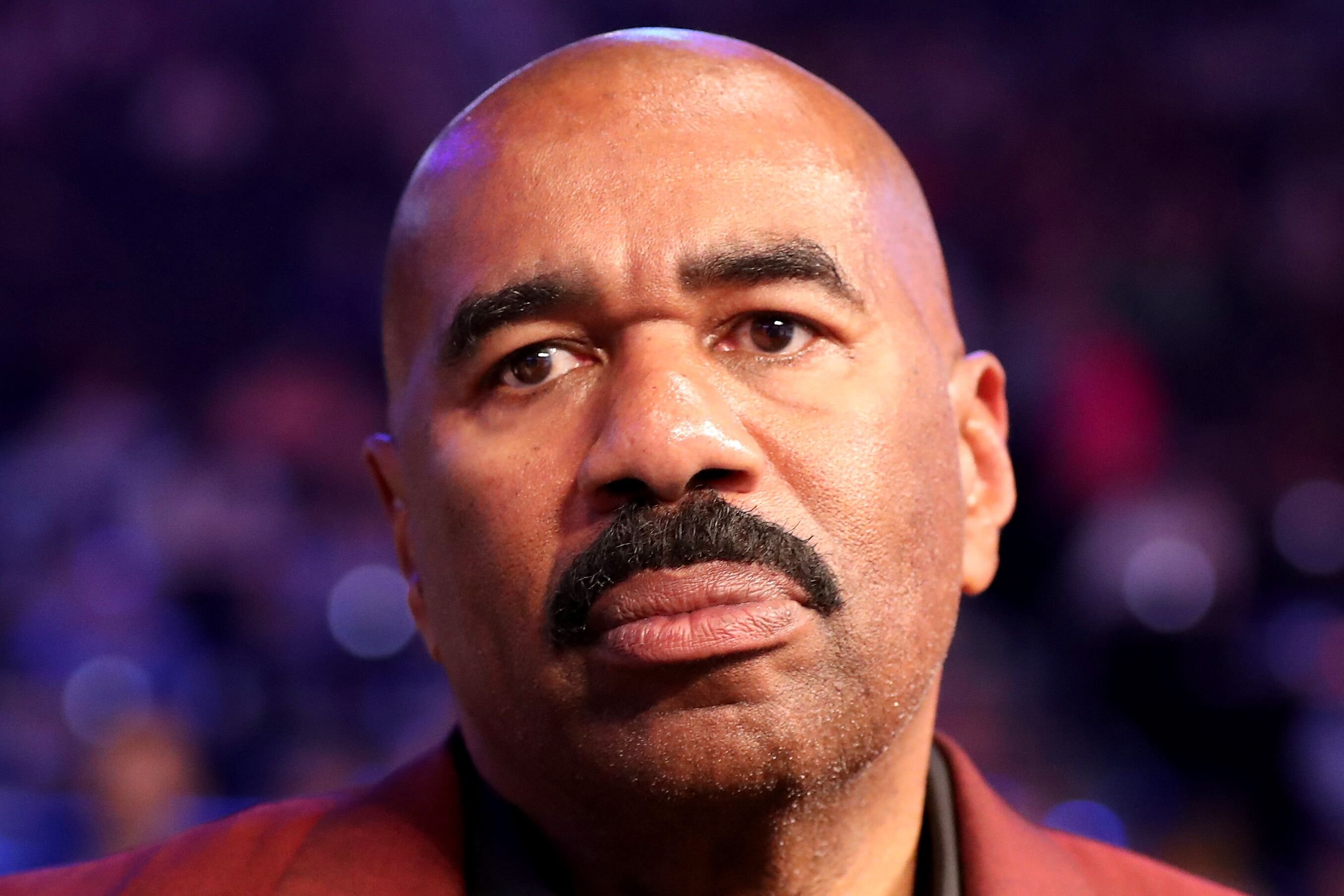 Steve Harvey at the super welterweight boxing match between Floyd Mayweather Jr. and Conor McGregor in Las Vegas in 2017 | Source: Getty Images
Finally, all the children grew up and left home, and that is when Steve realized that things weren't going to go his way. He told Kimmel:
"I spent all of my life trying to become an empty nester, I wanted my kids to go away, get out. Now they come back with more people."
STEVE AND MARJORIE HARVEY'S GRANDCHILDREN
Their blended family has now expanded, and the Harvey family counts 5 more elements to their number. Karli has presented them with a son, Benjamin; Morgan has a daughter named Elle; and Jason has three children: Ezra, Noah, and Rose.
MARJORIE HARVEY -- DOTING GRAN
According to Steve, their grown children take shameless advantage of Marjorie's adoration of their grandchildren to get them to babysit for free. Steve shared:
"The kids are slick, cause they all live out here (...) so they come over like at 6, so they can go on a date (...) So by the time, we get them (the grandchildren) to sleep its around 9."
And that, Steve revealed, is when his children reveal a wide streak of low cunning. They wait until Marjorie and Steve have just managed to put the grandkids to bed and call. Steve confided:
"They [the parents] call at around 10 or 11 (...) 'Do you want us to come and wake the kids up and take them home?' So we have to keep them and give them breakfast!"
CARNIVORE STEVE AND THE VEGAN GRANDKIDS
That's not the worse of it. Since all of his children are vegan, Steve and Marjorie can't dish out eggs and bacon to the grandkids for breakfast. They have to stock up on vegan groceries for their children and grandchildren.
An indignant Steve expressed his disillusionment with his childrens' choice of a vegan lifestyle, especially since they criticize his passion for meat. Steve revealed.
"I'm barbecuing and they say 'What's that I smell? I don't like the smell' You didn't say that when you were going to college (...) and your meat-eating [expletive] daddy was paying!"
WAITING FOR THE NEXT BATCH
Steve might want to take a long, deep breath since so far, only 3 of the 7 have produced offspring. Lori, Brandi, Broderick, and Wynton might just present them with more grandchildren at any time.
The number of Harvey grandchildren might just double, or triple, and Steve's onerous babysitting duties may well become a full-time job. We can only wish the reluctant grandpa lots of luck...
Of course, Steve's complaints are to be taken with a pound of salt. In the many Instagram posts Marjorie shares with photos of their grandbabies, the talk show host can be seen to be just as devoted to the little ones as his wife.
Please fill in your e-mail so we can share with you our top stories!