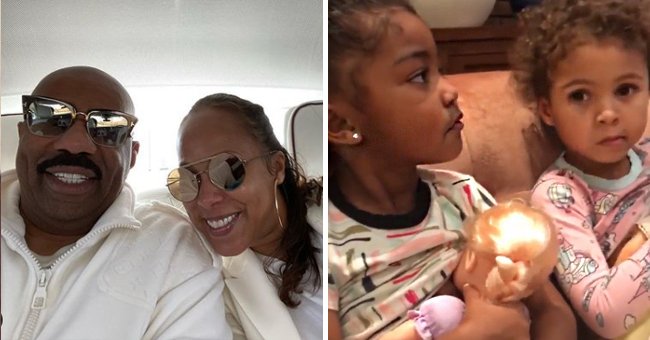 instagram.com/marjorie_harvey
Steve Harvey & his Wife's Granddaughters Breastfeed Dolls – Remembering the Sweet Video
Steve and Marjorie Harvey are proud parents and grandparents to a growing bunch. In an adorable video, they showed their little granddaughters breastfeeding their dolls, much to their amusement.
"Family Feud" host Steve Harvey has been a staple host in the entertainment industry for decades. Throughout his career, he's been married three times and has seven children with three different women.
However, more than being a world-famous host and a proud father to seven kids, he is also a happy and doting grandfather. While he joked that he doesn't embrace the role the same way his wife Marjorie embraces being a grandmother, his actions through the years have proved otherwise.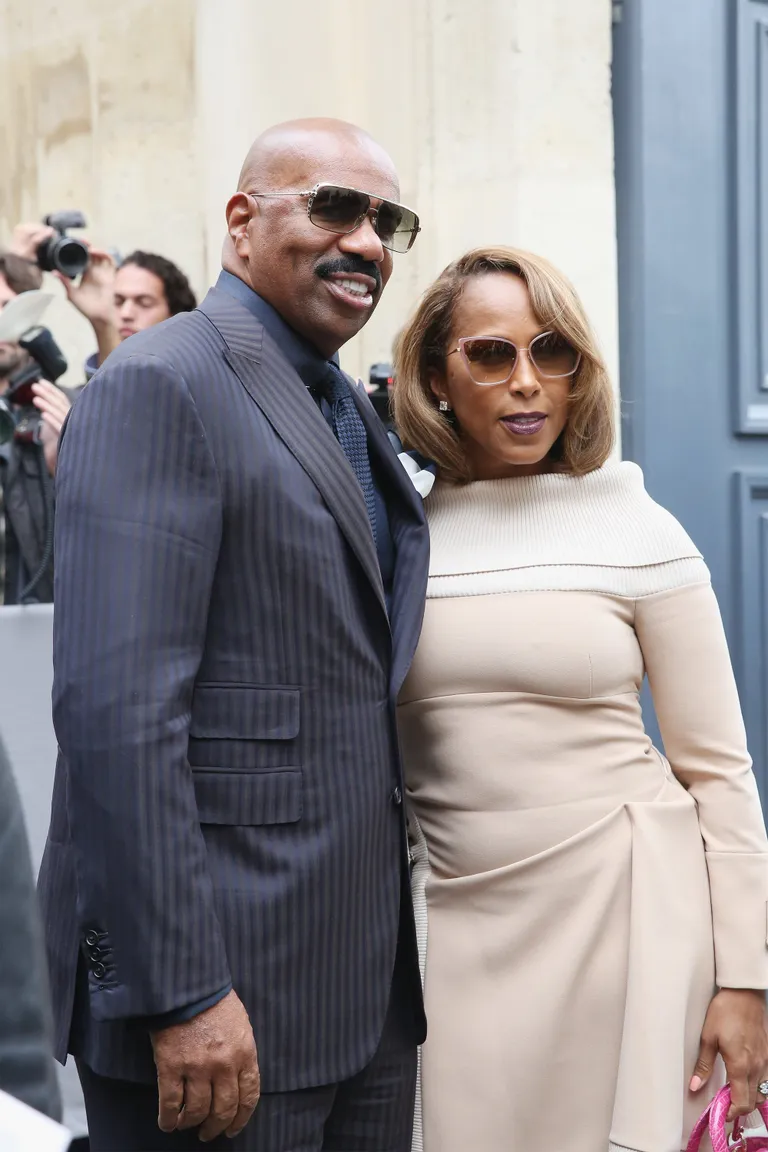 Steve Harvey and Marjorie Harvey attend the Christian Dior show on September 30, 2016 in Paris, France | Photo: Getty Images
HARVEY'S MARRIAGES
The 64-year-old was first married to Marcia, with whom he shares twin daughters Brandi and Karli, and son Broderick Harvey Jr. After their separation, he was married to Mary Shackelford, whom he divorced in 2005. They share a son named Wynton.
In 2007, he got married to Marjorie Bridges, his current wife. He adopted her three kids, Morgan, Lori, and Jason. Now, the growing family is expanding, with their children welcoming kids of their own.
THE HARVEY CHILDREN
Brandi, 39, is the founder of "Beyond Her," an online meal prep website for women of color. Her twin sister, Karli, is a public speaker and mentor through the Harvey and Majorie Foundation.
Broderick, 30, owns a clothing line called "Need Money Not Friends" while working actively on the Harvey Charity Foundation. Wynton, 23, is an aspiring photographer.
HIS KIDS WITH MARJORIE
As for his children with Marjorie, Morgan, 34, is a pastry chef. She has appeared on "The Steve Harvey Show" numerous times with her recipes.
Last but not least, Jason, 30, owns a luxury women's footwear company called Yevrah, and Lori, 24, is a famous model who has appeared in magazines like Vogue. She is currently linked to Hollywood actor Michael B. Jordan.
THEIR GRANDKIDS
Morgan welcomed daughter Elle with husband Kareem Hawthorne in 2015. That same year, Jason and his wife Amanda welcomed son Noah. The pair are also parents to daughter Rose born in 2014, and their third child Ezra born in 2018.
Meanwhile, Karli and husband Benjamin Raymond welcomed son BJ in 2016. To top off the list, the family welcomed Joey Iris to the family in 2020, and Harvey revealed that he and Marjorie were to become grandparents once more in the same year.
THEIR ELDEST GRANDDAUGHTERS
As not all of their grandchildren live with them, Marjorie often shares special moments with them as they come. Three years ago, she proudly shared an amusing video of her two eldest granddaughters breastfeeding their dolls.
When asked what they were doing, Rose and Elle revealed that they were "feeding our babies from our boobies." True enough, the video showed them doing just that.
A DIFFERENT TYPE OF GRANDFATHER
That clip of the Harvey grandchildren hit the internet a couple of weeks after Steve appeared on "The Ellen DeGeneres Show" joking that he didn't enjoy being a grandfather. He joked that grandkids were supposed to come over but not spend the night.
In a more recent interview, Harvey shared that he often has an answer to everything his grandchildren ask, and he directs them to other people in the household. However, he can't help that his grandkids love him, and it's because he gives them everything they ask for.
Ultimately, while his interviews show a more distant front, Marjorie once debunked this by reposting the clips on her Instagram page. She revealed to the world that her husband actually adores his grandchildren, contrary to what he says on air.
Please fill in your e-mail so we can share with you our top stories!