A Look into Steve & Marjorie Harvey's 14-Year Marriage Filled with Lavish Vacations & Fun Times as Grandparents
Six days ago, American television host Steve Harvey and his wife Marjorie Harvey celebrated their wedding anniversary. The pair were celebrating more than a decade of marriage.
Steve and Marjorie Harvey's 14-year marriage is filled with lavish vacations and fun times as grandparents. The pair are madly in love with each other, judging by their pictures.
"Happy anniversary, baby," Marjorie, 54, wrote on her Instagram on Friday, June 25, 2021. She shared a picture of them locking lips with their arms wrapped around each other.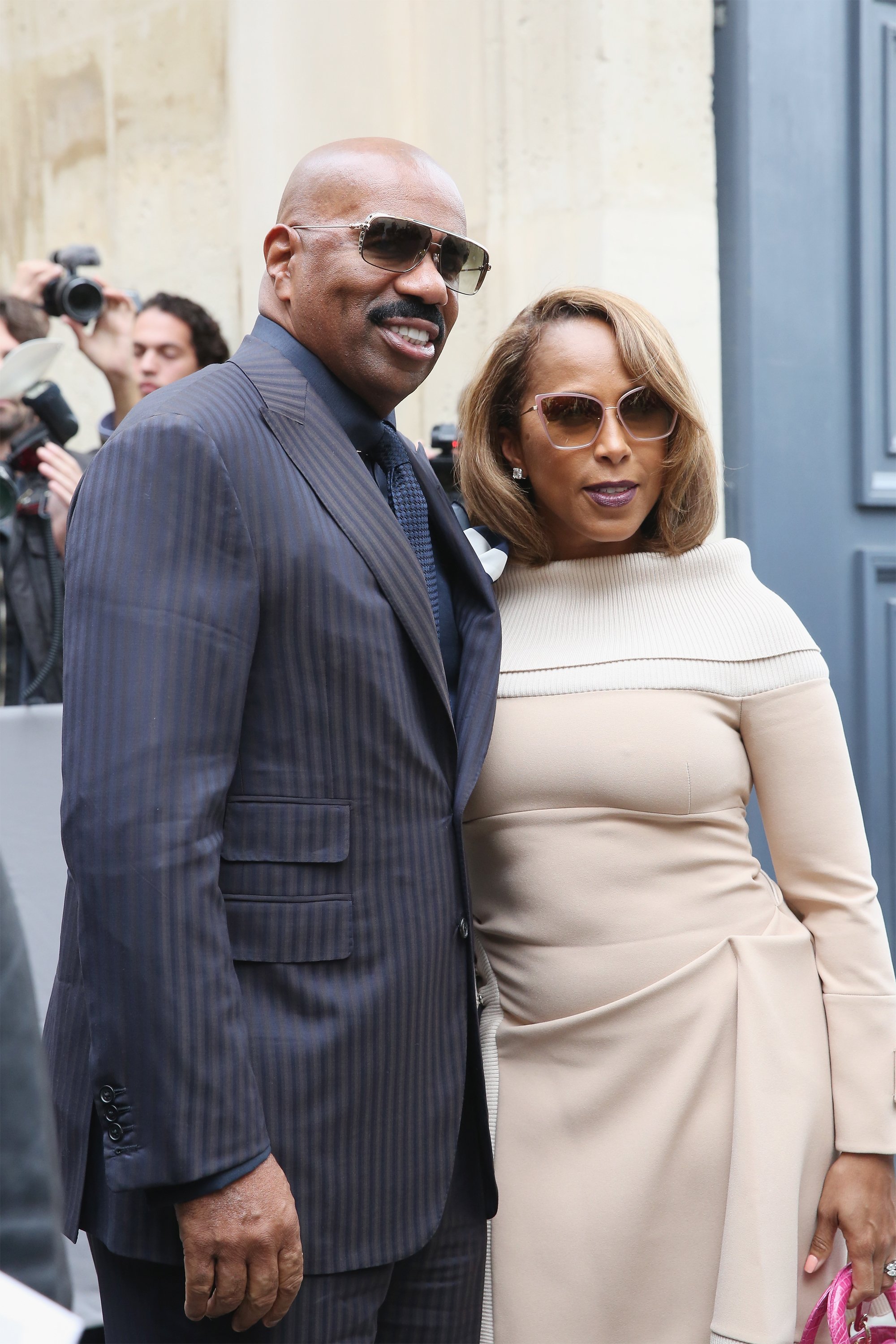 On Valentines Day, the couple went on a getaway trip to celebrate the special day. They celebrated with a glass of wine and hamburgers and played pool.
The pair went on another couple's trip in January and shared a video riding on a boat with Steve behind the wheel and Marjorie asking to drive, "Let me drive the boat, Daddy," she wrote.
On January 17, she wished her husband a happy birthday on social media and wrote: "Help me wish Hubby a Happy 64th Birthday" and shared a photo of them kissing on a yacht. 
Steve and Marjorie are also proud grandparents and make time for their grandkids. In August 2020, she posted a snapshot admiring her grandchild while sitting on a chair cradling the newborn with Grandpa Steve watching on:
"Will quarantine with this little bundle of joy any day. #proudgrandparents."
Back in August 2019, Majorie shared on Instagram that they went to Ghana and "had an extremely emotional day." They visited Elmina Castle and Cape Coast Castle along with the kids.
On Father's Day, the pair spent the day with their parents, their kids, and their grandchildren while posing for a heartwarming family photo with balloons as their backdrop.
In December 2019, Marjorie posted a clip of Steve, 64, teaching his grandson how to ride a bicycle, "Steve teaching BJ to ride his bicycle. I'm pushing; she said while adding a laughing emoji.
HOW THEY MET
Steve and Majorie first met in 1990 at one of Steve's shows at a comedy club in Memphis. He shared the story on his "Family Feud" game show. The actor revealed the first thing he said to her one night when she came in late sitting on the front row with her girlfriend:
"I stopped my show as soon as I saw her. The first word I said to Marjorie was, I don't know who you are, but I'm going to marry you one day. That was the very first words."
While making an appearance on his show, Marjorie shared although he said that he was going to marry her, he did not do that right away.
From there, the pair dated for a year and a half and broke up because he became homeless. They both went on to marry other people, and their kids were born the same year. He then got divorced, and so did she.
Fate brought them back together in 2005, and they got married in June 2007. Steve told Essence back in 2019 that his wife is the secret to his success.
"Everything I have," he said while pointing to Marjorie, "is because of this girl right here. Apart from their love journey, the couple also has a blended family.
THE KIDS 
"The Steve Harvey Show" host is a loving father of seven children, Brandi, Broderick, Jason, Karli, Lori, Morgan, and Wynton. He welcomed his kids during three different marriages.
He experienced fatherhood once again when he walked down the aisle with Marjorie, and instead of having their kids, the broadcaster adopted her children, Morgan, Jason, and Lori.
THE GRANDBABIES
In addition to the brood, the pair are also grandparents to five grandkids. Steve once got candid about his life as a grandfather during a chat with InTouch Weekly.
"When I see my kids and grandkids getting to do and see things in different parts of the world, it makes it all worth it," he gushed. 
Back in April 2018, Marjorie was excited to share that another grandchild would be joining the family. Her son Jason and his wife Amanda welcomed their third child. 
Marjorie took to her Instagram and shared the happy news of being an excited grandmother and even revealed the gender of the baby at the time.
In January 2020, Steve shared a video on social media of himself and his grandson Ezra. The clip showed the author bathing Ezra while talking to him.
The video made his fans go crazy as they gushed over Ezra's adorableness, and many paid more attention to Steve's copper tub and mentioned it in the comments section.
When asked whether he treats his kids and grandchildren the same back in September 2020 on Access Hollywood, he joked, "It's absolutely wonderful. I hug them, and then I walk off."
He shared that half of his grandkids are vegan, and because of that, they love him because he gives them everything their parents don't want them to have.
Back in 2015, he featured his granddaughter on the show and shared a video of him teaching her bad habits while revealing his wife did not like it.
WORLD TRAVELERS
Not only do they spend time with their grandkids, but they are also well-traveled. In 2018, they went on a summer vacation to the Mediterranean Sea and shared a video of their trip.
A year later, Steve and his wife went on vacation again to the Italian Riviera, the French Riviera, and Croatia, he said to his audience.