Steve Harvey & Wife Marjorie Are All Smiles in Family Photo with Their Kids & Grandkids
Steve Harvey has seven children and a multitude of grandkids. This was made crystal clear in a recent post of him and his wife, Marjorie Harvey, in a family photo.
Multifaceted entertainer Steve Harvey and his wife Marjorie Elaine Harvey looked joyful in recent Instagram pictures. Their children and grandchildren surrounded them. 
Marjorie took to social media to wish her husband a happy Father's Day. She shared a post sporting multiple pictures of the entire Harvey clan enjoying each other's company.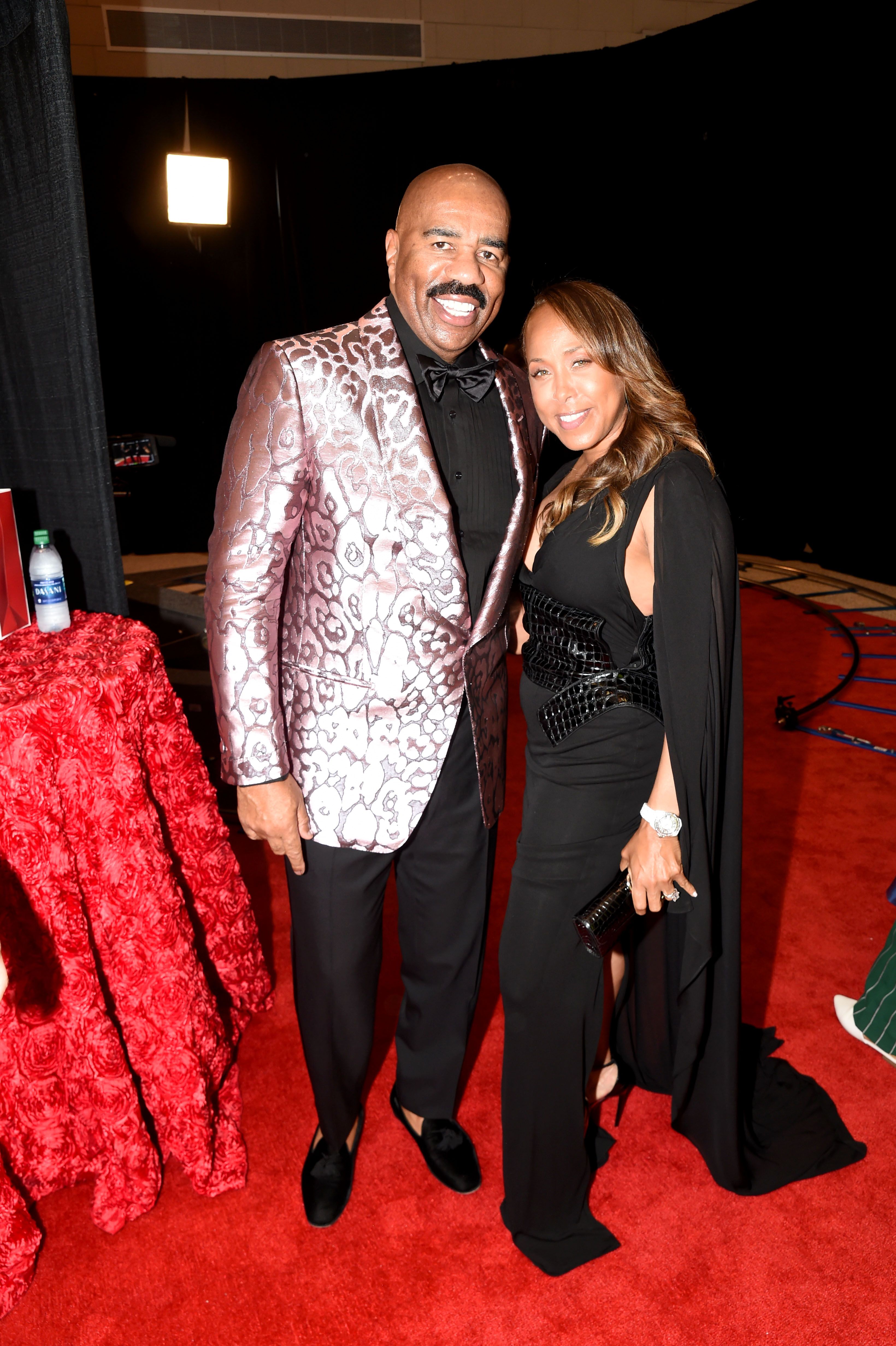 The first photo appeared to be a picture of many of their relatives, including their children and grandchildren standing together while smiling for the camera. Taking to the caption, Marjorie wrote: 
"Happy Father's Day.🖤"
All of them were in front of an amalgamation of silver, black and gold balloons along with a sign reading "Happy Father's Day." The atmosphere emanated warm familiarity.
In one shot, Steve was laughing with his eyes closed. His son Wynton Harvey sat beside him while sipping on a cool beverage.
Steve joked that [his children] always bring his grandchildren around to the house, which frustrates him.
Followers adored the post, with many commenting on what a beautiful family they are. The pictures received around 37,000 likes in total. 
Steve has seven children. He had girl twins Brandi and Karli (39) and son Broderick (30) with his ex-wife Marcia Harvey. He then had his son Wynton (23) with his second ex-spouse, Mary Lee Harvey.
After marrying Marjorie, Steve adopted her children: Morgan (34), Jason (30), and Lori Harvey (24). Lori is well known for dating actor Michael B. Jordan who Steve humorously said he reluctantly approved of. 
Since his children gave birth, Steve joked that they always bring his grandchildren around to the house, which frustrates him. The funnyman expressed:
"I've been waiting years for my kids to get out of my house...Now they come back to the house and they got some more people with them."
He bantered about how when his grandchildren sleep in the bed with him, they kick him throughout the night. He quipped he has suspicions they are doing it deliberately.
Earlier this year, Steve's daughter Morgan took to Instagram to post two pictures of her two children and Steve's grandchildren. Elle and Marley's resemblance to their mother was uncanny. 
The images of the two children were taken a few years apart. However, the adorable siblings almost looked like identical twins.