Minneapolis Protesters Left with No Injuries after a Truck Drove through the Crowd
The protests rocking Minneapolis have been going on for days, however, some extensive incidents have also emerged. One of them has been a case of a motorist who drove through a converged crowd.
Earlier today, sources reported that a truck driver had maneuvered his vehicle through a crowd gathered in Minneapolis. With people coming out in their numbers, the driver appeared suddenly and rammed through the crowd. 
The driver appeared to have been violating the laws as well. The reports explained that he was trying to enter a closed freeway, apart from the danger of possibly harming several people.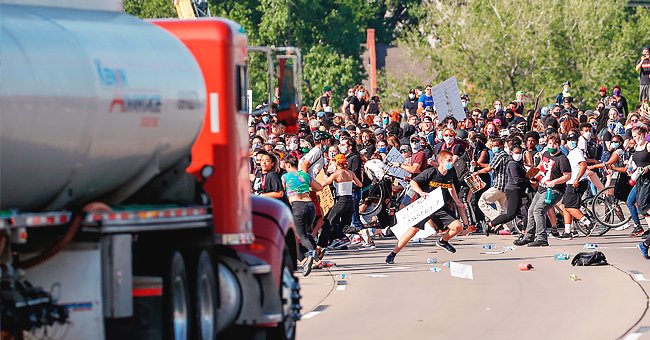 The report immediately generated an uproar, with many trying to understand what happened. Of course, most people highlighted that the driver could have hit some people on his rampage. 
However, the state's Department of Public Safety has confirmed that there weren't any casualties. In a tweet, the Department said: 
"The truck driver was injured & taken to a hospital with non-life threatening injuries. He is under arrest. It doesn't appear any protesters were hit..."
TRAFFIC ALERT: Peaceful protestors who were at the Capitol have marched to I94 and have blocked traffic.

Please use alternate routes. https://t.co/oM1qYY0u3l pic.twitter.com/P2G5hIDjEx

— MnDPS_DPS (@MnDPS_DPS) May 31, 2020
The incident occurred on the I-35W bridge. Reports also added that the driver appeared to be coming from the south and headed north. 
Footage also showed that he had been blaring his horn all the way. Thankfully, the blares alerted many people, and they could get to safety quickly. 
For now, however, no one knows the motive for the driver's actions.
Driver arrested after truck driven at US protesters in Minneapolishttps://t.co/4nIc57emcA pic.twitter.com/LK29jis0WM

— BBC News (World) (@BBCWorld) June 1, 2020
The scale of what could have become a major national incident is quite alarming. State Governor Tim Walz reportedly stated that it could have cost several lives. Sam Ndely, one of the protesters, explained that what happened was no less than a miracle. In part, he said:
"It was a terrifying moment, considering all of the history with 35, and seeing that many people protesting for justice."
Minneapolis Police Chief kneels and prays at memorial site where #gerogefloyd was killed. This photo was taken by reaident Tracy Lewis who said I could share it with ya'll after my interview with the Chief and the Floyd family. pic.twitter.com/UWZiRs1pX8

— Sara Sidner (@sarasidnerCNN) June 1, 2020
For now, however, no one knows the motive for the driver's actions. Gov. Walz confirmed that authorities are still trying to figure that out. 
There are many possibilities, of course. It could have been someone angry with the protests and wanting to commit manslaughter. 
Truck drives into protesters on Minneapolis highway https://t.co/yw4eX8eOGm pic.twitter.com/CwbZO4la3X

— Reuters (@Reuters) June 1, 2020
At the same time, the truck could have developed a brake issue. The fact that the driver was blaring his horn gives cause to believe he didn't have malicious intent.
Some also believe that the driver could have acted recklessly, instead of maliciously. For now, there's no verdict on the matter. Additional information will help in developing the next course of action.