Kimora Lee Simmons' Daughter Aoki Shows off Fit and Flexible Body While Doing Yoga
Aoki Lee Simmons flaunted her toned physique in a new post on social media while giving fans a glimpse of her yoga routine.
Kimora Lee Simmons' second daughter, Aoki Lee, showed off her fitness routine in a fresh post on Instagram. The youngster shared some picturesque images of her silhouette as she stretched and performed different yoga positions.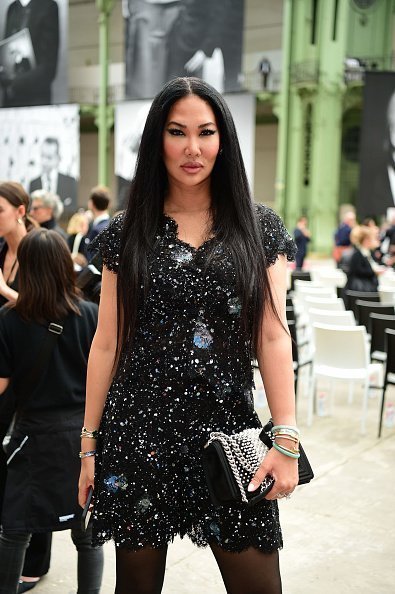 AOK I'S YOGA SESSION 
The Harvard University student stood tall in the first snapshot while she swiftly bent her torso backward to perform the raised hands pose. The next slide showed Aoki in a resting position as she sat on a mat to perform the Half-seated twist. She gleefully captioned her post:
"@unclerush is 100 times more flexible than me, but I'm coming for the family yogi crown…"
The "BabyPhat" model went on as she emphasized on the importance of good living. In her words, "Stagnant water putrifies, flowing water stays fresh, clear and clean…" This was her cue to telling fans about the importance of exercise and Yoga. The 17-year-old concluded: "move your body every day."
FANS CHEERED HER 
In the comments, Aoki's followers were all over her as they admired how she keeps up with healthy living. While some fans wanted to know her drill, others were full of praises for the young celebrity.
The school also instructed students not to return after spring breaks as their lessons will begin via online platforms.
A fan wrote about her post: "I like it first for the aesthetic, second for the message." Another person admired: "Aoki for president, ten years from now." Many fans showed their affection with love-struck emojis. Star mom Kimora Lee also put up some heart emojis for her cool daughter!
AOKI SPEAKS UP
Recently, the teenage star shared her opinion about the ongoing unrest over the death of George Floyd. In a lengthy Instagram post, she directed her grievances towards her non-black friends about lending their support.
Aoki wrote: "...If black people need you, I need you. And you know me, right? Your study buddy, your dance partner, your romantic interest... " She made it known that her friends couldn't tell her thoughts, so she chose to spell it out.
COPING WITH THE PANDEMIC 
After WHO declared the novel Coronavirus, a pandemic, many organizations and institutions were put on lock. Harvard University was no exception as the Ivy League College canceled classes and advised students to evacuate the school premises.
Aoki took to her Instagram story, where she posted a mirror selfie of herself while telling fans she was "packing up" her "existence." The school also instructed students not to return after spring breaks as their lessons will begin via online platforms.