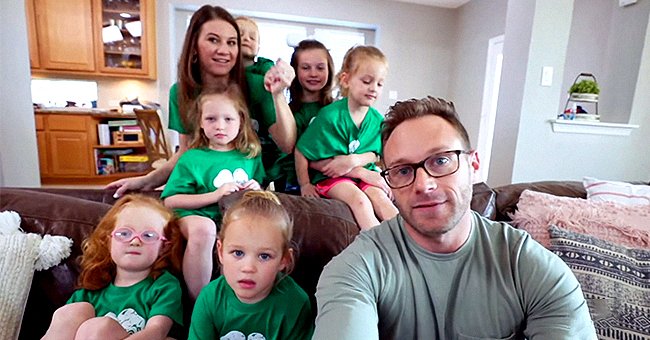 Facebook/OutDaughtered
6 Little-Known Facts about 'OutDaughtered' – Glimpse inside the Busby Family
With the seventh season of the TLC reality show "Outdaughtered" premiering on June 2, we are taking a close glimpse at the lives of the Busby family.
The Busbys first became a household name when matriarch Danielle gave birth to quintuplets in 2015.
Due to their extraordinary situation, Danielle and her husband, Adam, alongside their daughters ― which consist of a set of 5-year-old all-girl quintuplets and a 9-year-old daughter― became reality stars as the world watched them raise their six girls.
Before becoming reality stars, it was reported that Adam and Danielle were the proud owners of a cycling fitness studio in Texas.
And now in their seventh season, there are still a lot of things fans don't know about the famous family.
DANIELLE'S PREGNANCY
While most women describe their pregnancy as a tough time, the reverse was the case for Danielle. According to The Things, the 36-year-old said it was simple and admitted that she adored her pregnancy.
It is no surprise as it was revealed that the mother-of-6 ate 4,500 calories daily but still managed to look great and slim.
Despite having a great pregnancy experience, the publication disclosed that the couple hit a rough patch when they were told by doctors that it was too risky to have all their five babies.
Nevertheless, they decided to take the risk and were able to bring the girls home even if each child stayed in the hospital for a while.
DANIELLE AND ADAM'S MARRIAGE
Despite having six children to raise, Adam and Danielle have shown fans over the past six seasons that the bond they share is unbreakable.
While they might seem like the perfect couple, they have had their fair shares of bumps along the way. According to reports, Adam stood up his wife on their first date, however, Danielle was able to forgive him.
They later went to his sister's birthday celebration dinner together, and from there, things kicked off. As noted by Distractify, Danielle fell for Adam because of their shared love of kids and Christian faith and asked her to marry him on Christmas Eve.
They were slated to have a fancy, big wedding, but they had to settle for something more intimate because of a hurricane.
With more than ten years of marriage under their belt, the lovebirds still manage to indulge in date night from time to time. Nevertheless, it hasn't stopped their union from being plagued with affair rumors from fans.
SAVING UP FOR COLLEGE
With parenting comes a financial burden, and this is a cross, the Busbys must bear despite being in the spotlight. Reports suggest that to send each of their daughters to college, Adam and Danielle must put aside $6,000 per month.
While that might seem pricey, it is worthy to note that the couple gets paid $25,0000 for each episode aired. Although that might not be as high as what other reality stars get, it is undoubtedly a great start for them!
ADAM'S POSTPARTUM DEPRESSION
The 37-year-old detailed his postpartum experience in an interview as he talked about how much his life changed after having the quintuplets. He confessed to not feeling like his past self and struggling to balance work, friendship, and relationships.
EXPANDING THEIR FAMILY
Despite having what most people might call a full house, Adam and Danielle revealed that they are open to expanding their home.
They explained that although Danielle had a hysterectomy in 2019, they don't mind opting for adoption if it is laid on their hearts.
THEY OWNED A CYCLING STUDIO
Before becoming reality stars, it was reported that Adam and Danielle were the proud owners of a cycling fitness studio in Texas.
The studio named Rush Cycle was described as a fun place to be. However, they sold the business in 2019 as their schedule was becoming packed.
People Magazine notes that season 7 of "Outdaughtered" took a different turn from the first six seasons because the couple had to self-film because of the COVID-19 pandemic.
As revealed by The Cinemaholic, the debut episode, which is titled "My Busby Valentine," details Adam's struggle to come up with a way to make his big girls feel special on Valentine's Day. It airs every Tuesday at 9 pm ET in TLC.
Please fill in your e-mail so we can share with you our top stories!