Tatyana Ali Warms Hearts with Video of Smiling Son Alejandro Amid Protests
Actress Tatyana Ali said she intends to teach her children about the way of the world when they're older as she shared a clip of her innocent child playing. 
Tatyana Ali is spreading joy in the midst of the growing protests in the country. She shared a clip of her youngest son, Alejandro Vaughn, acknowledging his innocence and reflecting on the conversation she needs to have with him when he's older.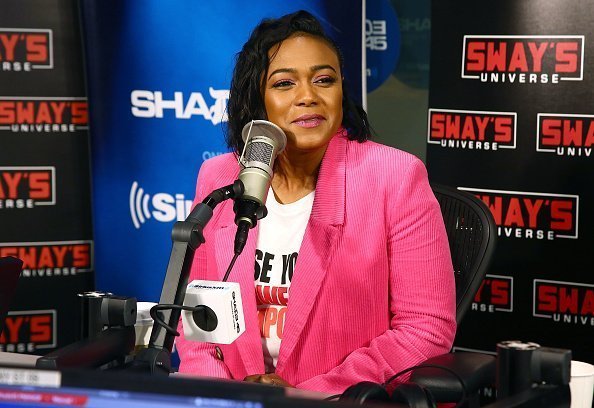 Tatyana's post is a response to the current events that spawned a nationwide protest calling for justice for George Floyd and the stop to racism.
Her post with the hashtag #blacklivesmatter was a reflection of her sentiments over raising her sons and telling them about the real world.
Barely a year old, Alejandro is seen playing with sand outdoors as he smiled for his mother in the clip she posted. "Sharing some of my joy," Tatyana wrote.
...the laid-back mom said it's important her kids always know the truth and that they're loved for who they are.
The actress then turned serious when she wrote about how innocent her children were regarding what's happening nowadays and how in time she will need to tell them about it.
"Every black parent knows that when their child is old enough to go into the world talks will have to be had, explanations made, tears wiped and centuries old warnings and stern lessons will have to be imparted."
Tatyana added that she intends for their sons to grow up with their heads held high.
This is not the first time the "Young and the Restless" star opened up about how she chooses to raise her sons and embracing their culture.
During an interview with Parents Magazine, the laid-back mom said it's important her kids always know the truth and that they're loved for who they are.
At the time, Tatyana only had her eldest son, Edward, 3, and she intended for him to feel safe especially at home. She also believed that "If you teach them [children] everything they need to know, they'll be prepared and figure things out."
Tatyana shares her two sons with her husband, Dr. Vaughn Rasberry who she met on eHarmony and wed in 2016. Both degree holders, Tatyana from Harvard and Vaughn from Stanford, they believe in the value of education and intend to give their kids this opportunity so they can make a life for themselves.