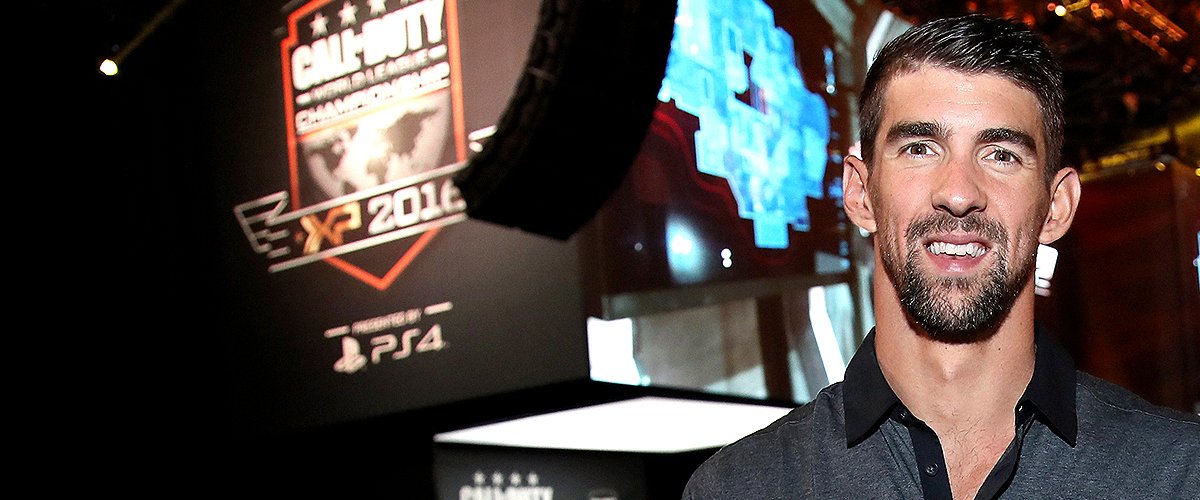 GettyImages
Michael Phelps Suffered Depression — Inside the Olympic Gold Medalist's Mental Struggles
Michael Phelps, the most decorated Olympian athlete in history, spent most of his career dealing with severe depression. And although he once thought about ending it all, Phelps managed to bounce back after asking for help.
Michael Phelps holds the record as the athlete to have won more medals in the Olympic games' history. He has 28 medals in total, 23 gold, three silver, and one bronze.
Michael Phelps attends The Ultimate Fan Experience, Call Of Duty XP 2016 presented by Activision at The Forum on September 2, 2016 in Inglewood, California. | Photo: GettyImages
What's more impressive is that he set that record at age 28 after participating in four Olympic games, Athens 2004, Beijing 2008, London 2012, and Rio 2016.
THE PRESSURE OF WINNING
Phelps started his Olympic career at age 15 when he competed alongside the U.S men's swim national team, and although he didn't win any medal on his first try, Phelps would soon become perhaps the most famous swimmer in the world.
Phelps mentioned that despite what the media might make it seem like, he's not "cured."
But with fame and recognition always comes a prize. In Phelps' case, the pressure to win, mixed with the emptiness that came after winning, got the best of him.
His mental health spiraled down, and, at some point, he touched rock bottom. Still, Phelps managed to come back from it, and now he's working in helping others that might be feeling the same way he did.
MICHAEL PHELP'S TALKS DEPRESSION
Phelps, now a father of three, has been talking candidly about his depression to raise awareness about mental health not only in the sports industry but in life in general.
The 34-year-old legend explained that Olympian athletes live under an established pattern: training hard and tirelessly for four years to show off their talent during the Olympics' week, and then after all its over, they don't know what to do.
"You don't know where to go. You don't know who to talk to. And a lot of us do suffer from depression," he told CBS News.
Phelps revealed that his depression got so bad after the 2012 Olympics that he thought about ending his life by taking some pills. Luckily, he had run out of the prescribed meds.
He spent three to five days alone in his bedroom without talking to anyone or even eating or sleeping. It was then that he realized he needed to seek help.
GETTING THE SO MUCH NEEDED HELP
Phelps knows that many people don't talk about their mental health struggles because they fear rejection, just like he did. However, for Olympic athletes, there's also the stigma that they are perfect beings.
"I think it's something that nobody's really talked about in the past because we're supposed to be this big, macho, strong person that has no weaknesses," he said.
When Phelps finally started going to therapy, he realized that talking about his feelings was something he needed to do much earlier. Still, he said, he wasn't ready to face his inner turmoil before that.
Phelps said he was "good at compartmentalizing" and ignoring the feelings he didn't want to deal with at the moment. But pilling up those feelings was what drove him to the edge of the cliff in the first place.
The most important lesson he got in therapy was understanding that "it's ok not to be ok" and that communication is important for anyone going through a hard time.
Phelps said that, for years, no one was aware of how little self-love and self-confidence he had in himself. As he explained:
"I looked at myself as a swimmer and didn't really know who I was. I was searching for my own identity and trying to find out who I was."
Although therapy has helped, Phelps is still a work in progress like any other person who struggles with depression.
DEPRESSION AMID THE QUARANTINE
On a recent op-ed he wrote for ESPN amid the COVID-19 quarantine, Phelps mentioned that despite what the media might make it seem like, he's not "cured" and he has come to accept that depression is not something that just goes away.
Because of that, he has made his mental health a priority, often exercising to keep up a routine, hitting the pool for clarity, and taking "time outs" whenever he feels like exploding.
Still, Phelps recognized that even though he knows what he needs to do to improve his mental health, he has chosen not to do anything about it. "I know I have to be better. I have to stay on top of that," he wrote.
MICHAEL PHELPS' FAMILY
Michael Phelps' wife and kids have become a source of strength whenever he's feeling down these days.
He married former Miss California, Nicole Johnson, on June 13, 2016. The pair had dated on and off since 2011 until Phelps proposed in early 2015.
They share three adorable sons: Broomer, 4, Beckett, 2, and Maverick, eight months. And although Broomer is already enjoying swimming, Phelps said he and Nicole won't the kids to choose a career path they're passionate about.
HELPING OTHERS
Phelps created the Michael Phelps Foundation in 2009. Initially, the foundation offered funds to help talent develop their best abilities and promoted swimming as a way to lead a healthy and active lifestyle.
Then, after Phelps came forward to talk about mental health, the foundation started to implement stress management programs and offer emotional wellness lessons plus other resources related to mental health.
Phelps has also traveled around the country, talking about his struggles in different settings. From colleges to big companies, and he hopes his story can help someone going through a similar situation.
"If I can save one life, two lives, a hundred lives," he said, "that's way better than winning a gold medal."
The National Suicide Prevention Lifeline is 1-800-273-8255. Other international suicide helplines can be found at befrienders.org.
Please fill in your e-mail so we can share with you our top stories!