Snoop Dogg's Wife Shante Broadus Looks Gorgeous Wearing White Outfit in a Snap
Shante Broadus, the wife of famous Westcoast rapper Snoop Dogg takes to Instagram with a throwback photo of herself looking stunning in all-white.
Snoop Dogg's wife, Shante Broadus, took to Instagram to share a gorgeous flashback Friday-inspired photo of herself. Captioning the post, Broadus wrote: "#FBF 'Would You Mind'"
Broadus was wearing a monochromatic white sweater and pants ensemble. The sweater was adorned with bold colorful print running down the arms while the pants showed off the same print running along its seam.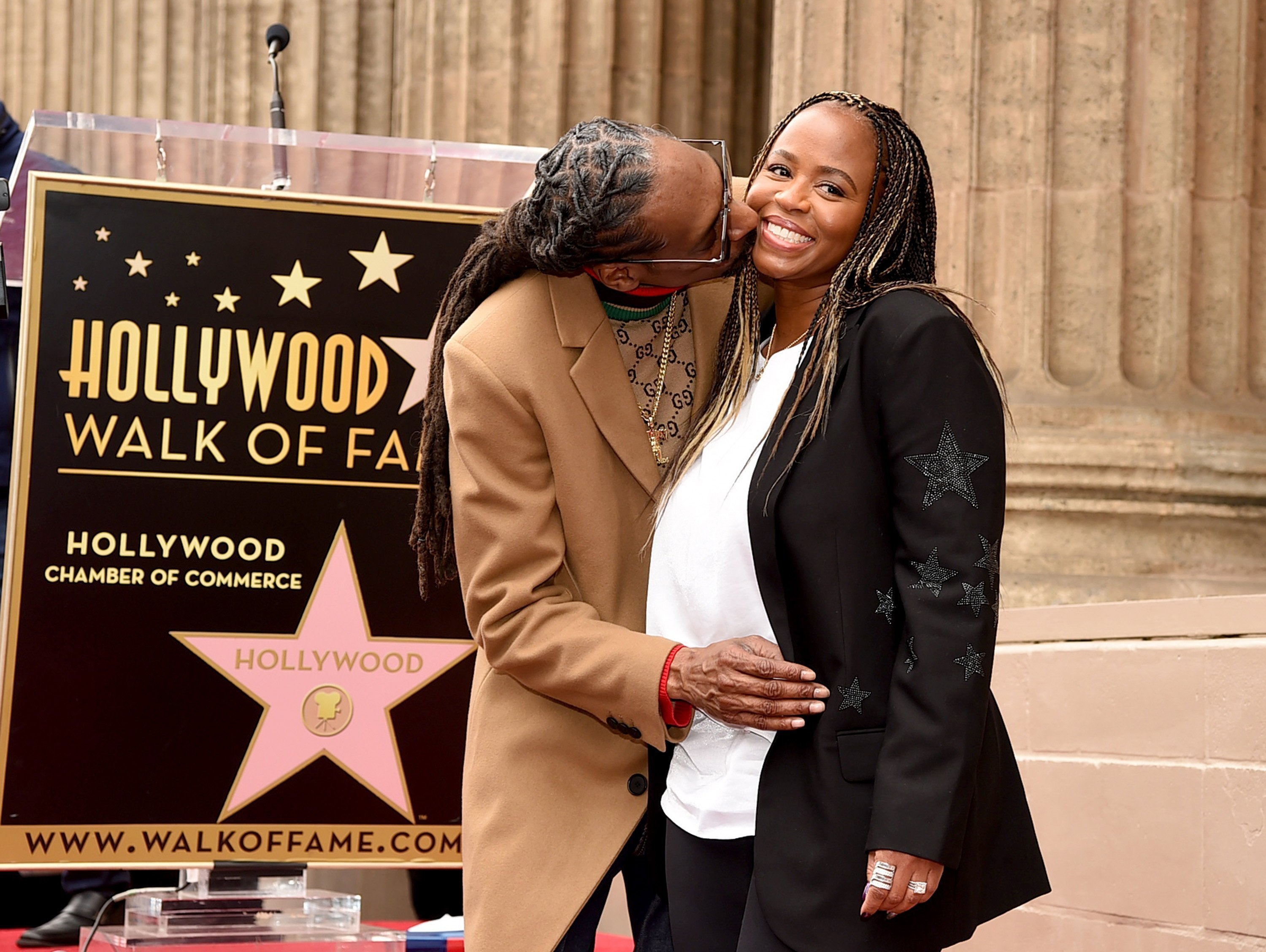 Her hair was beautifully done in long black feed-in braids pulled up in a ponytail and adorned with chic brown beads at the tip of each braid. Her feet were encased in matching white sneakers as she sat on a pristine white sofa showing off her enchanting smile.
Her followers took to the comment section to praise Broadus' alluring beauty and complimenting her particularly pretty outfit.
Broadus has been married to Snoop Dogg for more than two decades. They were high school sweethearts who tied the knot in 1997 and have had a splendid marriage over time, although it has not been without fallouts, which is common in many relationships.
In 2017, Broadus and Snoop hit the twenty-anniversary mark, and to commemorate the special day, they opened up about the long and tedious road to marital success.
Sometime in 2004, Snoop filed for divorce but later fell in love with his wife all over again. The rapper admitted that he had gotten caught up in the life that Hollywood offered him.
A cheating scandal reared its head towards Broadus' marriage in 2019.
The party scene, the girls, the cars, and the fast life had gotten in his head until he went back home and understood that he needed his wife and his kids in his life. He confessed that it took a lot of pleading for his wife to take him back.
Every year since that dark period in their marriage, he made a point to celebrate in a grand public style. On their nineteenth anniversary, he took to Instagram with a heartwarming tribute to celebrate his queen.
The happily-married couple share three children — their two sons, Cordé and Cordell, and their daughter, Cori. In 2019, yet another ugly cheating scandal reared its head towards their marriage again.
An Instagram influencer, Celine Powell, claimed that she had sexual relations with Snoop Dogg while saying mean things about his wife and family. 
Unbothered by the attempt to ruin her marriage to the rapper, Broadus responded by taking to Instagram with a hilarious meme referring to Powell as a snake.
The scandal and the rumors that came with it soon simmered, and the rapper and his wife have continued to lead their happy lives free of any unnecessary drama, looking stunning as always.