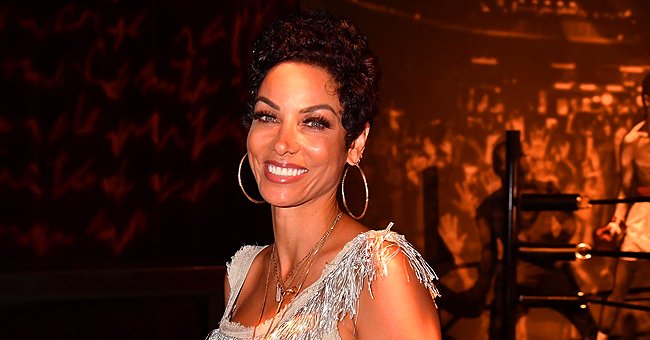 Getty Images
Meet Nicole Murphy's Cute White Maltese Pet Dogs Babi and Zack
Nicole Murphy melted hearts across the internet as she shared a photo and a video of her two adorable white Maltese dogs named Babi and Zack.
Nicole Murphy is the proud mother of five children she shares with her ex-husband, Eddie Murphy. In 2019, she welcomed her first grandchild, Evie Isla, from her son Miles and his girlfriend, Carly Olivia.
Amid quarantine, Murphy hasn't been able to see Evie something she admitted was difficult for her, in a previous post on Instagram.
Murphy is not self-isolating alone; she has as another adorable duo keeping her company named Babi and Zack; her white Maltese dogs.
Her male and female companions always look perfectly groomed in their white fur. In a recent photo, one of them was styled in a collar that has pearls along the front.
One fan was surprised with how clean they looked and asked her for a grooming tip, they said, "how do you keep their faces so white...no red tear stains?"
Murphy explained that she only gives her dogs bottled water when it comes to their liquids and that she washes their faces regularly. In a previous post, she also revealed that they go for grooming at "Posh Pet Care" in Los Angeles, Calfornia.
Being the fitness fanatic that she is, Nicole takes her dogs on regular walks. During a walk with Babi, she showed off a video of her energetic dog running along a sidewalk.
The moment was perfectly captured in slow-motion as Nirvana's song, "Smells Like Teen Spirit," played in the background. In her caption, she teased, "Babi has the teen spirit."
The video has many people commenting on how adorable Babi looked. "Nothing like a little teen spirit," said one fan about the dog energy.
Another fan praised her love for animals and gushed, "I love seeing how much you love and care for your fur babies!" One person admitted that the video of Babi had them feeling nostalgic about their own pet.

A fan commented on a video of Nicole Murphy's white Maltese dog, Babi, running along a sidewalk | Source: Instagram.com/nikimurphy
According to
Daily Mail
, after pictures leaked of Murphy kissing Antoine Fuqua in Italy, who was married at the time, she was
spotted taking a walk
with Babi and Zack on her return to Los Angeles.
After initially claiming that the kiss was just a friendly exchange, she eventually admitted to her wrongdoing and apologized for the incident.
Please fill in your e-mail so we can share with you our top stories!