Nicole and Eddie Murphy's Daughter Zola Bears Striking Resemblance to Her Mom in New Selfie
Zola Ivy Murphy, the sixth child of actor and comedy veteran Eddie Murphy and his former wife, Nicole Murphy, looks stunning in a recent photo of her capturing her followers' hearts.
Zola Ivy Murphy is the sixth child of iconic comedian and actor Eddie Murphy and his fourth child with his first and only now-former wife, Nicole Murphy. The actor's daughter took to Instagram to share stunning mirror selfies. Captioning her post, Zola wrote:
"Shoutout to my poltergeist ?"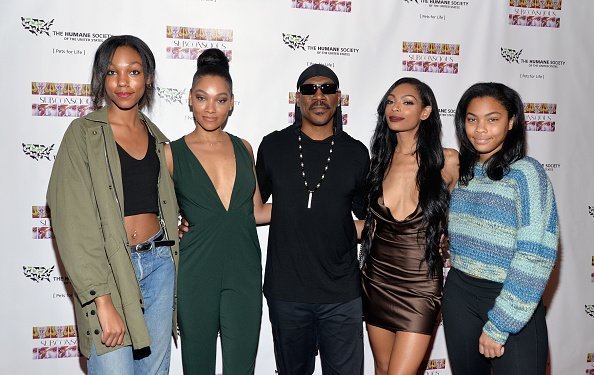 Zola was wearing an oversized dark blue jacket over a small white halterneck top and pajama bottoms, showing off her toned midriff.
She held up her green case-clad phone to capture the picture showing off her long, neatly done pastel pink nails while rocking beautiful black passion twists.
Besides Zola's beauty, something else would strike a viewer very quickly — she looked a younger version of her mother, Nicole Murphy, and the semblance was undeniable.
Zola is only one of Eddie Murphy's ten children with five different women
In 2019, Zola established that she had not caught the acting bug from her father and did not plan to anytime soon. She landed her first modeling experience with Global Intuition, an uprising apparel brand originally started in China.
Global Intuition is a brand that promotes simplicity and minimalism at its best while emphasizing self-expression. In an interview with the brand, the young model shared her experience as a first-time model. She said:
"I'm only 18, so I feel like a lot of people my age don't exactly know what you wanna do. So, I'm really appreciative that I got to delve into such a beautiful artistic career."
She added that modeling was a great career to delve into while she tried to find her path, and shared her affection for simple clothing and jewelry, through which she expresses herself. The now-twenty-year-old considered herself to be an artistic person, much like her father.
Zola is only one of Eddie Murphy's ten children, all of which he shares with five different women. Her mother, Nicole, a former model, married Eddie in 1993. They share five kids Bria, Miles, Shayne, Zola, and Bella.
Before Nicole and Eddie's union, he already had a son, Eric, with his former girlfriend, Paulette McNeely, and another son, Christian, with his then-girlfriend, Tamara Hood. The actor started dating pop star Mel B, with whom he had a daughter, Angel, after he and Nicole sadly parted ways in 2006.
Nicole, who used to be a former model and actress, has done pretty alright for herself after her divorce. She now owns a company called Nicole Murphy Fitness, which provides workout tips, exercises, and clean eating recipes, among other things for women.
While her mom is a total boss lady, Zola is doing just as great while trying to find her career, and sharing the occasional stunning selfie.