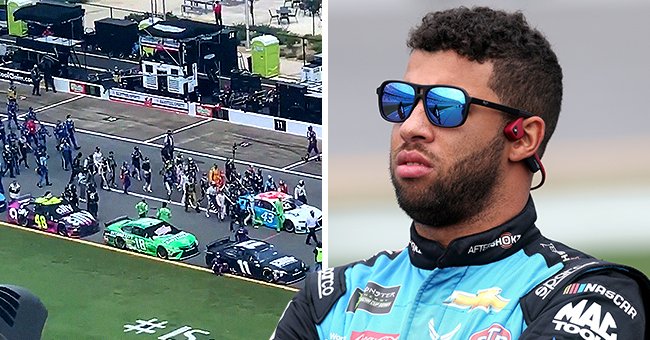 Getty Images / Twitter/odsteve
NASCAR Drivers Show Support for Bubba Wallace after a Noose Was Found in His Garage
Steve O'Donnell took to Twitter to share an iconic moment in NASCAR history, when other drivers marched by Bubba Wallace's car in support, after a noose was found in his garage.
Bubba Wallace's fellow NASCAR drivers and pit crew members came out to support him by walking alongside him and his Number 43 car at the Talladega Superspeedway after a noose was discovered in his garage.
Wallace is the only African American driver in NASCAR's top circuit. The discovery of the noose in his garage spoke volumes as it came at a time when the nationwide protests against systemic racism had spread wider, especially into NASCAR.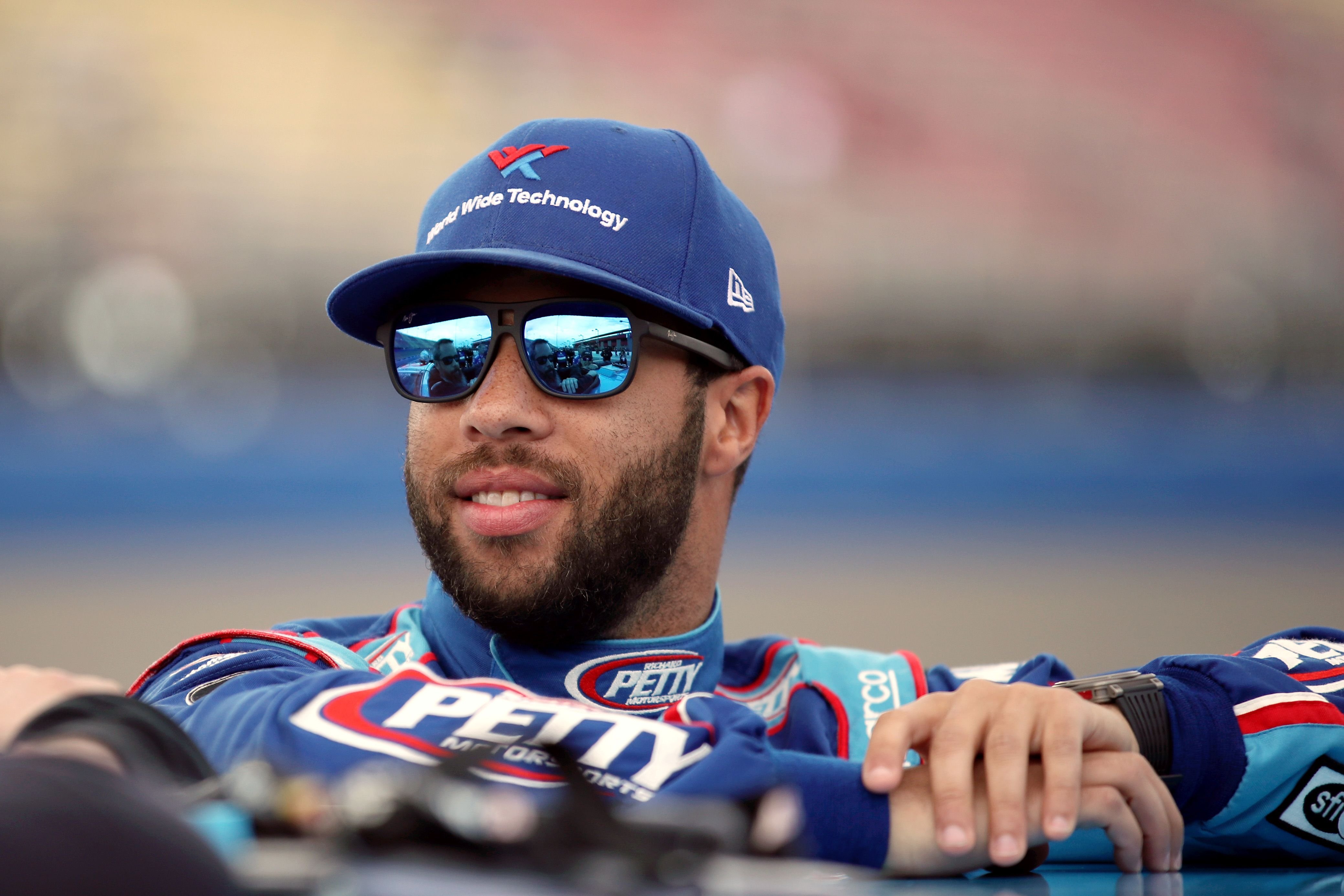 Bubba Wallace before qualifying for the NASCAR Cup Series Auto Club 400 at Auto Club Speedway in February 2020. | Photo: Getty Images
It seemed like a person who disliked Wallace as an African American man in NASCAR's top circuit had placed it there to send a message of fear or threaten him. NASCAR as a whole has been relatively active in speaking out in their way about recent protests.
Steve O'Donnell, the Executive President of NASCAR, took to Twitter to share an inspiring and emotional video of the iconic moment that Wallace's supporters walked by him the day after the noose was found. O'Donnell wrote:
"No words."
Wallace was spotted wearing a face mask with the American flag while he hugged his fellow drivers and supporters.
Wallace made a point to remain strong and fearless to prove that he had not been shaken or threatened in the slightest by the act of the unknown perpetrator.
Wallace's advocacy for banning the Confederate flag might have angered the perpetrator.
After his supporters marched by his side as he pushed his No. 43 car, Wallace joined the other racers in the front of the Talladega Superspeedway for the race.
Wallace emerged from the race in the 114th place, but everyone at the event could not deny that it felt as though he had won instead. Filled with energy, support, and joy, he headed to a group of first-time black supporters in the crowd to celebrate. NASCAR shared on Instagram:
"Bubba Wallace Post-Race at Talladega @bubbawallace thanks fans and comments on an emotional day at @talladegasupers."
With the help of those who supported him, the racecar driver proved that no act of racism could take away their joy. The executives at NASCAR did not keep mute about the incident.
The company's president, Steve Phelps, expressed his outrage at the insolent behavior of the unknown person. Phelps revealed that whether or not it could be described as criminal act legally, they would not condone such behavior.
He added that they would get the help of the FBI to investigate the horrid incident to determine the perpetrator who, when found, would be unequivocally banned for life.
For years, NASCAR has had to push out the Confederate Flag despite the obvious risk that they could agitate a large percentage of their fan base.
At the request and advocacy of Wallace only a few weeks before the noose incident, they finally went ahead with the ban.
Many speculated that Wallace's advocacy for banning the Confederate flag might have angered the perpetrator causing them to plant the noose in his stall.
Regardless of their reason or anything other acts, NASCAR, Wallace, and the rest of America who fight against racism do not intend to back down.
Please fill in your e-mail so we can share with you our top stories!