TI's Wife Tiny Harris Was Pretty-In-Pink during Her Meeting with Kandi Burruss and Rasheeda
Tiny Harris stepped out in style as she spent some leisure moments with her longtime pal, Kandi Burruss, and fellow star Rasheeda.
Media personality Tiny Harris looked gorgeous in a two-piece outfit alongside fellow TV stars Kandi Burruss and Rasheeda, during a hangout.
The photo shared on Instagram showed the dazzling trio striking poses for the camera and giving fans a delight.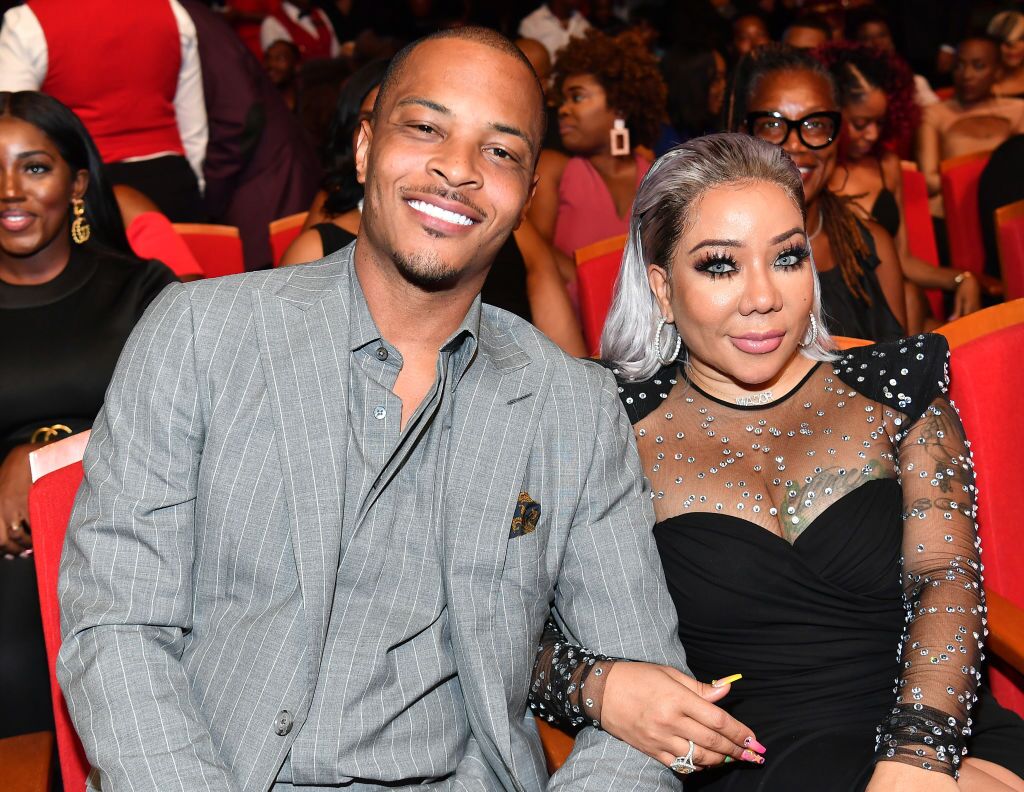 HARRIS STUNS WITH "HER GIRLS"
Harris sported a pink two-piece ensemble that perfectly hugged her figure. Her feet were clad in a pair of white kicks while she wore her strawberry blonde tresses down. Tiny told fans in her caption:
"Had a great meeting with my girls @kandi & @rasheeda. After today, they think I'm crazy! Trying to raise their vibes…"
Tiny's fellow Xscape singer, Kandi Burruss, brought on her A-game in a black and white patterned chiffon shirt, a pair of black jeans, and Vans kicks.
Burruss rocked her hair in a wavy length. Rasheeda wore an outfit similar to Tiny's. Her two-piece grey outfit had a ripped boyfriend jacket. She completed her glam with a Fendi fanny pack and white footies.
FANS LOVED THE GLAM!
Tiny did an excellent job raising her "girls vibes" as Burruss crouched with a bright smile, while Rasheeda rested both arms on her buddies. Fans drooled with affection as they fawned over the ladies and showed approval for their styles.
Heiress rocked black track bottoms and a dark blue jacket.
An awestruck follower mentioned: "Yesss the Real Atlanta bosses...no extra fronting," another added: "Three bosses." An admirer chipped in: "You are all so beautiful." Someone agreed with Tiny's caption: "Okay… Vibrations!!"
WISDOM FROM MAMA BURRUSS 
Fans would reckon that Kandi Burruss and Tiny Harris have come a long way together. As members of the Xscape girl group, these two have hit milestones and copped accolades. 
Once while on TI's "Expeditiously" podcast, Tiny opened up about the advice Kandi's mom gave her years ago. It had been about marriage, and Tiny revealed that Kandi's mom had advised her to marry for security, rather than for love.
In matrimony, Tiny has had her fair share of tumultuous moments, but she and her star spouse, TI, keep moving on stronger.
KEEPING UP THE LEGACY 
It seems Burruss and Harris are determined to pass on their longtime friendship to their kids. This was confirmed at Kandi's son, Ace Tucker's birthday party.
During the fab event, Ace and Harris's daughter, Heiress, were the cutest as they had fun being playmates. At a point, both posed for the camera and shared the sweetest hug.
A video of the youngsters hugging was shared on Heiress's Instagram page. While Ace looked dashing in a two-piece tracksuit, Heiress rocked black track bottoms and a dark blue jacket.