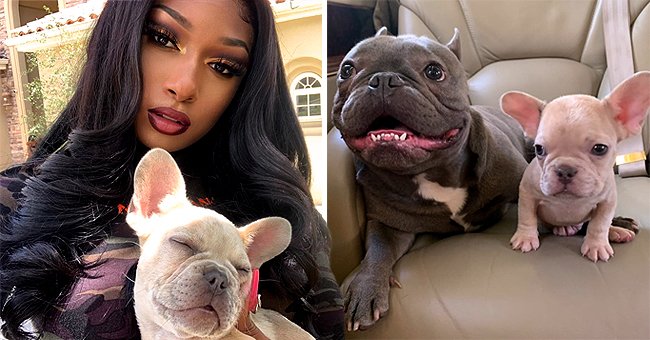 Instagram.com/theestallion
Megan Thee Stallion Teaches Her French Bulldog Pup How to Pose for Pictures in an Adorable Snap
Megan Thee Stallion entertained herself and her French Bulldogs as showed off her selfie skills while trying to teach them to pose for the perfect picture.
Megan Thee Stallion had the internet buzzing when she teased fans with the release of her upcoming single titled, "Girls In The Hood." She announced that the track would with air on June 26, 2020.
According to Daily Mail, leading up to the announcement, she has been giving fans a glimpse behind the scenes of some of her news looks.
She even showed off a new hairstyle after getting hair done in a high pony that was accessorized with a bandana.
While Megan has been practicing looks for her music video, she recently schooled her French Bulldogs Dos and 4oe on how to take the perfect pose for a selfie.
In the adorable photos, she showed Dos posing with its eyes closed while Megan gave a smoldering look to the camera. In the picture that followed, 4oe posed like a natural model while looking straight into the camera.
"Baby, he is camera-ready look at that POSE," joked one person about her photogenic dog. Another person noted, "Dos be in his own world. 4oe like I was born for this." Singers Chloe and Halle gushed over her adorable pets.

Chloe and Halle commented on a photo of Megan thee Stallion taking a selfie with her French Bulldogs Dos and 4oe | Source: Instagram.com/theestallion
Meghan's fans aren't the only ones who are fans of Meghan's dogs. According to
Hot New Hip Hop
, legendary rapper,
Snoop Dogg
tried to play matchmaker for his French Bulldog named Juelz.
In a hilarious video, Snoop Dogg tried to discourage the idea while chatting with Juelz, saying that he was too old. However, the rapper still tried his luck for his dog, and Meghan responded by telling Juelz to get bring along some girls.
As the pet of one of Hip Hop's rising stars, 4oe is along for the ride with its famous owner. Although the two haven't always had the best moments.
It is reported, in October 2019, 4oe ruined Megan's custom Chiavanchi dress while she was posing for pictures before heading out to the BET Awards.
In a video shot by her stylist EJ King, they both shared their surprise and expressed their frustration over the very noticeable stain on the train of her dress.
Luckily, Megan did not appear to be too upset with her dog, and she still made her appearance at the awards show. The rapper came out on top at the end of the night and took home the awards for "Hot Ticker Performer" and "Best Mixtape."
Please fill in your e-mail so we can share with you our top stories!