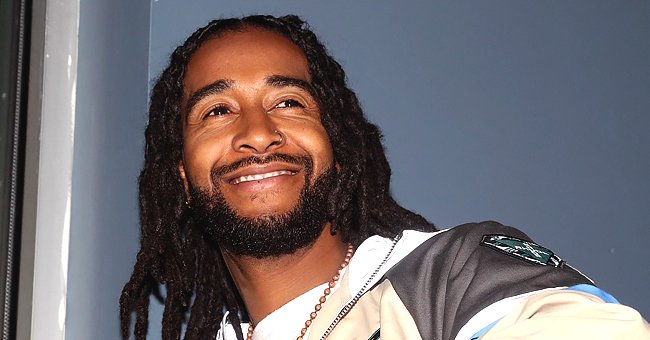 Getty Images
Omarion Praises Brother O'Ryan & Shows They Look like Twins despite 2-Year Age Gap in a New Video
The R&B singers have been surprising their fans due to their resemblance. Both brothers, who are very handsome, have similar talents and a close relationship.
If you did not know, R&B singer Omarion, had a look-alike younger brother, then you should know that his name is O'Ryan, that he is also an R&B singer, and that he is as handsome as his better-known brother.
On Father's Day, Omarion took to Instagram to post a video in which both siblings are having fun at a backyard, while he's trying to help O'Ryan make a flip. Luckily, the brother finished the jump with no harm.
Fans immediately commented on the post emphasizing their amazing resemblance. User @maletlhatso wrote "ya look like the same person," while @shawnaustin2020 commented "who is who? look like twins." Follower @aziizdiallo said in a funny way: "Who is omarion?"
POWER DUO
Though they are rarely seen together, Omarion and O'Ryan have a close and loving relationship as siblings. They were both recently featured on the cover of the digital issue of Preme Magazine and many fans were impressed by their good looks.
The pictures published show the B2K singer glowing in a different way. On his social media, Omarion has shared that he is going through a more spiritual path. In fact, he has even introduced his own kids into meditation.
JHENÉ & O'RYAN
Before we knew these handsome singers were brothers, O'Ryan had a relationship with R&B songstress, Jhené Aiko, which lasted from 2005 to 2008. From that time, they had a daughter, Namiko Love, in 2008, when Aiko was 20 years old.
Aiko, who has been known for having a voice with an ethereal quality, revealed in 2016 that she was married to producer Oladipo "Dot da Genius" Omishore. That same year, she filed for divorce but it was not finalized until 2017.
Since her split with Dot da Genius, the singer, who has also collaborated with Drake, Kanye West and Lauryn Hill, began dating rapper Big Sean. Their relationship lasted until December 2018.
INTO CO-PARENTING
Though Aiko and O'Ryan are no longer together, they have an amicable relationship for the sake of their daughter. In 2015, Aiko invited her ex-boyfriend to be featured in the music video "Spotless Mind".
Aiko decided to tell her ex-boyfriend to be part of the video since she needed someone with talent that she could trust. In the end, they enjoyed the experience, and their daughter did as well.
Please fill in your e-mail so we can share with you our top stories!