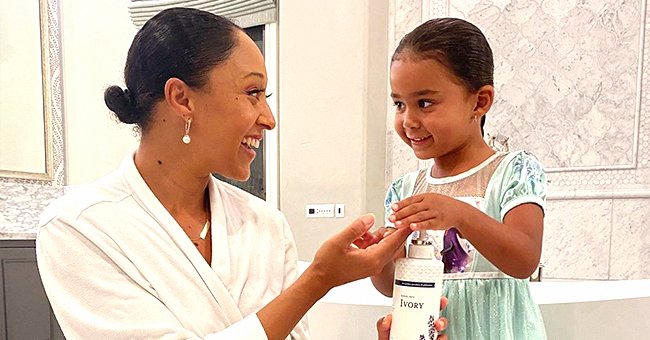 Instagram/tameramowrytwo
Tamera Mowry's Daughter Ariah Looks like a Princess Wearing Blue-green Dress in a Photo with Mom

Tamera Mowry recently shared a photo of herself with her daughter, Ariah, and the 4-year-old looked incredibly pretty in a blue-green dress. The duo also appeared to enjoy spending time together.
Taking to Instagram, Mowry recently shared a photo of herself and her daughter, Ariah Housley, having a sweet mother-daughter bonding moment.
Mowry rocked a white robe while she maintained a sitting position and Ariah donned a pretty blue-green dress, which gave her a princess look as she stood next to her mother.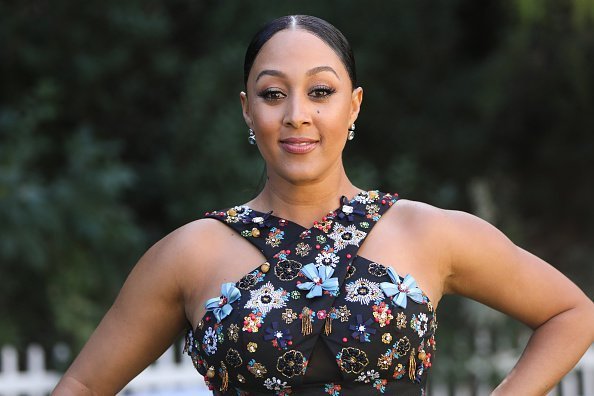 Actress Tamera Mowry-Housley visits Hallmark Channel's "Home & Family" at Universal Studios Hollywood California in 2019. | Photo: Getty Images.
With Mowry and her daughter looking into each other's eyes, the adorable duo flashed their pretty smiles as they posed for the picture.
In her caption, Mowry gushed about her daughter while explaining that Ariah had an interest in the products that she uses. She also added:
"As a mom, I feel like it is my job to teach her about using cleaner personal care products..."
The adorable picture seemed to thrill fans who quickly took to the comments section shortly after Mowry uploaded the post.
One user wrote, "Awwww Soooo Sweet!??❤️❤️??‍?" while another added, "Nice mommy and me photo. ??❤️" with several others leaving sweet notes about Ariah and Mowry's striking resemblance.
Mowry reportedly admitted to praying for a brown-skinned daughter like herself.
Ariah was born in 2015, to Mowry and her husband, Adam Housley, and in addition to their daughter, the couple shares an older son, Aden, whom they welcomed in 2012.
However, despite being committed to her role as a mother, last year, Mowry revealed that she was done having kids while stating:
"I'm done having kids. My kids are at the age right now — and I talked about this on 'The Real' — where parenting is work."
Mowry further explained that parenting was a lot of work for her because she was regularly trying to instill the right morals and values into her children.
According to her, she had taught them to clean up at their young ages because she wanted them to grow up learning how to do things for themselves.
In view of instilling values and morals, last October, Mowry reportedly revealed that she was going to have "the sex talk" with her son, Aden.
The mother of two explained that she believed it was important to have a conversation with him early because children need to start learning about the important things at an early age.
While Mowry is biracial with an Afro Bahamian mother and an English-Irish father, her husband, Adam, is, however, a white man.
Interestingly, after the birth of the couple's first child, Aden, it was discovered that he shares a striking resemblance with his father, and this piqued a fear in Mowry, who reportedly admitted to praying for a brown-skinned daughter like herself. Well, It's safe to say her prayers were answered!
Please fill in your e-mail so we can share with you our top stories!