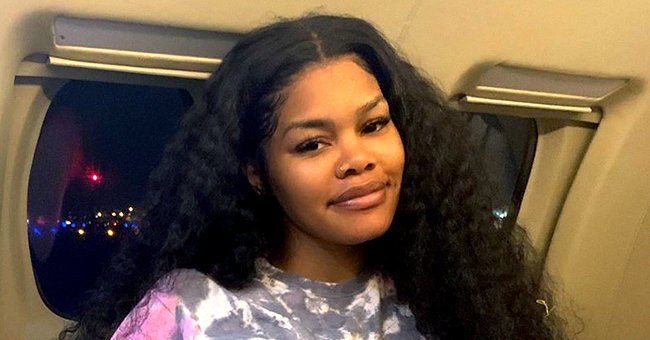 Instagram/teyanataylor
Teyana Taylor Glows as She Shows Baby Bump & Tattoos in a Purple T-Shirt in New Photos
American singer-songwriter, Teyana Taylor, takes to social media to share an update that shows off her growing baby bump and tattoos in a purple t-shirt.
Pregnancy certainly agrees with Teyana Taylor. The 29-year-old singer recently took to her Instagram page with shots that flaunted her growing baby bump. In the photos, Teyana Taylor looked beautiful as she posed for the camera in a purple t-shirt with the words "Pretty little thing" printed on it.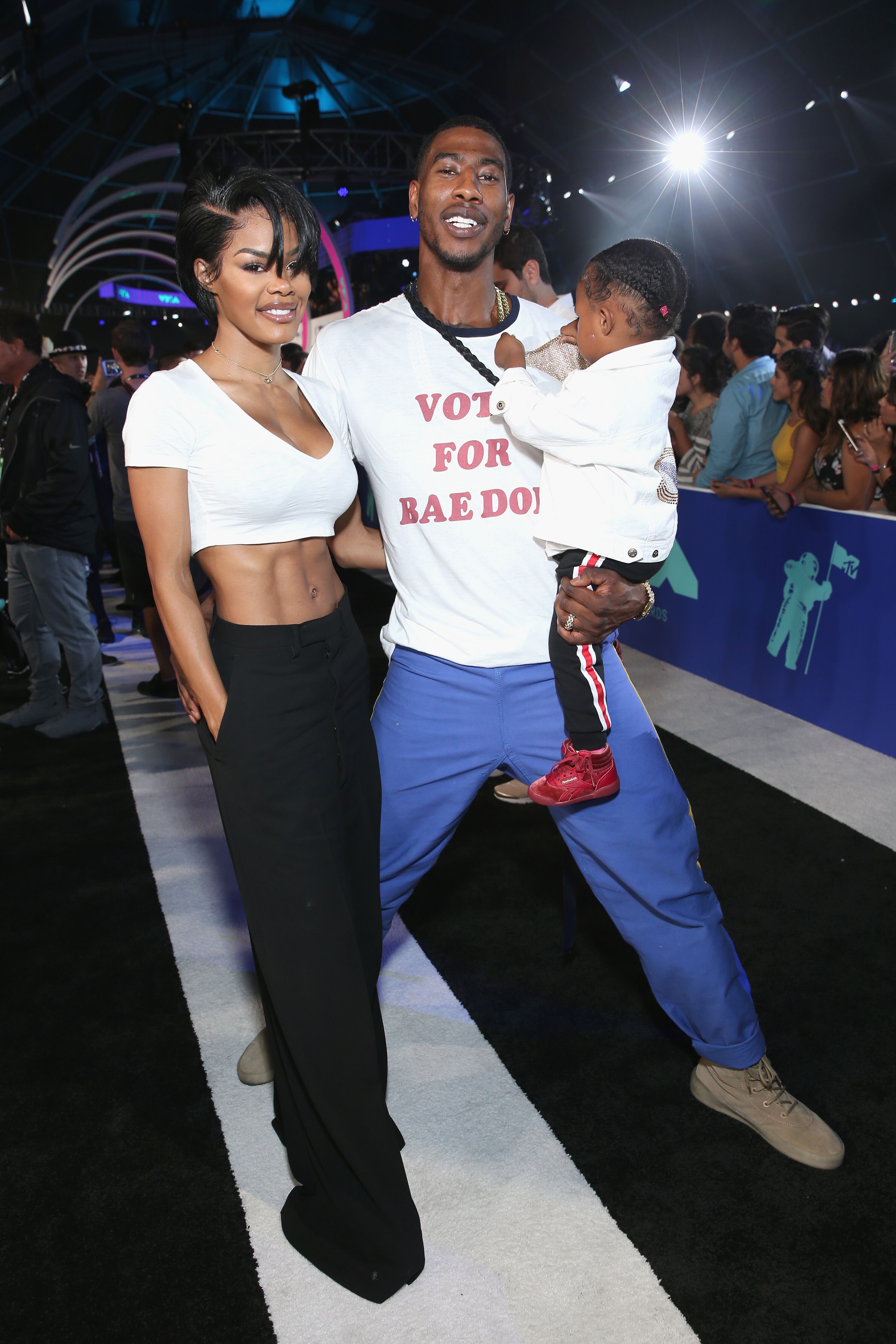 Teyana Taylor, Iman Shumpert and Iman Tayla Shumpert Jr. attend the 2017 MTV Video Music Awards on August 27, 2017. | Photo: Getty Images
Taylor paired the t-shirt with black shorts, and her nails were painted yellow while her black hair was left unbound. In the first snap, the t-shirt covered her belly, but she raised it just a bit to give fans a clear view of her baby bump.
Her tattoos were visible in the pictures, and the talented singer seemed to be glowing as she reclined in what appeared to be a plane. Taylor captioned the post:
"Love ah good red eye! Auntie Tunia beat downnnn to da ground, I'm bout to knock out."
In the comments section, Taylor's fans complimented her photos; most agreed that she looked beautiful, and many wished her a problem-free delivery and a healthy baby. Taylor revealed news of her pregnancy in the music video of one of her latest songs, "Wake Up Love," which was released on Friday.
Though Taylor had her doubts, the pair quickly became friends.
As the music video tapered to an end, the talented singer could be seen in bed sharing a kiss with her 4-year-old daughter Iman "Junie" Tayla and NBA pro husband, Iman Shumpert. She pulled down the blanket, sheltering her, lifted her shirt, and revealed her baby bump to the public for the first time.
Following the announcement of the joyful news, Junie can be seen in the footage jovially attempting to keep her dad's hand away so she could have total access to her mother's bulging tummy.
In an exclusive interview with PEOPLE, Taylor said, "We're ready, and we're very excited, Iman is super excited. Junie is ecstatic — I'm talking super ecstatic." The proud mother added that she's got three months left until her little princess's arrival, and she can hardly wait to meet her.
Though Taylor and her husband, Shumpert, have many names in mind for their unborn daughter, her big sister, Junie, has other ideas, and she reportedly keeps changing it.
Taylor doesn't mind, though —she says they want to keep little Junie as involved as possible; according to her, Junie thinks the baby is hers and talks to her all the time.
Junie is Taylor's first child with Shumpert, and she reportedly delivered her with the support of her husband in a bathroom in her home on Wednesday, December 16.
A day after the delivery, Taylor took to her Instagram page to share details about the unusual delivery. She revealed that she didn't even know she was in labor until she woke that morning at 6.
She added that it took "two ten count pushes" with Shumpert playing the role of doctor, for little Junie to slip out directly into her daddy's waiting bare hands.
Taylor and Shumpert initially met in 2014—at the time, they both had been in the painful process of healing from different breakups.
Though Taylor had her doubts, the pair quickly became friends, and eventually, they took it to the next level. They got engaged in 2015 at their first daughter's baby shower.
They tied the knot in September 2016—the ceremony took place in their home, on the same spot where they welcomed their first child.
Please fill in your e-mail so we can share with you our top stories!