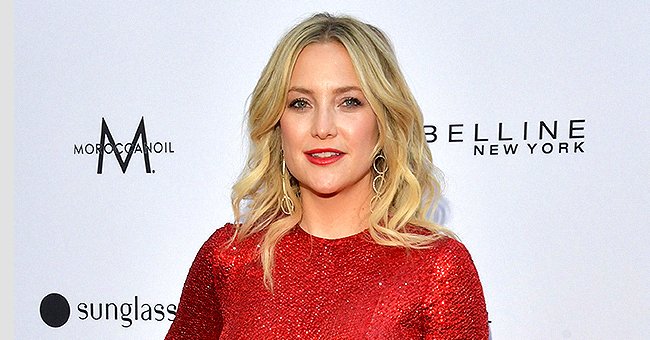 Getty Images
Kate Hudson Looks Stunning as She Puts Toned Abs on Display in a Long-Sleeve Swimsuit
Kate Hudson is keeping up with her workout routine. She showed off her stunning abs while wearing a unique swimwear piece.
Earlier this week, Kate Hudson gave her fans a look at the amazing results she's been getting from her workout routine. The actress showcased her flat tummy in swimwear.
Hudson, 41, has three kids. Ryder Robinson, 16, and Bingham Hawn, eight, are both from previous marriages. She shares Rani Rose, one, with her boyfriend, Danny Fujikawa. The shot is found below.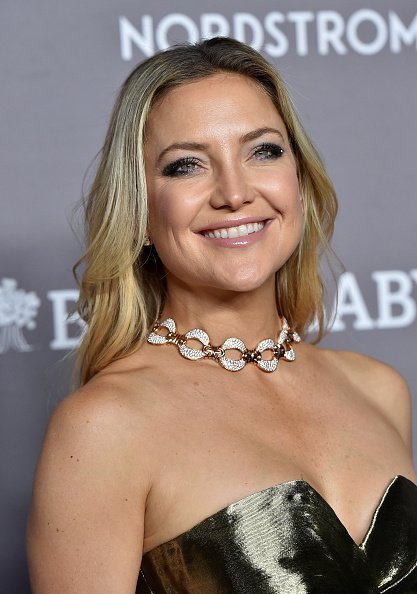 Kate Hudson at the 2019 Baby2Baby Gala on November 09, 2019 in Culver City, California.| Photo: Getty Images
HUDSON DONS LONG-SLEEVED SWIMSUIT IN VIDEO
Taking to her Instagram stories, Hudson posted the temporary clip of herself in a mirror selfie in front of a bed or couch. She wore a pair of black sunglasses in the picture.
Hudson wore an orangish-red animal print bikini swimsuit that featured long sleeves for the top and a high waist design for the bottom. Hudson's middle section was impressive.
The actress encourages a healthy lifestyle and regular exercise on her social media. "This suit tho [sic]," she wrote over the video. According to Closer Weekly, the actress trains with Nicole Stuart.
Their routine includes a combination of pilates and cardio to improve on strength and flexibility. Hudson has also previously mentioned that losing the baby weight was the hardest the last time around.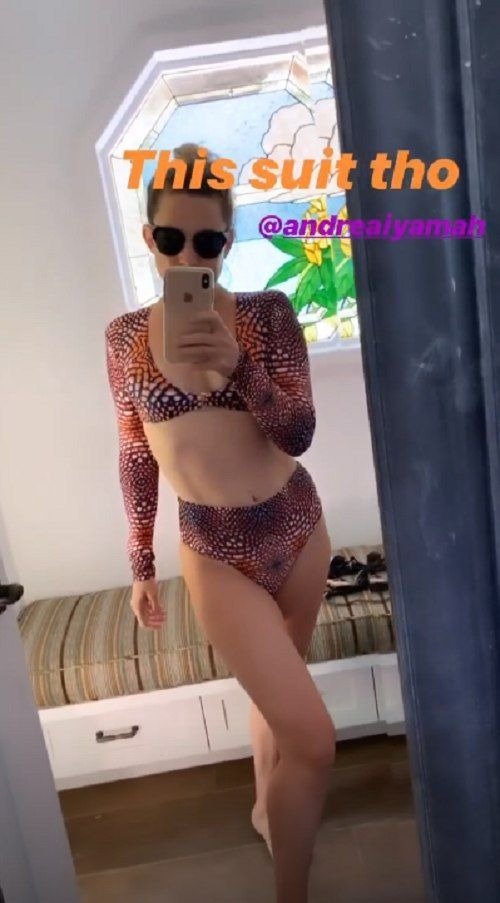 Kate Hudson posts bikini video to her Instagram stories | Photo: Instagram/ Kate Hudson
SHE AND DAUGHTER RANI POST ADORABLE BATH SHOT
Last week, she shared the sweetest photo of her and her youngest enjoying a bath. In the caption, Hudson talked deeply about her love for her children.
The shot showed an unclothed Hudson sitting in the tub holding onto Rani. The actress looked down at the baby girl who looked right back up at her.
HAWN WANTS TO DO A MOVIE WITH HER GRANDKIDS
Back in May, Hudson's famous mother, Goldie Hawn, spoke about wanting to do a movie with her grandkids. Speaking on "Watch What Happens Live," she told the host it would be incredible.
The 74-year-old actress said her kids were talented and that they've already thrown around the idea of doing a movie together. Her son, Oliver, has three children.
FALLON ADMITS HE HAD CRUSH ON HUDSON
In April, Hudson sat down on "The Tonight Show" and spoke to Jimmy Fallon about their history and what could have happened when they did their first movie together.
Although 20 years have passed, Fallon recounted how he was actually interested in Hudson while taping "Almost Famous." Unfortunately, that's when the actress began dating ex, Chris Robinson.
HUDSON CREDITS MOM WITH GIVING HER CONFIDENCE
Hudson's path in life, coupled with her mom's support, has made her into the person she is today. In April, the actress opened up about her mom giving her the confidence she needs.
She also revealed what she'll be passing onto Rani, saying, "Mom was my greatest cheerleader. And it just made me think about Rani going, 'I hope I give her that kind of confidence,' you know?"
CELEBRATING BOYFRIEND DANNY FUJIKAWAI'S BIRTHDAY
Of course, Hudson is further getting a lot of support from boyfriend Fujikawa, who celebrated his birthday earlier this month. The actress paid tribute with a heartwarming Instagram photo.
In the black and white photo, the couple shared a romantic kiss in a large room under a chandelier. Hudson wished him a happy birthday in the caption before adding, "I love you."
Please fill in your e-mail so we can share with you our top stories!