Bret Michaels' Life with Diabetes — inside His Everyday Battle with an Incurable Disease
Iconic rock singer Bret Michaels was diagnosed with diabetes at the age of six. Through his lifelong battle with the incurable disease, he has managed to build a hugely successful career. 
Bret Michaels gained fame in the 80s as the lead singer of the rock band "Poison." With over 45 million records sold worldwide and more than 15 million in the United States alone, Michael's group remains one of the most successful heavy metal rock bands of all-time. 
Many musicians have achieved great feats over time, but what makes Michaels' story more special is that he achieved all he did while enduring a lifelong battle with diabetes.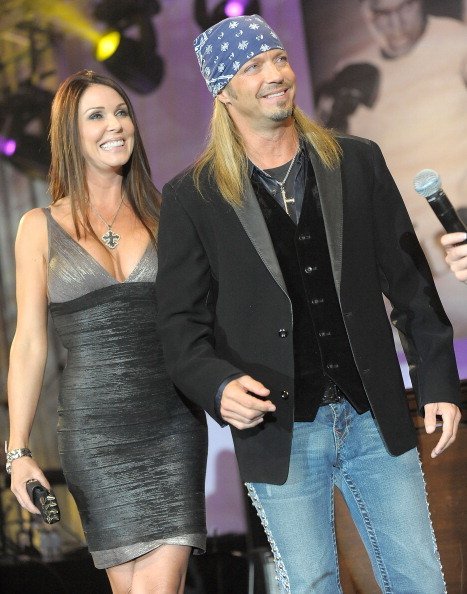 BRET MICHAELS' STRUGGLE WITH DIABETES
The 57-year-old rocker has lived with type 1 diabetes for much of his life and has done pretty well to live a near-normal life. Michaels once passed out at the age of six while he was in school after his blood sugar levels skyrocketed.
He was subsequently rushed to the ER, where it was established that Michaels had diabetes. Not much was known about the disease at the time, and some parents at Michael's school erroneously thought the disease was contagious and prevented their kids from getting close to him.
The iconic singer claimed his childhood was difficult, but it helped him to develop a resilient personality. Most importantly, he found solace in music:
"To me, music was absolutely one million percent therapeutic. For some other people, [they] would want to talk through their problems. I would put it into music..."
Since then, Michaels has had to take insulin shots every day of his life, and he continuously measures his blood sugar levels in a bid to manage the disease. More importantly, he tries to put his body in perfect shape through a healthy fitness routine and dietary plan,
Bret Michaels' diabetes journey has seen him get into several partnerships and charitable courses from a young age, including earning $250,000 for the American Diabetes Association for winning Celebrity Apprentice 3.
The longhaired singer has been very vocal about his lifelong battle with the incurable disease. More recently, in 2018 after a charity concert to benefit the Joe DiMaggio Children's Hospital, the singer admitted he had grown wary in his struggle with the disease. However, he revealed that seeing the children battle with the illness was an inspiration to him. 
Diabetes is a disease that affects an estimated 1.5 million people in America. Several celebrities are known to be living with diabetes, including Tom Hanks, Halle Berry, Nick Jonas, Vanessa Williams, and several others.
BRET MICHAELS' OTHER HEALTH PROBLEMS 
Apart from living with diabetes throughout his life, the legendary singer has had several health scares throughout his lifetime, but amazingly, he has continued to live through it all. 
Michaels had been living with appendicitis for some time, but in 2010 the talented singer had to undergo an emergency appendectomy. Shortly after his surgery, he suffered a subarachnoid hemorrhage, which could have easily taken his life. 
The reality TV star's preexisting diabetes condition complicated his treatment but, Dr. Joseph M. Zabramski, who led the team treating Michaels, admitted that the singer put up an incredible fight, and it was crucial for him to survive the ordeal. 
Bret Michaels made an appearance on the "TheEllenShow" shortly after getting out of the hospital, and he appeared to be in high spirits as he talked about how he had been able to get back on track.
After surviving the gruesome ordeal, Michael still had some more fighting to do, as he suffered a stroke, and he had to go under the knife again after it was discovered that he had a small hole in his heart.
Later in 2014, Michaels also had an emergency kidney surgery. During a 2015 interview with PEOPLE, the "Rock of Love" star reflected on his health problems within a short time. He said:
"I may have some things tougher than the average person, but there are a lot of people who are going through worse things than me. I can't live in fear."
BRET MICHAELS' PERSONAL LIFE 
Over the years, Bret Michaels has been involved in several relationships, but none of them led to marriage. He got very close to walking down the aisle with his longtime girlfriend Kristi Lynn Gibson, but the two called off their engagement in July 2012. 
The one-time lovers dated on and off for over 16 years and share two beautiful daughters Raine Elizabeth, 20, and Jorja Bleu, 15.
Bret Michaels' daughter Raine Michaels was diagnosed with borderline diabetes when she was 10, and the former "Poison" lead singer has admitted that the diagnosis initially shook him. Still, he had to be strong for his daughter. During an interview with Parents.com, he revealed:
"There is a lot of responsibility that comes with being the parent of a diabetic child. You're worried about their health, there are finances involved, there's a lot of stuff."
Despite the medical setbacks of 2010, the Michaels family made it through in one piece, and Bret Michaels' kids are all grown now. His eldest daughter Raine is a stunning model and was featured on the Sports Illustrated swimsuit issue in 2018. Raine, who is studying music at Belmont University in Nashville, revealed that her father is very supportive of her career.  
The swimsuit model admits that she is proud of what her father has achieved but understands that she has to make her own way. In her words:
"He's an amazing person. So, I'm not ashamed that people know I have a celebrity parent. I realize that yes, he can open doors, but I have to work hard to keep them open."
BRET MICHAELS CAREER
Michaels shot into the limelight in the 80s and has come through several highs and lows in a successful career that has spanned several decades in different spheres of the entertainment industry. 
Michaels first made his mark as the lead singer of the rock band "Poison," releasing several chart-topping songs, including the 80s anthem "Every Rose Has Its Thorn."
Bret Michaels also enjoyed a solo career, releasing his first solo album "A Letter from Death Row" in 1988. He followed that up with several other records that did relatively well. 
Apart from his music career, the singer has featured in several movies and television shows, including "A Letter from Death Row," "No Code of Conduct," "In God's Hands, "Yes, Dear," and many more.
Bret Michaels also starred as himself in the reality TV series "Rock of Love with Bret Michaels," a dating show, which saw beautiful girls compete for the rocker's heart. The show premiered on VH1 in July 2007. The reality TV series was renewed for two more seasons.
The father of two continues to enjoy an active career, making appearances in many TV shows. Even though he may not have a clean bill of health, he has enjoyed a more stable lifestyle in the last few years.
ⓘ The information in this article is not intended or implied to be a substitute for professional medical advice, diagnosis or treatment. All content, including text, and images contained on, or available through this NEWS.AMOMAMA.COM is for general information purposes only. NEWS.AMOMAMA.COM does not take responsibility for any action taken as a result of reading this article. Before undertaking any course of treatment please consult with your healthcare provider.