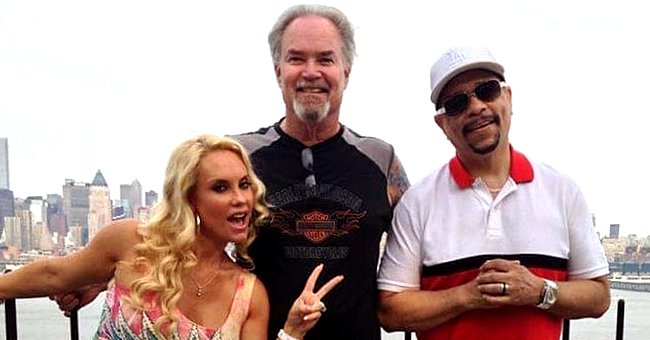 Instagram/icet
Ice-T Gives Updates on Wife Coco Austin's Father Who Is Fighting COVID-19 in the Hospital
Ice-T gave fans an update on the health of his wife, Coco Austin's father after the model shared that the patriarch of her family was diagnosed with COVID-19.
Only days ago, Coco Austin shared the news that her father, Steve Austin, had been diagnosed with COVID-19. He is being treated at the Arrowhead Regional Medical Center in Arizona.
Ice-T recently gave an update to his fans about his father-in-law's condition. He revealed that Steve was still in ICU and had been in there for the past three days.
The rapper thanked the public for the outpour of support and love that people have been showing their family since they announced their tragic news. In his update, he explained:
"Coco's father on his 3rd day in ICU…Fighting his best to avoid going on the ventilator."
Since Ice-T shared his latest update, fans have been sending the couple their love. "You guys are in my thoughts. Love your family," commented one user on his post.
"Praying that he doesn't have to go ventilator and that the sickness leaves his body soon," said another person." Ice-T's friend and rapper LL Cool J sent his well wishes with a prayer hands emoji.

LL Cool J commented on a photo of Ice-T's father-in-law with a breathing tube after being diagnosed with COVID-19 at Arrowhead Regional Medical Center, Arizona | Source: Instagram.com/icet
At the time of Steve's hospitalization, Coco shared her pain in dealing with her father's COVID-19 diagnosis. The model
said
he has always been "as tough as an ox" and compared him to wrestling legend, Steve Austin. While giving insight into his battle, she
wrote:
"The one that never EVER gets sick...He is having trouble breathing and feels like he is being stabbed with pins throughout his body."
In her emotional post, Coco cautioned people about taking the pandemic lightly. She warned the public to think twice about assuming that members of their family are unlikely to test positive for COVID-19.
As she sent prayers to her family, the "Ice Loves Coco" star revealed that two of her aunts also had the virus. She suspected that they all could have contracted it at the same time as her father.
Since Steve's diagnosis, Ice-T has been vocal in warning people about the pandemic. In one tweet, he urged people not to believe the conspiracy theories about COVID-19 being fake. In another tweet, he argued that wearing a face mask was comparable to a person's IQ.
On Father's Day, Coco shared a touching tribute to her father with his family gathered together. The sweet moment captured their bond. Our thoughts go out to their family during this challenging time.
Please fill in your e-mail so we can share with you our top stories!