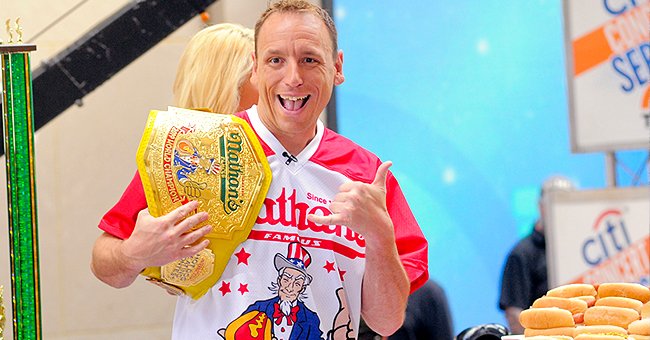 Getty Images
Joey Chestnut Wins Hot Dog Eating Contest for 13th Year in a Row Breaking Previous World Record – How Many Did He Eat?

Serial Hot dog eater, Joey Chestnut, won the Nathan's Annual Hot Dog Eating Contest for the 13th year in a row, while setting a new world record in a closed-door competition.
Joey Chestnut is a man with an insatiable appetite for hot dogs. Over the weekend, he lived up to his reputation when he ate his way to a record-breaking victory at the annual hot dog eating contest.
On Saturday, July 4, the contest was held indoors in Coney Island, New York. The contest also had fewer competitors this year, due to the novel coronavirus pandemic.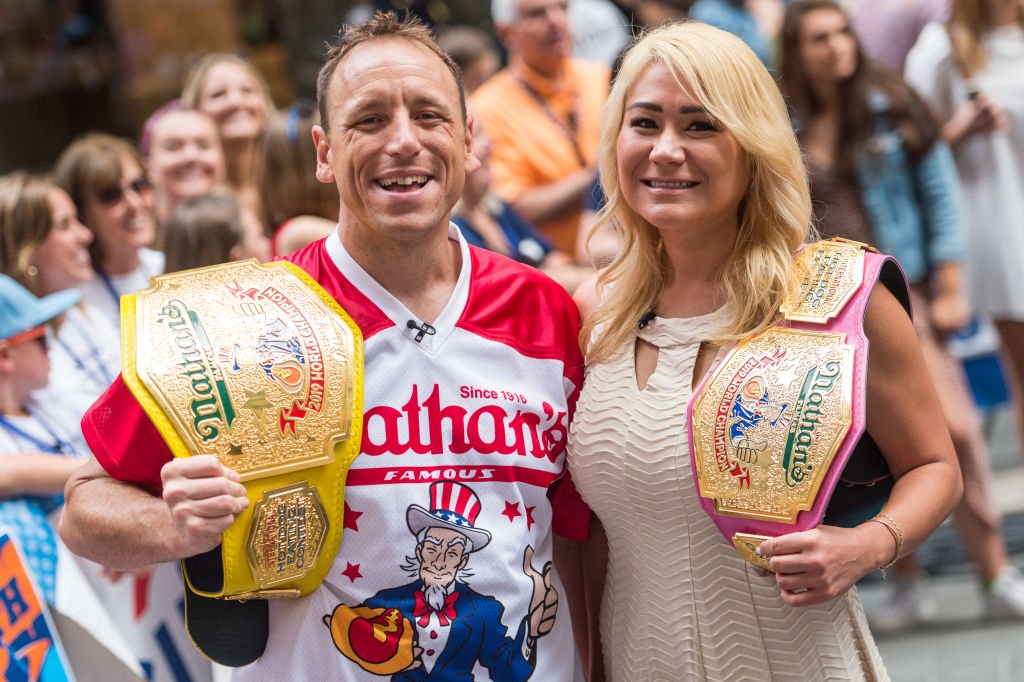 Nathan's Famous Hot Dog Eating Champions Joey Chestnut and Miki Sudio attend the Today Show on July 05, 2019 | Photo: Getty Images
The competition organizers did an excellent job of setting up modifications to the annual dog eating contest. This year's event featured five contestants as against the usual fifteen.
Chestnut, 36, who is the reigning champion, was there to defend his title, and he ate 75 dogs and buns in 10 minutes, setting a new record. Speaking after his victory, Chestnut highlighted that he felt the absence of the crowd.
The 13 times champion reached a personal milestone eight minutes into the contest when he gobbled down his 1000th career hot dog.
Meanwhile, in the women's division, Miki Sudo consumed an astonishing 48.5 hot dogs and buns in 10 minutes, placing her in the record books with her seventh consecutive title.
Chestnut claimed his first victory in the competition in 2007, as he ate 66 hotdogs.
Along with other new modifications made to this year's event, the Coney Island competition allowed betting for the first time in the tournament's history.
Oddsmakers had already tipped Sudo for the victory, and she did not disappoint. While commenting on the lack of fans at the venue, she said:
"To everybody watching at home...thank you so much for supporting us out of your living room."
Miki Sudo also gave a shoutout to her training partner and boyfriend, Nick Wehry, who finished in third place after eating 48.5 hot dogs.
The annual tournament usually sees "Nathan" make a yearly donation of 100,000 hot dogs to the New York City Food Bank, and this year, additional efforts were made to raise funds and shine the light on the needs of the organization.
Chestnut claimed his first victory in the competition in 2007, as he ate 66 hotdogs, which kick-started an exciting rivalry with six-time champion Takeru "Tsunami" Kobayashi.
Even with his record-breaking success at this year's event, Chestnut is still hungry for more and firmly believes he can reach the 77 hot dogs mark next year.
Please fill in your e-mail so we can share with you our top stories!