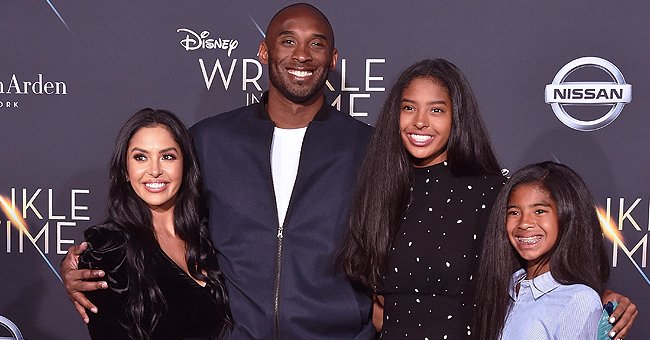 Getty Images
Kobe Bryant's Beautiful Eldest Daughter Natalia Looks like Her Mom Vanessa in New Black and White Photos
Kobe Bryant and Vanessa Bryant's oldest daughter looked stunning in a series of black and white portraits that showed off her striking resemblance to her mother.
The photos were taken by celebrity photographer, Brian Bowen Smith. He is known for capturing stunning portraits and has photographed Sharon Stone, Common, Tracee Ellis Ross, and Kaia Gerber.
Natalia didn't have a quirky caption for the photo that showed off her stunning smile. She simply thanked the photographer for his fantastic work.
Many fans praised her for the gorgeous portrait. However, comparisons to her famous father were inescapable.
In another photo, Natalia posed with Vanessa. The mother-daughter duo had their hair swept to one side as they starred at the camera lens.
Many fans thought the pictures were beautiful. "The love that a mother and daughter share is magic," commented one person. Another person wrote, "beautiful you are each other's rock."
Some fans pointed out Vanessa and Natalia's uncanny resemblance. However, one person admitted, "I can literally see Kobe in your beautiful face." Brian commented on his work and noted that they looked like twins.

Brian Bowen Smith commented on a black and white portrait of Vanessa Bryant and her daughter Natalia Bryant | Source: Instagram.com/nataliabryant
Natalia posted the third portrait of herself, which appeared to be the solo shot of the photo she took with her mother.
With her hair swept to the side, she looked gorgeous with her shoulder-length look that was styled in loose beach curls.
Many fans praised her for the gorgeous portrait. However, comparisons to her famous father were inescapable. One fan wrote, "so beautiful! You look like your dad here." Another person added, "little Kobe."
"Truly the perfect blend of your iconic parent's gorgeous girl," responded one person. Aoki Lee Simmons commented with just one word and said, "gorgeous."
Natalia's post comes almost a month after she and Vanessa announced that they would be making their Instagram accounts private and blocking fan pages.
In statements shared on their pages, they revealed that it was to help them heal from the loss of Kobe and Gianna. Natalia and Vanessa explained that they needed to limit the images of their loved ones that appeared on their newsfeeds. Although Vanessa's page is still private, Natalia has made her account public again.
Please fill in your e-mail so we can share with you our top stories!