Rick Warren's Son Matthew Took His Life at 27 — Glimpse into the Pastor's Personal Life
Pastor and author Rick Warren, best known as the co-founder of Saddleback Church in Southern California, has been open about the death of his son, Matthew.
Born in January 1954, Rick has been a servant of God for most of his life as his father, Jimmy, was also a Baptist minister.
Even in religion, [mental illness] is a neglected topic.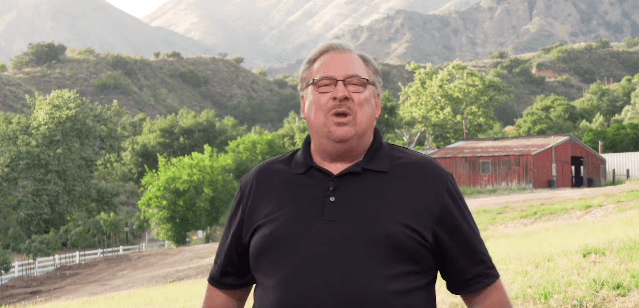 RICK WARREN'S CAREER
Besides a religious background, Rick has a Bachelor of Arts degree from California Baptist University, a Master of Divinity degree from Southwestern Baptist Theological Seminary, and a Doctor of Ministry degree from Fuller Theological Seminary.
If that wasn't enough, Rick Warren is also a renowned author, "The Purpose Driven Life" being one of his most successful books so far.
As per Rick's love life, he has been married to Kay Warren for over four decades. Together, they welcomed three children: Amy, Josh, and Matthew Warren.
Unfortunately, tragedy hit the Warrens on April 5, 2013, when Matthew, who had been dealing with mental illness since he was a child, took his own life. He was 27 years old.
MATTHEW WARREN'S DEATH
A day after Matthew's passing, Rick sent an email to the congregation of the Saddleback Church to share the sad news and to ask for their prayers. The pastor wrote:
"No words can express the anguished grief we feel right now. Our youngest son, Matthew, age 27, and a lifelong member of Saddleback, died today."
After describing his son as a kind and compassionate man, Rick pointed out that only his closest friends and family knew about his mental illness, which included episodes of depression and suicidal thoughts. Pastor Jarrid Wilson, who also died by suicide, dealt with those problems, as well.
Rick Warren pointed out that the "torture" of Matthew's mental illness could never be cured despite the fact that he was treated by "America's best doctors," got his medication, and was in people's prayers.
In late-July 2013, weeks after Matthew's passing, Rick and Kay returned to the church. There, he talked about the shame that is often associated with mental health.
Rick pointed out that the stigma surrounding mental illness was so severe that people dealing with it are expected to keep it a secret. However, he added, when any other body organ was not working properly, "there's no shame and stigma to it."
KAY WARREN LEARNED FOUR THINGS AFTER MATTHEW'S DEATH
In November 2019, Kay Warren, who admitted that she and her husband "missed" the signs that their child was struggling, shared four things that Matthew's suicide taught her. The first one is that mental illness is real, common, and treatable.
However, even in religion, it is a neglected topic. Kay explained that people believed mental health was all about the person's spirit, with nothing else (neither physical nor emotional) involved.
Kay also learned about statistics of the problem, including that about half of all adults will experience a mental illness in their lives, one in ten children will deal with it in any given year, and that 70% of clergy don't feel equipped to handle mental illness.
Apart from that, Rick Warren's wife pointed out that, although traditional medicine was helpful, the church was also useful in helping people understand that they are embraced and welcomed even with their brokenness.
EVERYBODY CAN HELP
The fourth and final thing that the suicide of Rick Warren's son taught Kay was that we could help by paying attention to any changes in a person's behavior, attitude, mood, and ability to cope with stress.
She added that if we identify such changes in a person, the best thing to do would be to kindly say:
"'Hey, you know I noticed that you just don't seem yourself right now. Are you okay?'"
According to Kay, after that person opened up about their feelings, we could use the word "suicide" and ask if they have thought about taking their own life.
Kay pointed out that there was a misunderstanding surrounding the word "suicide," as people tend to believe that they would plant that thought into somebody's mind by talking about it.
She claimed that it was, instead, a "huge relief" for the affected person as they would notice that somebody was willing to listen to them. If that person admitted that they have indeed contemplated suicide, we don't have to fix all their problems but to keep them safe.
Rick Warren's wife finally said that the things we could do for them included asking if they would like to call the Suicide Hotline or even talk to their parents about it while having us by their side.
If you or someone you know is considering suicide, please contact the National Suicide Prevention Lifeline at 1-800-273-TALK (8255), text "help" to the Crisis Text Line at 741-741 or go to suicidepreventionlifeline.org.
ⓘ The information in this article is not intended or implied to be a substitute for professional medical advice, diagnosis or treatment. All content, including text, and images contained on, or available through this NEWS.AMOMAMA.COM is for general information purposes only. NEWS.AMOMAMA.COM does not take responsibility for any action taken as a result of reading this article. Before undertaking any course of treatment please consult with your healthcare provider.