Mama June Flaunts Slimmer Physique in an Elegant Black Jumpsuit – See Fans' Reactions to Her New Look
Mama June put her amazing weight loss results on display in a new photo in which she showed off a pair of luxurious sneakers. The reality star appeared confident in the shot. 
On Wednesday, June Shannon, better known as Mama June, jumped on Instagram to share her latest footwear with fans. She also revealed that she's keeping up with her weight loss journey. 
The former "Mama June: From Hot to Not" star wore an all-black outfit as she smiled widely for the camera in the shot. She tagged the creators of her customized shoes. The post is found below.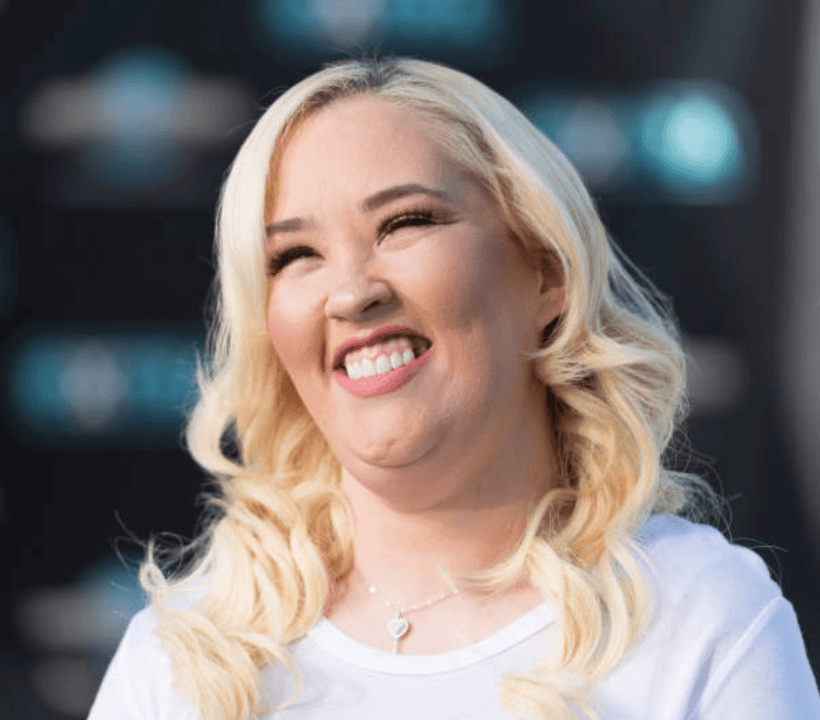 MAMA JUNE SHOWS WEIGHT LOSS IN NEW POST
In the photo, Mama June wore a sleeveless black jumpsuit with a low neckline. She rested her hands on her waist and appeared to have her hair styled up. 
The 40-year-old appeared to be makeup-free as she smiled widely in her living room in front of the television. On her feet, she wore red sneakers with white laces. 
"I love my Christian Louboutin blinged out sneakers by [Crystal Custom Shoes," she wrote in the caption. The post received over 30k likes. In the comment section, fans showered the reality star with praise. 
"So happy for you! You look great!!!" wrote one. Another added: "Cute outfit. Looking good Mama." Many of Mama June's fans told her they loved her and shared words of encouragement. 

JUNE PROMOTES DRINK WHILE SHOWING STOMACH
The post follows another update last month in which Mama June boldly showed off her bare stomach for fans. She was promoting a weight loss drink that she says helped her significantly.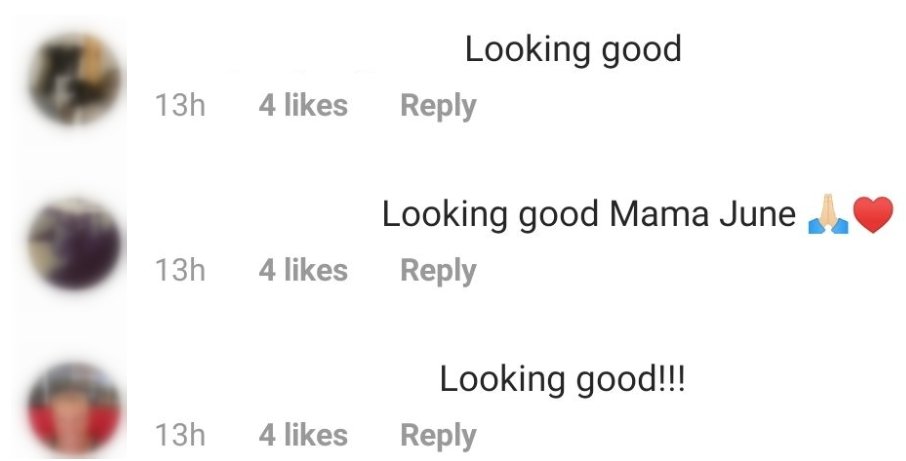 In the picture, June included a side by side shot of her in a red t-shirt and black jeans. In the first shot, her shirt was down, and her stomach peeked through. In the second, she lifted the shirt to show her progress. 
SHE DEEPLY REGRETS ACTIONS IN THE PAST
Mama June made a hard-hitting admission last month that she was desperate to "kill that personality" of hers which dominated her life last year and led to a family catastrophe. 

Speaking on WEtv's "Mama June: Family Crisis," the mother-of-four said, "I lost who I was for a while." She pointed to her past as the reason for how she felt at the time, adding that her mistakes are "lessons learned." 

ONGOING CUSTODY BATTLE FOR DAUGHTER ALANA
Unfortunately, one thing that continues to haunt Mama June is her relationship with ex-husband Sugar Bear. As late as March of this year, the two were in a custody battle over their daughter Alana Thompson. 
Alana, better known as Honey Boo Boo, currently lives with her older sister, Lauryn Thompson, 20. Meanwhile, Sugar Bear remarried to Jennifer Lamb. 
Mama June is reportedly in a relationship with Geno Doak, who has been heavily criticized for engaging in substance abuse with Mama June. The pair were arrested in March 2019 for possession. 
MAMA JUNE HAS EMOTIONAL REUNION WITH DAUGHTER
The arrest and subsequent court ordeal have sparked the family crisis that now exists. However, things appeared to be significantly better when June said she was sober on, "Family Crisis: Face Off With Mama." 
In the June special, Mama June had an emotional reunion with her daughter Lauryn. After not seeing her for a long time, June cried as she hugged her daughter. Lauryn later opened up about her thoughts on her mom's appearance.
In a solo confessional, Lauryn doubled down on her decision not to bring Alana in because of her how mom looked, saying it was "heartbreaking." Again, Mama June expressed remorse for her past behavior.