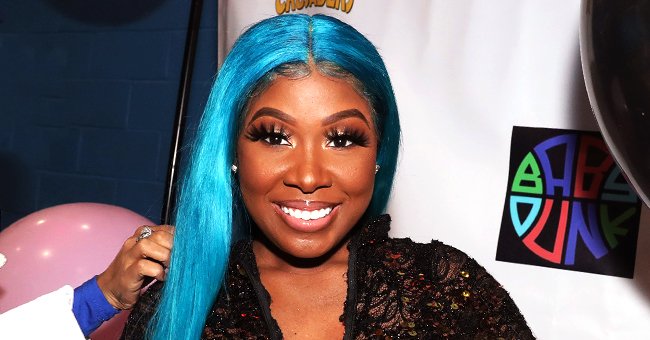 Getty Images
Why 'Marriage Boot Camp' Star Bianca Bonnie Refuses to Show Her Son's Face to the Public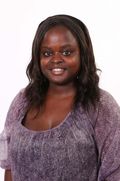 Bianca Bonnie showed off photos of her newborn son and explained that she would not be showing his face because she wanted to shield him from negativity.
Bianca Bonnie was thrust into the spotlight as a teenager when she went by the name "Young B." She provided the vocals for the 2006 hit song, "Chicken Noddle Soup."
The Harlem hit made its return in 2019 when J –Hope and Becky G released its remake. Although Bianca is used to the attention of millions of fans, she has adopted a strict privacy rule for her newborn son, Seven Dais.
Bianca welcomed her first child in June with her on and off again boyfriend, Chozus. The couple made their relationship public in 2018 before starring in "Marriage Boot Camp: Hip Hop Edition."
They also made their surprise pregnancy announcement when she arrived on the red carpet for the premiere of the show displaying her growing belly under an embellished and sheer dress.
Recently, Bianca showed off her newborn and posed with him for an adorable photoshoot. In her caption, she noted that she was content with it being the two of them against the world.
Although she showed off her gorgeous make-up, Bianca had her son's face covered with a blue heart emoji.
In the photo, she cradled Seven against her chest as he lay curled up in a neutral-colored warp that enveloped both of them. The singer explained her strict rule on her son's privacy. She wrote:
"No I won't be showing my Sons Face this Year there's too much negativity in this world right now & evil eyes I will always protect him from."
Many fans showed their support in her decision. One person commented, "he's beautiful without even showing his face." Another fan said, "Awwww B that's right him protect him."
A user expressed their excitement in hoping to see Seven's face one day and wrote, "who else can't wait till she reveals the baby's face?" Bianca shared an exchange with a fan who aired their disappointment in the decision.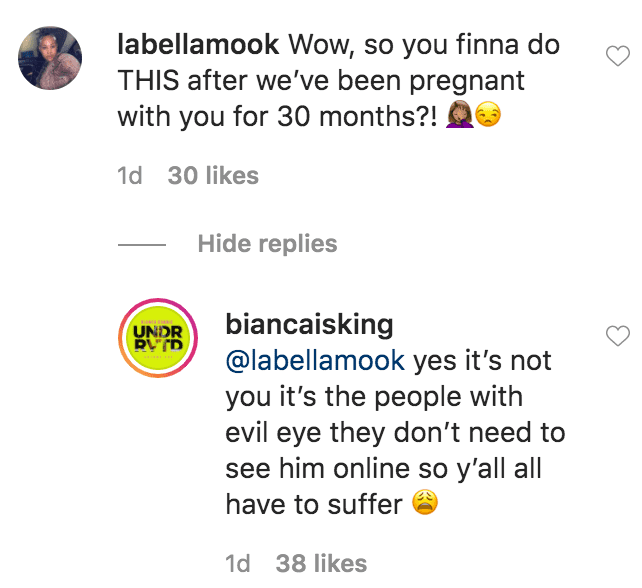 A fan commented on a photo of Bianca Bonnie cradling her son Seven Dais for a professional photo shoot | Source: Instagram.com/biancaisking
It is not clear if Bianca and Chozus are still a couple. Shortly after announcing their son's birth, the couple posed for a photo together in the hospital and she admitted in her caption that it was not the fairytale she expected.
According to BET, only two months before she was due to give birth, she shared her fears after Chozus tested positive for COVID-19. Bianca admitted that she didn't know a lot about the virus, but warned people about the negative impact it had on families.
Please fill in your e-mail so we can share with you our top stories!