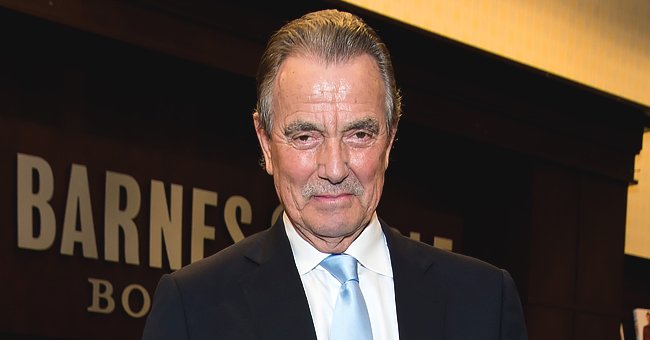 Getty Images
Why 'Young and the Restless' Star Eric Braedan Was at the CBS Studio Amid the COVID-19 Pandemic
Many parts of the country are gradually reopening amid the novel coronavirus pandemic. Thus, TV show fans have begun to clamor for the return of their favorite flicks.
Eric's photo captured him at CBS Studios, where the hit TV series films. Beside him was the show's executive producer, Tony Morina. Braeden looked fit in the shot, as he wore a pair of black jeans with a black shirt.
Eric Braeden at his book signing for 'I'll Be Damned: How My Young And Restless Life Led Me To America's #1 Daytime Drama' on February 13, 2017. | Photo: Getty Images
The actor had a black-and-white bandana on his face, and he finished his look with a silver watch and a pair of reflective aviator glasses. On the flip side, Morina wore a white, long-sleeved shirt over a pair of blue jeans.
"At CBS FOR COVID 19 testing! Next to me is TONY MORINA, our EXECUTIVE PRODUCER!"
Initially, reports had claimed that the show would be resuming filming last weekend. However, that didn't happen.
Many fans in the comment section wondered whether this means that the show was ready to film. Replying, Braeden confirmed that production would start next week.
One of the states where the pandemic cases have been rising is California.
"The Young & The Restless" isn't the only show from the studio gearing up for resumption. It's sister show, "The Bold & The Beautiful," went into taping last month.
However, taping on the sister show paused after just one day. The showrunners had done so to tweak their safety protocols.
The two shows stopped taping back in March, and as of April, they had run out of new content to show to fans. So, they've filled their time slots, since then, with classic episodes.
While returning to work will thrill fans across the world, the show will also have to take precautions. For one, several states are still recording rising cases of the pandemic.
One of the states where the pandemic cases have been rising is California — where CBS Television Studios is located. Still, the fact that the actors are undergoing tests should be a good thing. However, it's unclear whether the other TV shows on CBS will be returning too.
Please fill in your e-mail so we can share with you our top stories!