Phil Harris Is Survived by Two Sons, One of Whom Was Sentenced to 18 Months in Jail
Legendary Fisherman, Phil Harris, performed exploits aboard the Cornelia Marie until his untimely death on February 9, 2010. Following his death, the mantle was passed on to his two surviving sons. 
Captain Phil Harris thrilled fans of the Discovery Channel's reality TV series "Deadliest Catch," as he took on the seas in his famous crab fishing vessel Cornelia Marie with his two sons, Josh, 37, and Jake Harris, 34.
Josh and Jake Harris had always featured on the show as sidekicks to their father as he embarked on his daring adventures, but after their father's death, it was up to them to preserve the family legacy.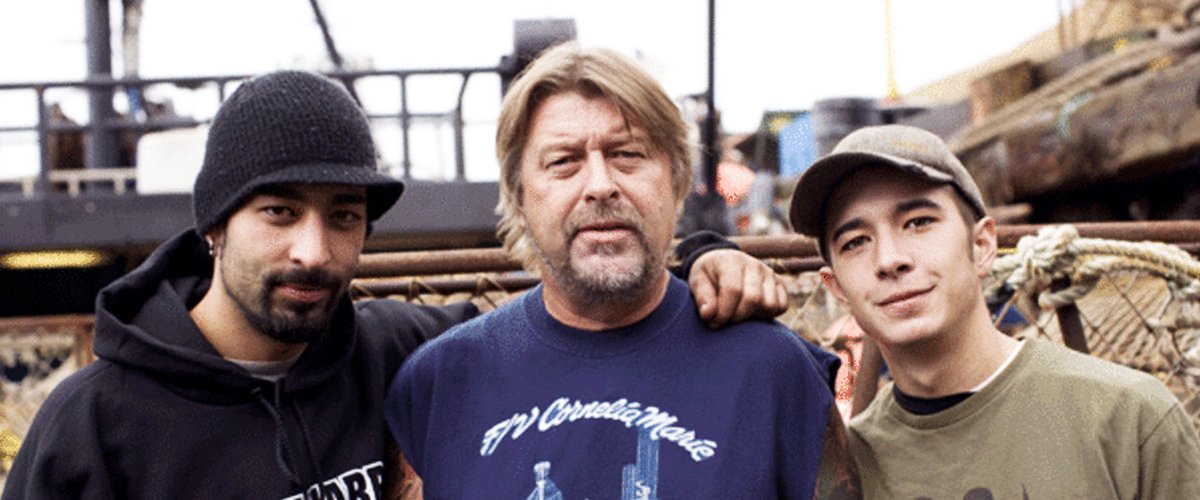 DEALING WITH PHIL HARRIS' DEATH 
When the documentary reality series "Deadliest Catch," premiered in 2005 on the Discovery channel, viewers quickly got acquainted with Capt. Phil Harris and his two sons who worked with him on the Cornelia Marie. 
The book chronicled the reality TV star's dangerous adventures on the sea and covered his struggles with various addictions and penchant for loose women.
Unfortunately, the death of their father in 2010 has contrasting effects on both sons. While Josh is following his father's footsteps, Jake was severely affected by their father's death and sunk into drug addiction.
The brothers initially worked together after their father's death. They continued to fish to save up enough money to purchase the Cornelia Marie, but they eventually failed in their bid.
Following their unsuccessful attempt, Josh continued to fish, but the blow was too heavy for Jake, and he dove deeper into his drug addiction battle, which eventually led to him leaving "Deadliest Catch" in 2012.
In the years that have followed, Jake Harris has been involved in several run-ins with the law, most of which have bordered on DUIs. 
Things came to a head in 2019, when he was convicted of driving under influence and possession of heroin with the intention to distribute or manufacture. 
Jake's conviction stems from charges that arose in January 2019, after the former "Deadliest Catch" deckhand fled from police but was eventually caught in possession of the said drugs. He was subsequently sentenced to eighteen months imprisonment.
Meanwhile, in 2014, Jake's elder brother Josh Harris and his partner/Co-Captain Casey McManus managed to purchase the Cornelia Marie but with some investors' help. 
PRESERVING PHIL HARRIS' LEGACY
Josh Harris has since taken charge of the Cornelia Marie and oversees the boat's maintenance and also drives the partnership towards achieving their quota to keep the boat.
The seafarer has continued to learn on the job and has continued to feature on the popular Discovery show. He strives to preserve Phil Harris' outstanding legacy as a mariner.
Back in April, the Discovery channel launched the spinoff of the series, "Deadliest Catch: Bloodline," which features Josh as he explores his father's old fishing paths and maps along the Kona coast.
While touring the waters of Hawaii, the younger Harris came across places and people his father had met during his expedition there in the past. The experience evoked warm sentiments in Josh, and this is what he had to say about it:
"It was really interesting to see the different places my dad has been, to get to hear all the different stories and understanding why he went there."
Even though it's about a decade since he lost his dad, his time with the legendary Fisher is still fresh in his mind, and Josh recalls them fondly.
On father's day, Josh took the time to pay tribute to his dad by taking out his father's 2008 Chevy Corvette Z06 for a solo drive down a road they both used to race on when he was alive.
THE PHENOMENAL LIFE OF PHIL HARRIS 
The late Phil Harris began fishing with his dad at the age of eight, and shortly after he graduated from high school, he started his epic journey into crab fishing.
Harris initially cut his teeth as an unpaid deckhand, but by the time he was 21, Harris had become the youngest boat captain sailing the Bering sea.
When Discovery started airing "Deadliest Catch," Phil Harris had already been a boat captain for nearly two decades. The famous captain was followed by a film crew from 2004 until the time of his death as they consistently attracted a viewing of over 3million for six seasons. 
Harris died on February 9, 2010, after suffering an intracranial hemorrhage, while shooting scenes for the sixth season. Before his death, the brave fisherman had suffered a massive stroke and had to undergo emergency surgery. Harris insisted that the camera crew be allowed to film through his operation, claiming there had to be a great finish to his story.
Phil Harris was placed in an induced coma, which he woke up from as his condition began to improve. Harris showed remarkable improvement to the amazement of his doctors, who were impressed with his will to survive. 
The father of two died a few days after waking up from his coma, but family members and friends got a chance to spend a few moments talking with him in the days that led to his shocking death.
Following their father's death, Harris's sons Josh and Jake released a book, "Captain Phil Harris: The Legendary Crab Fisherman, Our Hero, Our Dad" that detailed their dad's ludicrous lifestyle. 
The book chronicled the reality TV star's dangerous adventures on the sea and covered his struggles with various addictions and penchant for loose women.
The news of Phil Harris' death saddened a lot of the fans of the popular docu-series "Deadliest Catch," with many taking to their social media to pay tribute to the great mariner.
Phil Harris might be gone, but his legacy continues to live through his eldest son Josh, and it is the hope of many that Jake Harris will be able to fight his demons and take his place as a "natural fisherman," which he was described as by his late father.