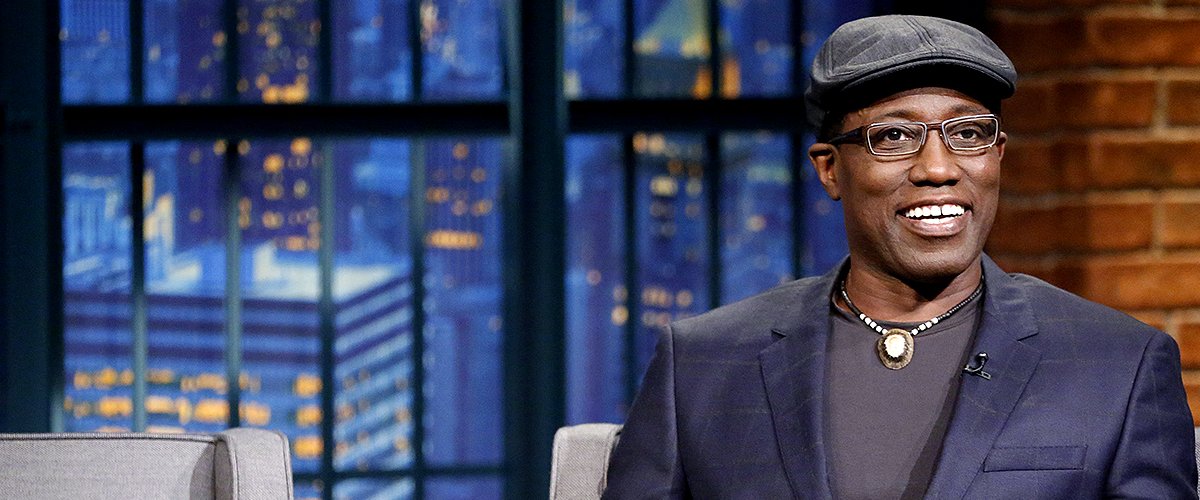 GettyImages
Wesley Snipes Was Released from Jail 7 Years Ago — a Look Back at His Dramatic Story
Wesley Snipes, better known for the "Blade" film trilogy, has been embroiled in legal disputes with the IRS for more than a decade. He served three years in jail, but by 2018, he still owed over $20 million in back taxes.
Wesley Snipes is known for his mostly-tough guy portrayals on the screen, but back in the late 2010s, he made some headlines when he was accused of being a "bad guy" in real life.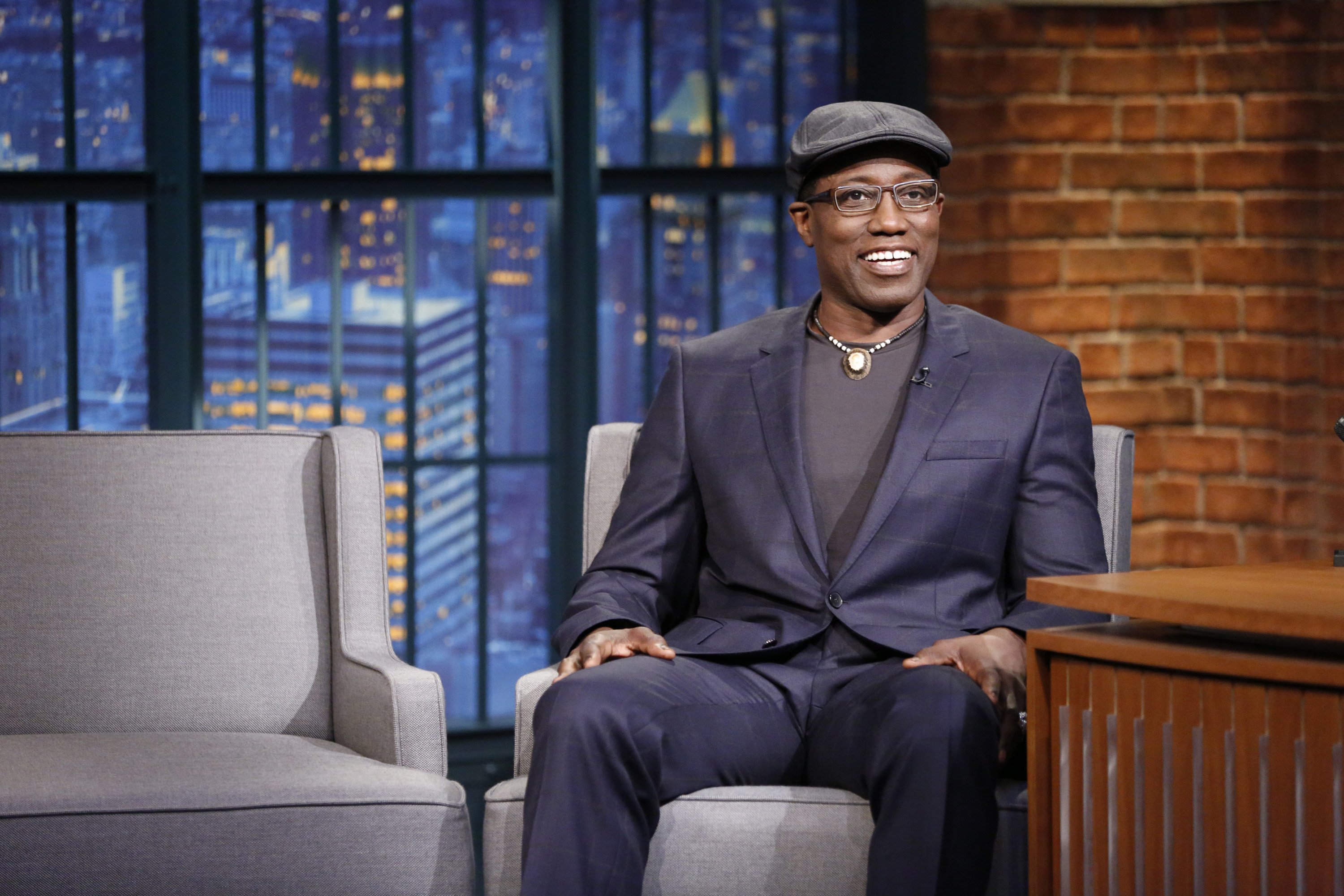 Wesley Snipes during an interview on "Late Night with Seth Meyers," on September 21, 2015 | Photo: Getty Images
However, Snipes claimed there were many fabrications made to tarnish his character. Although he did spend some time behind bars, the actor maintains the prosecution in his legal case targeted him for being famous.
WESLEY SNIPES' CAREER
Snipes, who is also famous for his martial arts skills, was first discovered in his early twenties and made his film debut in the 1986 flick "Wildcats." However, after he landed a lead role in Michael Jackson's music video "Bad," he started being noticed by big names.
Snipes compared the experience of being in jail with being free but living in a different kind of imprisonment.
Spike Lee offered Snipes a role in "Do the Right Thing," but the actor decided to pass the opportunity for a bigger role in the sports comedy "Major League," which became a box office hit.
He went on to appear in a string of action-packed movies like "Passenger 57," "Rising Sun," "The Marshals," and comedies like "To Wong Foo, Thanks for Everything! Julie Newmar," where he proved his versatility playing a drag queen, and "White Men Can't Jump."
In 1998, Snipes was cast as the star in "Blade," a movie based on the Marvel comic about a half-human-half-vampire who hunts other vampires. It was another success.
The film had two more sequels, and is often credited not only for saving Marvel finances but also for paving the way for the other superhero movies that followed, including "X-Men," and the 2002 production of "Spiderman."
In 2008, Snipes was set to star in Spike Lee's war film "Miracle at St. Anna," but couldn't join the production because he was dealing with legal issues with the IRS.
WESLEY SNIPES FACES THE LAW
Snipes' legal trouble first came to light in October 2006, when he and two more co-defendants were charged for tax fraud and conspiracy in Tampa, Florida.
Although a judge issued an arrest warrant at the time, Snipes was out of the country shooting "Gallow Walker." Still, he surrendered to authorities upon his return in December of the same year.
According to reports, Snipes was initially accused of filing fraudulent tax refund claims summing up to $12 million between 1996 and 1997. He was also charged with failing to file tax refunds from 1999 to 2004, despite earning approximately $38 million throughout those years.
The indictment stated that Snipes had his taxes prepared by accountants known for filing false reports and being tax protesters. However, the star made it clear on a visit to Larry King that he was misled by the advice of people he considered professionals.
WESLEY SNIPES: JAIL TIME
In February 2008, Snipes was acquitted on charges of fraud and conspiracy but was indicted on three misdemeanors for not filing tax refunds between 1999 and 2001.
U.S. District Judge William Terrell Hodges gave Snipes the maximum sentence of three years in jail, one year per misdemeanor.
Snipes' attorneys tried to appeal the verdict, but the judge turned it down, and prosecutors didn't try to hide the fact that they were hoping Snipes' case could serve as an example to potential tax protesters.
Snipes reported to the McKean Federal Correctional Institution in Pennsylvania on December 9, 2010, to start his three-year sentence.
RELEASE & MORE LEGAL ISSUES
Snipes was released from prison in April 2013 but spent three more months under house arrest in a supervised residence in New York.
Although Snipes was free by July 2013, he wasn't done fighting with the IRS, as the institution continued pursuing what Snipes owed, which according to reports, was $23.5 million.
In November 2018, Snipes and the IRS made headlines once again when it was revealed the actor had tried to make a payment of $842,000 as an offer in compromise, claiming he was financially unable to settle the debt.
The IRS rejected the offer, and after calculations, decided Snipes should pay an adjusted amount of $9.5 million. Snipes took the case to a tax court, asking them to overturn the decision, but the judge agreed with the IRS.
SNIPES REFLECTS ON PRISON
Now 57 years old, Snipes considers his time in prison an educational and life-changing experience.
In a 2017 interview with Peter Travers, Snipes compared the experience of being in jail with being free but living in a different kind of imprisonment, whether emotionally or mentally, as he explained:
"People on the inside know that they're in prison. Right? So, there's no illusion there. So, then they model their lives based on the value of time that they've learned..."
Snipes added that people outside don't do that, as they take time for granted and think they can go through life without facing the consequences.
RETURN TO THE BIG SCREEN
In 2014, Snipes made his big return to film as part of an ensemble cast of action stars in "The Expendables 3." He shared the screen with other big names like Sylvester Stallone, Antonio Banderas, Harrison Ford, and Arnold Schwarzenegger.
After that, Snipes' work was only on direct-to-video films or movies with a limited release. He also appeared in the series "The Player," and "What We Do in the Shadows."
Snipes is set to appear in Eddie Murphy's "Coming 2 America" in the second half of 2020. The film is currently in post-production.
Please fill in your e-mail so we can share with you our top stories!