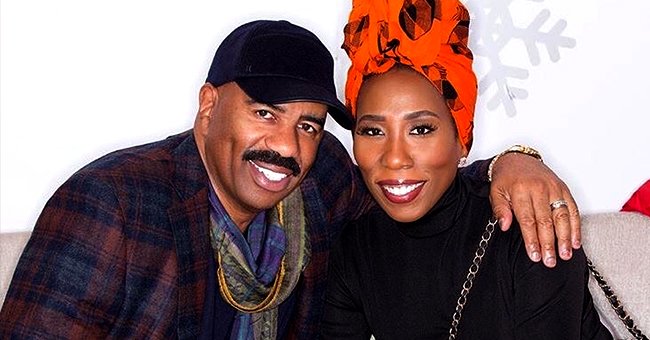 Instagram/iambrandiharvey
Steve Harvey's Twin Daughter Brandi Stuns in Red Strapless Jumpsuit as She Goes Out for Dinner

Steve Harvey's daughter Brandi is stunning as she posts a video of herself wearing a beautiful red strapless jumpsuit.
After months of being stuck inside, Steve Harvey's daughter Brandi has posted a photo of herself as she goes out for dinner for the first time in a while.
Harvey shared the stunning picture showing her wearing a red strapless jumpsuit, and she is glad to have a reason to get dressed up again.
Brandi, who is the daughter of Steve Harvey from his first marriage, also has a twin sister Karli. She is a big believer in the vegan and holistic lifestyle.
Harvey has always had a passion for fitness, even participating in an amateur bodybuilding competition, and shared a photo of herself, showing off her old physique. She said,
"I trained with the best competition trainer in Atlanta and trained with some of the most badass, tough as nails women around. The mindset to win never left me. The drive to succeed never left me."
In addition to advocating for fitness, Bandi and her twin co-founded "Beyond Her" and organization that aims to bring active wellness to women of color.
The pair also regularly speaks at various events, even appearing on a panel to discuss navigating through life in honor of International Women's Day.
He revealed that he had left to pursue a career in comedy.
While the relationship between Brandi and her father may be close now, it was not always so, after the talk show hose abandoned his children when his first marriage fell apart.
However, he revealed that he had left to pursue a career in comedy. Thankfully he reconnected with his children recalling that his daughters had told him,
"Dad, we didn't understand what you left us, but we know now you had to go. You didn't just belong to us. You belonged to the world."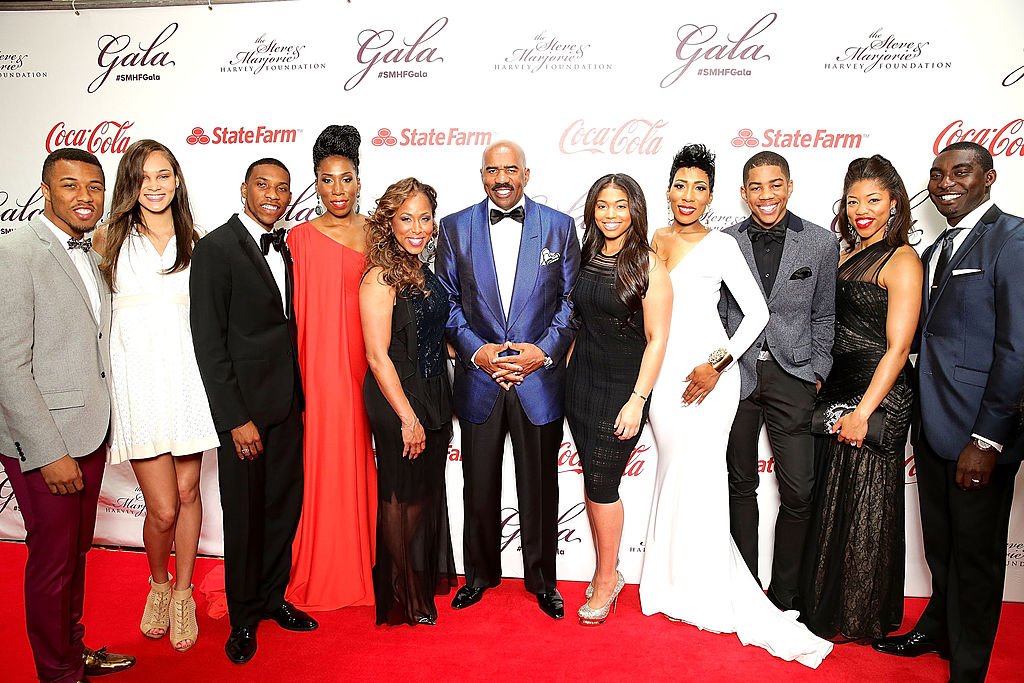 Jason Harvey, Amanda Harvey, Broderick Harvey Jr., Brandi Harvey, Marjorie Harvey, Steve Harvey, Lori Harvey, Karli Harvey, Wynton Harvey, Morgan Hawthorne, and Kareem Hawthorne attend the 2014 Steve & Marjorie Harvey Foundation Gala| Photo: Getty Images
In addition to his twins
Brandi
and Karli, he also has son Broderick Jr from his first marriage. In 2007, he married Marjorie Bridge Harvey, who had three children from previous marriages.
In 2015, the "Steve Harvey Show" host walked his daughter Karli down the aisle on her wedding day, and during the speeches, she called him an "amazing dad."
These days Brandi shared regular posts to motivate women to embrace fitness and self-care. She also promotes a plant-based diet, sharing stories, recipes, and articles to help women of color get healthy.
She is also a published author after releasing "Breakthrough Sold Separately: Get Out of the Boat of Mediocrity and Walk on Water."
Please fill in your e-mail so we can share with you our top stories!