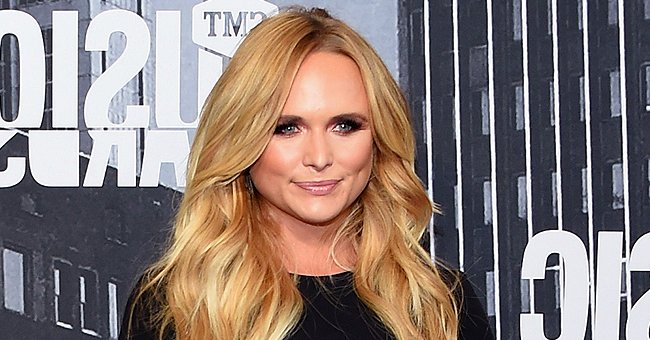 Getty Images
Miranda Lambert's Fans Praise Deep Meaning of Her New 'Dark Bars' Video Amid the COVID-19 Crisis
Miranda Lambert moved fans with her latest single and the video that accompanied it. Many were compelled to write to the singer about the deeper meaning they understood by it.
Miranda Lambert just released a new single off her 2019 album, "Wildcard." Taking to YouTube, the star shared a video that seems to reflect recent times.
Amid the coronavirus pandemic, most public bars and restaurants are still shut down as part of preventative measures against the flu-like illness. The video and comments are found below.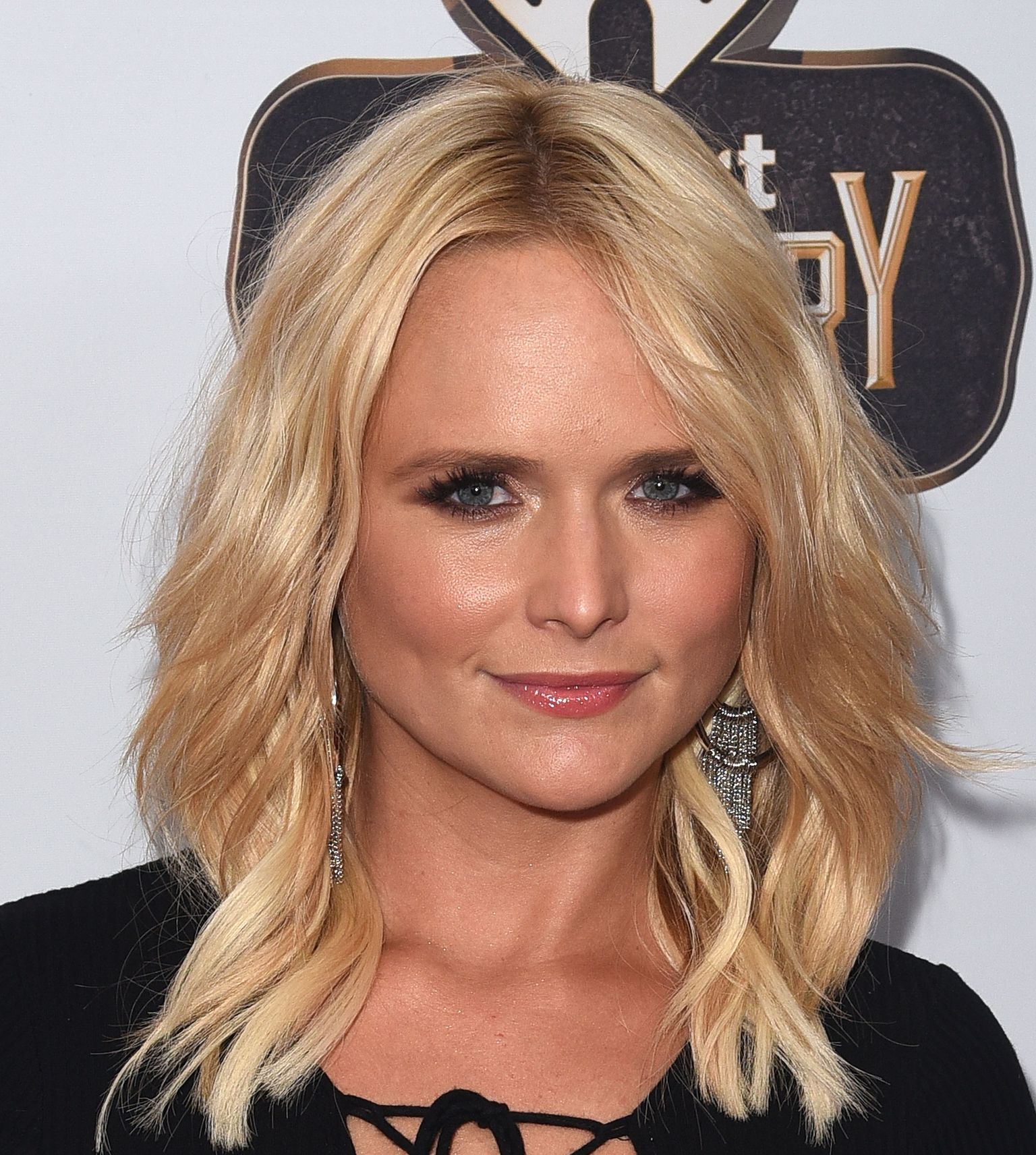 Miranda Lambert at to the iHeartCountry Festival at The Frank Erwin Center on April 30, 2016 in Austin, Texas | Photo: Getty Images
NEW VIDEO RELEASE WITH A TWIST
In the clip, we see scenes were taken at night time and near-dark hours throughout a city. Most shots focus on closed bars. We're also taken inside a few of these places.
Jukeboxes, empty bar seats, and decor are all featured in the video. What appears to be a bartender puts a stool up on a table before changing an open sign to closed.
Chorus lyrics include lines such as, "I'm not in pain, I'm not on pills; But I'm still hanging out in dark bars; On a bar stool for the cheap thrills; Watching drunks all drown with no lifeguard."
HER FANS SHARE DEEPER MEANING
In the comment section, Lambert's fans looked below the surface. Many of them praised Lambert, while a few were inspired to write about their experience and how COVID-19 affected plans to see the artist.
One person touched on how Nashville, in particular, has been changed by the situation. They wrote, "I know you probably had a whole other idea for a video for this, but I really think this speaks louder volumes."

Fan comments underneath Miranda Lambert's music video for "Dark Bars" released July 9, 2020 | Photo: YouTube/ Miranda Lambert
Lambert's unique ability to touch fans' hearts is no surprise. She once told Country Living that she writes her best work while sitting on her countryside porch with her guitar.
LAMBERT'S UPBRINGING WAS ALL COUNTRY
Born in Longview, and bred in Lindale, Texas, the beloved songstress doesn't just have a knack for her art. Her hometown's motto is "Good Country Living," so it's no wonder she seems to have country music in her blood.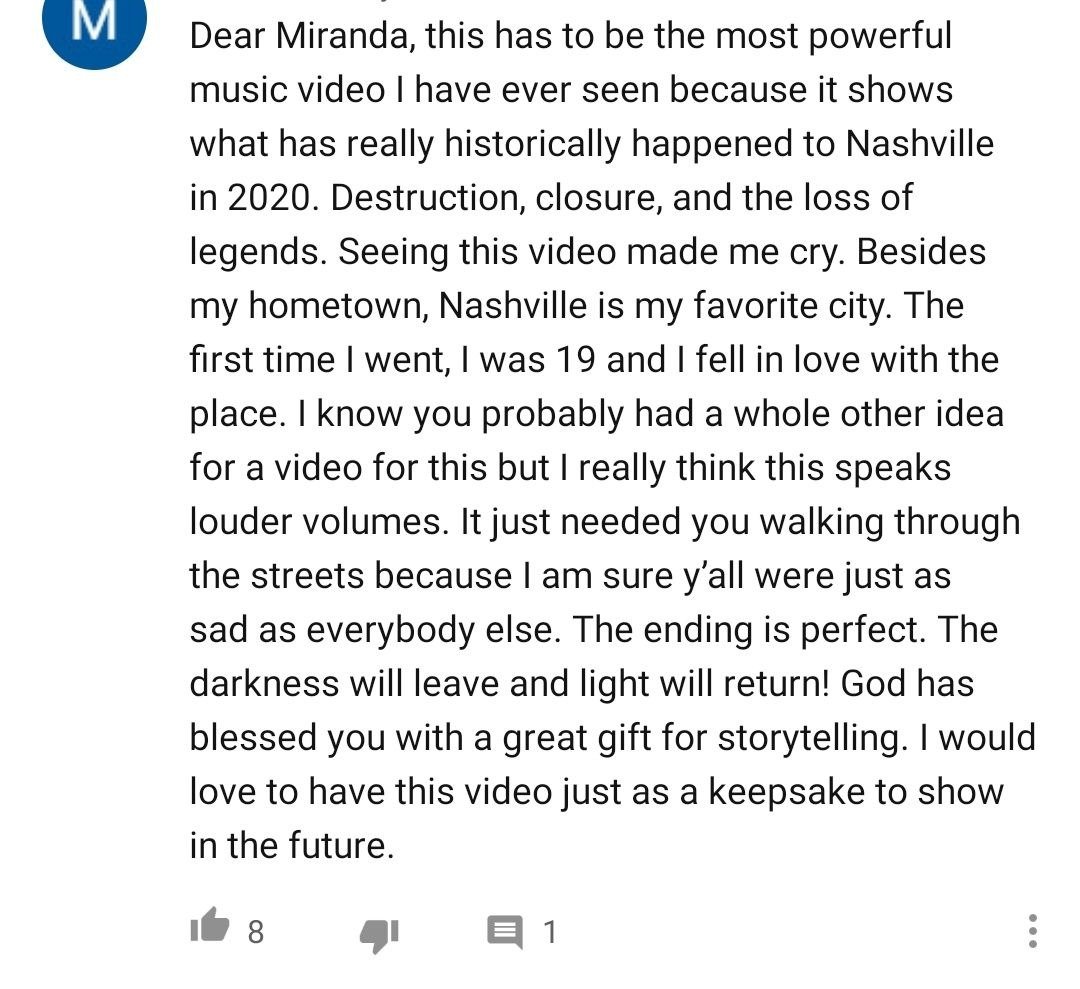 Fan comments underneath Miranda Lambert's music video for "Dark Bars" released July 9, 2020 | Photo: YouTube/ Miranda Lambert
As it so happens, the skill is also an inheritance from her father, who showed off his singing chops in 2017. Rick Lambert joined his daughter onstage to sing the old classic, "Woke Up This Morning."
The older man was able to harmonize with his daughter in a beautiful display as she raised money for her Women Creators Scholarship Fund for Belmont University students.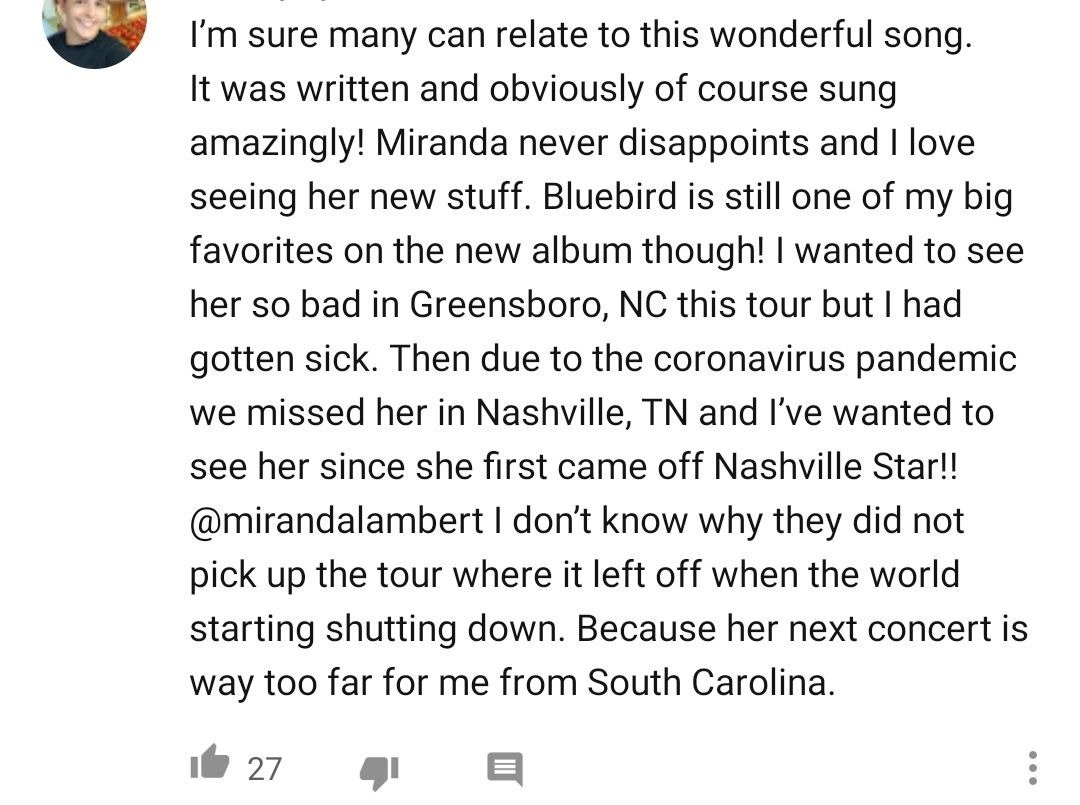 Fan comments underneath Miranda Lambert's music video for "Dark Bars" released July 9, 2020 | Photo: YouTube/ Miranda Lambert
LAMBERT RESCUES ANOTHER ANIMAL
Lambert's love of singing is perhaps contested only by her love of animals. The singer has several rescue pets that she's taken in. Her latest was a golden kitten back in June.
She picked up the tiny animal during a drive in Texas with her husband, Brendan McLoughlin. The creature's striking blue eyes were featured on Lambert's Instagram as she showed fans the new addition.
FANS TREATED TO ALBUM RELEASE PARTY
The following month, Lambert held an album release party for fans via YouTube. The singer's concert plans were among many events halted by the coronavirus pandemic.
The latest concert was pre-taped from last Fall and featured radio and video content taken when Lambert visited iHeartRadio Theater in New York City last year.
LAMBERT AND HUSBAND CELEBRATE FOURTH OF JULY
Soon after, Lambert took to social media to reveal how she celebrated the Fourth of July with her husband. The pair enjoyed some great weather while lounging in a pool.
Lambert sported a blue swimsuit as she sat on a pink flamingo blow-up while her husband showed off his abs in some blue swimming trunks. Behind them, two trailer homes were parked in front of a forest.
The pair have decided to use quarantine time to do some traveling and recently purchased an Airstream trailer for their adventure. Perhaps Lambert will come across a few more "dark bars."
Please fill in your e-mail so we can share with you our top stories!