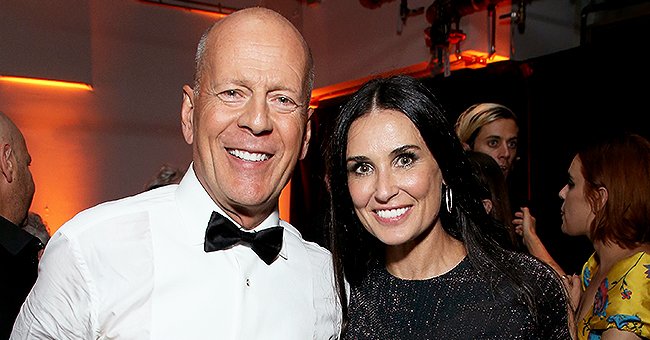 Demi Moore Reveals Her Viral Carpeted Bathroom Was the Idea of Her Ex Bruce Willis
Demi Moore was live on the "Late Night With Seth Meyers," where she revealed that her ex-husband, Bruce Willis was behind her carpeted bathroom that took social media by storm last week.
When Demi Moore shared pictures of herself recording her podcast, "Dirty Diana," from her bathroom last week, one thing that caught the attention of many who saw it was the details of the bathroom, especially the carpet and the couch.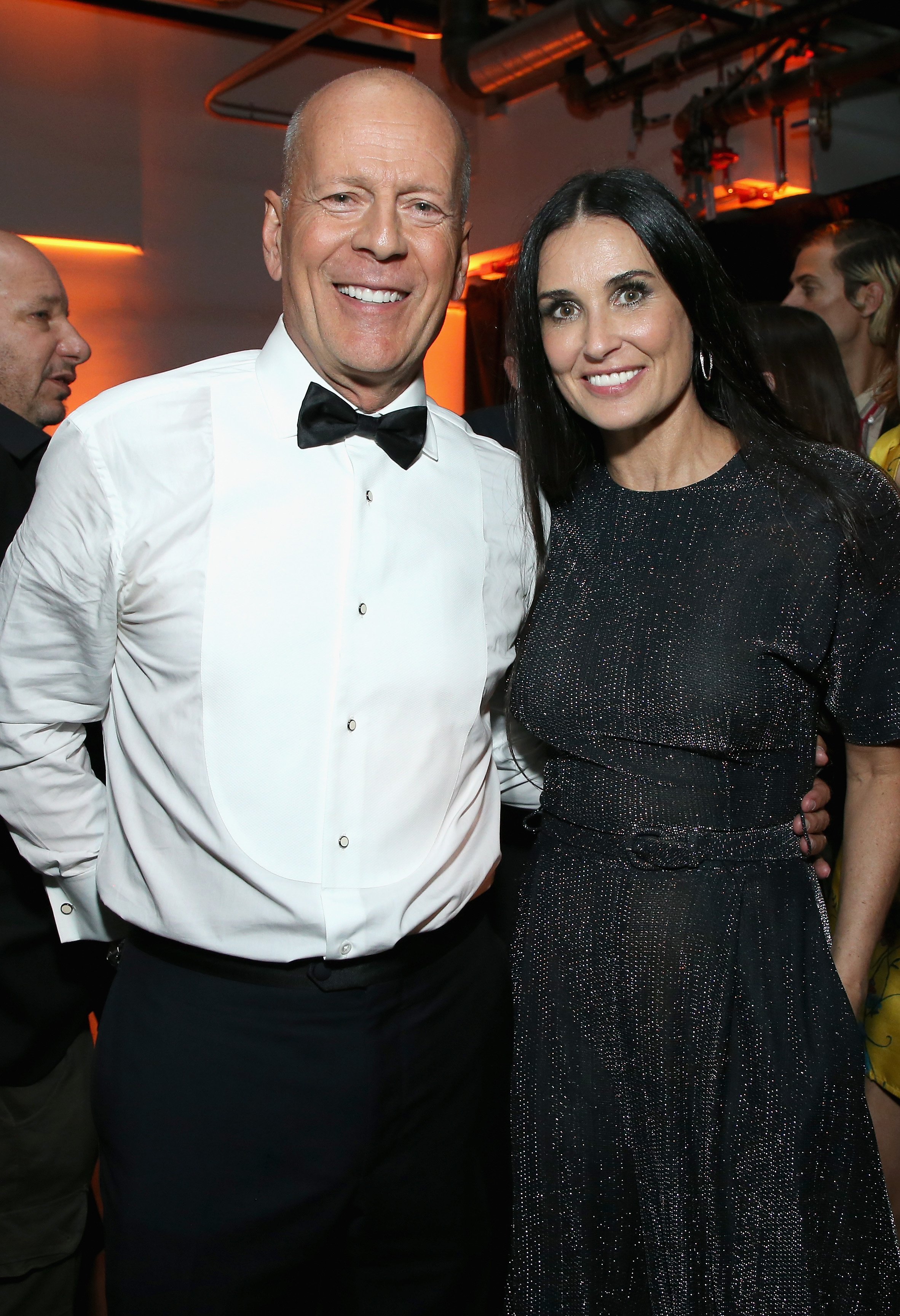 Bruce Willis and Demi Moore attend the after party for the Comedy Central Roast of Bruce Willis at NeueHouse on July 14, 2018. | Photo: Getty Images
Moore's post soon went viral with her fans awed by the details of her bathroom that also included a giant statue of Saint John of Arc and a mini stuffed animal placed above the toilet.
Making an appearance from home on "Late Night With Seth Meyers," Moore spoke about the viral post, revealing that the bathroom design was her ex-husband, Bruce Willis' idea.
The 57-year-old actress, known for role in many movies, including the 1993 film, "Indecent Proposal," on the carpet in the bathroom said:
"Actually, because this is the house again that my children grew up in,…that originally was a Bruce Willis choice."
Moore said that another reason for the carpet was that she and her family members lived in the mountains and it gets very cold. She also argued that many people put rugs in their bathrooms.
The actress further said that the carpet had never bothered her and was quite good. She said the couch was not usually in the bathroom but was moved there because she was spending so much time daily on her podcast.
Despite not being a couple anymore, Moore and Willis have remained close friends ever since.
The bathroom, according to Moore, provided the best acoustics out of anywhere else in her home. She also expressed her disappointment that none of her fans could notice that the furniture was a miniature couch.
Demi Moore shared pictures of her work set on July 8, on her Instagram and Twitter accounts, announcing that she would be dropping the first episode of her podcast.
While many of her fans congratulated her on her podcast project, it was the fact that she was working in her bathroom and it's interior that got their attention.
Some of her fans who commented on Instagram could relate to her choice of a workplace in the home, while some others could not resist poking fun at the actress.
Demi Moore and Bruce Willis, both Hollywood stars, were married from 1987 to 2000, and share three daughters, Rumer, Scout, and Tallulah. The actor is now married to Emma Heming, while Moore is single, having also divorced Ashton Kutcher in 2013.
Despite not being a couple anymore, Moore and Willis have remained close friends and recently quarantined together with their daughters as a family in Idaho.
The former couple and their daughters had so much fun together and shared photos of their time, including one that showed them having a family paint night.
Please fill in your e-mail so we can share with you our top stories!