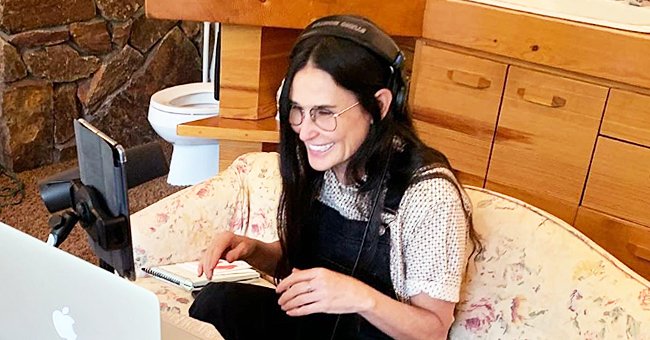 instagram.com/demimoore
Take a Look at Where Demi Moore Set up Her Work-From-Home Station in New Photos
Demi Moore recently shared photos of herself working on a couch in her bathroom, and fans could barely hide their surprise over the actress's bathroom decor.
Actress Demi Moore caused an uproar on social media after she gave fans a glimpse of what appeared to be a mini office in her bathroom.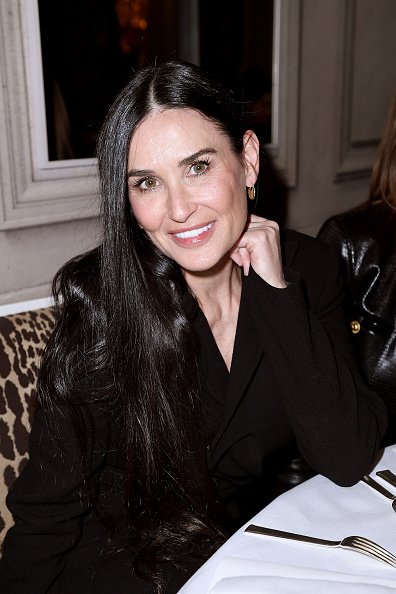 Demi Moore on February 29, 2020 in Paris, France. | Photo: Getty Images
Taking to Instagram, Moore shared a series of pictures where she was captured sitting on a sofa as she worked from her bathroom, on a laptop.
Donning a patterned top and black dungarees, Moore was seen wearing a pair of headphones as she spoke to some people via conference call.
While Moore appeared to be comfortable with her office. Fans were somewhat surprised with the decor in Moore's bathroom, which had a fluffy brown carpet, coffee table, and a sofa. One user wrote:
"PS I love that you're working in your bathroom."
Another user commented, "There's a sofa in your bathroom?" while another added, "Love your problem," with many others also expressing their surprise.
Amid the COVID-19 pandemic, Moore has been sharing updates of her quarantine experiences with her fans.
Moore's home also has a large swimming pool, which has been previously used for numerous pool parties.
In May, the actress took to Instagram, where she shared an image of herself in the kitchen while she held a tray of mushrooms.
Wearing a white t-shirt with a striped overall, Moore struck a pose as she playfully lifted one of her legs. Captioning the photo, Moore wrote: "More mushroom treasure hunt...?"
At the beginning of the lockdown enforced due to the COVID-19 pandemic, Moore was in quarantine at her home in Hailey, Idaho, with her daughters, and her ex-husband, Bruce Willis.
The lavish villa, which Moore purchased following her split from Wilis in 2000, boasts of large open spaces, high ceilings, and plenty of greenery and plants.
Moore's home also has a large swimming pool, which has been previously used for numerous pool parties and wooden decking.
The living room area of the house boasts of wooden floors that offer simple decorations, exposed wooden paneling, and ceiling windows, which allows for enough natural light.
With Bruce Willis and Moore having been separated for about 20 years, it came as a surprise to many that the exes were in quarantine together.
However, while speaking in May, the couple's daughter, Scout Willis, reportedly explained that Willis came up to the quarantine house early because his wife, Emma Heming got held back for a medical emergency in Los Angeles.
Scout also admitted that it was fun being in the same house with both of their parents, and from the look of things, the famous family was having a great time together.
Please fill in your e-mail so we can share with you our top stories!