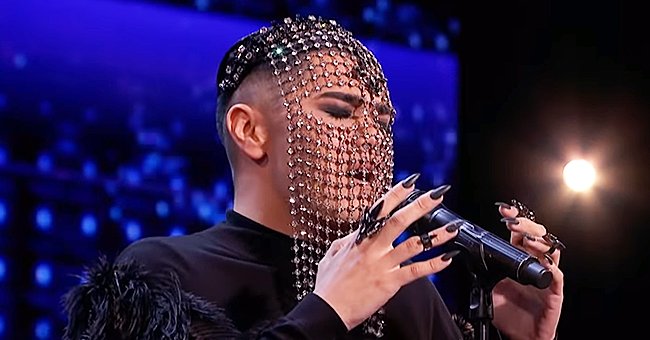 youtube.com/America's Got Talent
AGT Contestant Stuns Judges with His Powerful Voice after Refusing to Introduce Himself
Simon Cowell and the other "America's Got Talent" judges bore witness to a stunning performance by a veiled contestant who refused to reveal his identity before performing.
The last batch of in-person performances of "America's Got Talent" held on Tuesday and turned out to be one to remember, with one performance, in particular, holding many spellbound.
That performance belonged to Australian Sheldon Riley, who kept the judges guessing about his identity and went on to keep them captivated with his incredible voice when he began singing.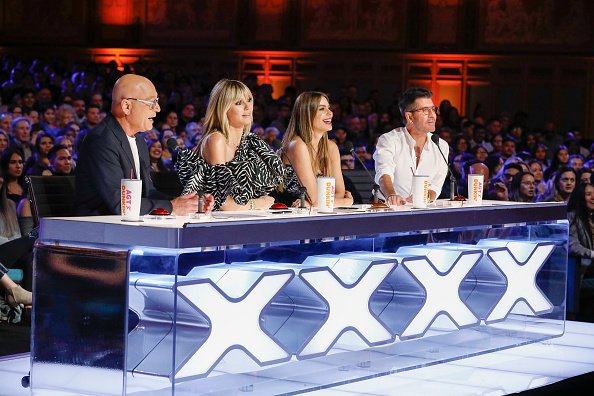 Howie Mandel, Heidi Klum, Sofia Vergara, and Simon Cowell during the "America's Got Talent" Season 15. | Photo: Getty Images
When Riley took to the stage, Simon Cowell asked for his name but was left perplexed when the contestant did not respond to his question. Riley's dress for the night was also mysterious, as he wore an avant-garde black outfit, covering his face with a chain mask.
He turned around to begin his performance, singing his cover of Billie Eilish's hit song, "idontwannabeyouanymore," leaving the judges amazed, and undoubtedly the viewers at home.
At the end of his emotional performance, Riley explained that he was passionate about fashion and music, but was not the one to talk too much because people did not really want to talk to him.
He also said that it was not until he began singing that people started noticing him or give a thought about him, adding that he had always shied away from big things.
Riley said that he wanted the judges to pay more attention to his voice rather than who he was.
Speaking after Riley, Simon Cowell said that people always tried to second-guess what the "AGT" judges wanted, adding that most of the time, they preferred originality to predictability.
The judge further said that he loved the fact that he had no idea of what Riley looked like and that he was a fan of mysterious people.
Riley also said that coming to America helped him a bit because people in the country were open to being different and accepted others the way they were.
Judge Howie Mandel, in his comment, said that Riley was blessed with an amazing voice, adding that his costume, mystery, and drama made his performance great, while judge Sofia Vergara wished she could see Riley's face, noting that she felt that he was handsome.
All the judges voted "yes" in favor of Riley, who told host Terry Crews that he had little inspiration growing up, and that he hoped his appearance on the "AGT" stage would inspire little kids out there not to be afraid of being themselves.
After Riley's performance, the "AGT" auditions went virtual for the remaining part. This was because the filming of the show was suspended as a result of the COVID-19 pandemic. The development did not hamper things, though, with contestants auditioning for the judges from their homes.
"
AGT
" is not the first time Sheldon Riley will perform with his chain mask. The aspiring singer was a contestant on "The Voice" last year and covered his face with the veil for one of his performances.
When asked in a reported interview why he did so, Riley said that he wanted the judges to pay more attention to his voice rather than who he was after making it to the show's grand finale the previous year.
Please fill in your e-mail so we can share with you our top stories!