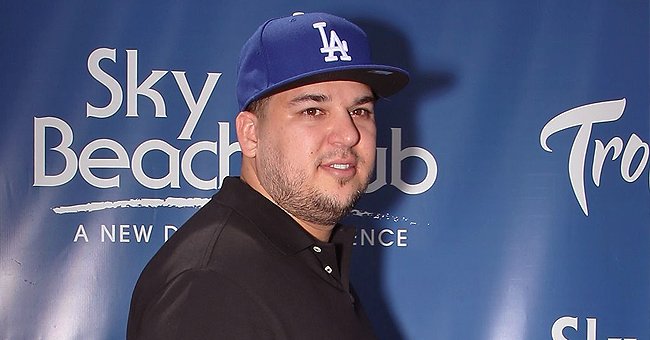 Getty Images
Rob Kardashian's Daughter Dream Enjoys Playing in the Sand in a White Swimsuit and Straw Hat
Rob Kardashian's daughter, Dream Renee Kardashian, is growing up pretty quickly. She's also growing to be quite the beautiful young lady.
Recently, Rob shared a picture of his lovely daughter on social media. In an Instagram post, the reality star showed off his daughter, who appeared to have gone for a beach day.
The photo showed Dream rocking a white one-piece swimsuit with colored straps on the back. The three-year-old paired her swimsuit with a brown straw hat, while her dark hair ran free underneath it as she soaked up in the sun.
Rob Kardashian & Blac Chyna at her Blac Chyna Birthday Celebration And Unveiling Of Her "Chymoji" Emoji Collection on May 10, 2016. | Photo: Getty Images
Enjoying the beach environment, Dream chose not to wear any shoes. As the picture showed, she appeared to have been playing in the sand, as she carried a bucket and looked elsewhere.
The reality star, who is known to be more reserved than his other family members, captioned the picture: "??"
Rob has been spending quite a lot of time with his daughter over the past few weeks. It appears that the lockdown has given them enough time to bond.
However, most of his social media posts with her have been indoors. The pair most likely got tired and decided to spend some time outside.
Rob and Chyna eventually birthed Dream at a point when things seemed good between them.
Dream is the daughter of Rob and model Blac Chyna. The on-again-off-again couple had dated briefly and even got engaged at a point.
They eventually birthed Dream at a point when things seemed good between them. They kept the pregnancy for a while but finally revealed the little girl's birth with a full production. At the time, a source had said:
"Rob looks very excited. They are preparing Chyna for the c-section. There is a film crew with them."
Sadly, Rob and Chyna are no longer together. Still, the couple is finding ways to co-parent despite not being together. The parenting journey hasn't especially been easy for Rob.
Earlier this year, he caused a bit of controversy after posting a video of him and Dream. As the video showed, Rob and Dream were debating over the lyrics of a song before bedtime.
While many commented that they had been spending some quality time together, others took issue with the fact that she still had a baby bottle.
Given her age, many people believed that she shouldn't still have the bottle in hand. However, several others came to Dream's defense, explaining that there are no age limits for bottles.
Please fill in your e-mail so we can share with you our top stories!