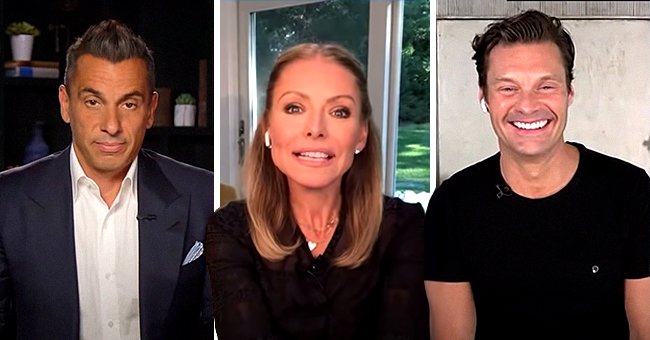 YouTube/Jimmy Kimmel Live
Kelly Ripa Opens up about How Her Diet Was Affected by the COVID-19 Quarantine
The novel coronavirus even affected Kelly Ripa's diet, as she joked during an appearance on "Jimmy Kimmel Live" earlier this week that she's eating "solid food."
On Wednesday, guest Host Sebastian Maniscalco had a quick chat with Kelly Ripa and Ryan Seacrest on "Jimmy Kimmel Live" to talk about their quarantine experience amid the novel coronavirus. While the pandemic changed how many currently live their lives, Kelly said it also affected her diet.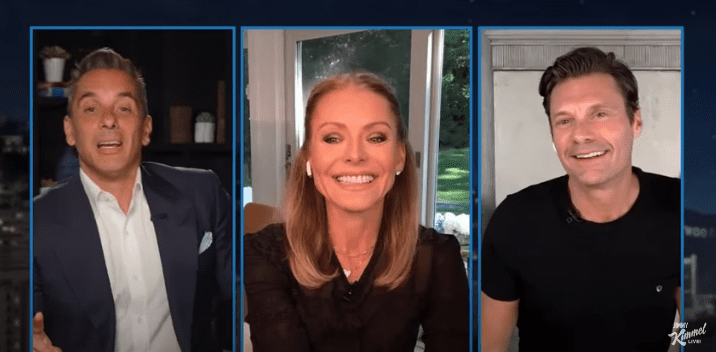 Kelly Ripa and Ryan Seacrest talk about their experience amid the pandemic on "Jimmy Kimmel Live" on July 16, 2020. | Source: YouTube/Jimmy Kimmel Live.
Seacrest and Ripa continued to host their show remotely from their respective homes since March, and keeping to self-isolation regulations changed how she eats, as Kelly joked:
"I eat solid food, I am not on an all-liquid diet. I'm on an all-carbohydrate diet. That's what's changed during the pandemic."
Working from home meant an absence of stylists and professional clothing, a situation Seacrest and Ripa have grown to appreciate.
But soon, they will return to working in the studio "in some way" again, as Ripa confirmed that it would be "early September."
While it would be great to get back to a sense of normalcy, Ripa did state that she had a very important condition that had to be met before she would return to the studio, and humorously added:
"I'm not coming back if I have to wear pants or bottoms of any kind. I like this from the waist up thing that we're doing."
Ripa also showcased a new blond hairstyle on the show - and the half-up, half-down look framed her face perfectly. Now that the show host and her family are back from the Caribbean, she clearly felt ready for a hair change.
The 49-year-old and her family spent a chunk of time in the Caribbean when travel restrictions set in while there on holiday, and they recently returned to New York, as glimpses of the Manhattan townhouse can be seen in the most recent episodes of "Live with Kelly and Ryan."
Kelly Ripa and her husband Mark Consuelos share three children, a daughter Lola, and then their two sons, Joaquin and Michael, who graduated college earlier this year.
Immensely proud of his achievement, Ripa took to social media to celebrate. Posting a slideshow of images, the mom of three made sure to add that she loves him with 'all [her] heart."
and the second shot was with her youngest son, Joaquin, who is already so grown.
Please fill in your e-mail so we can share with you our top stories!