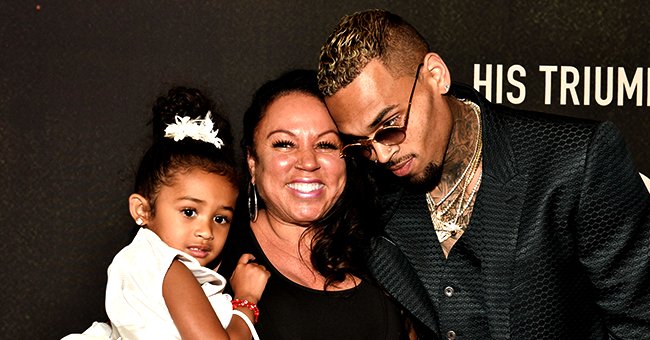 Getty Images
Chris Brown's Mom Joyce Hawkins Is a Proud Grandma to Royalty Who Often Asks Her to Help the Homeless

Chris Brown's mom, Joyce Hawkins, is proud of her granddaughter, Royalty, for having a big heart and seeking ways to help the homeless.
The hearts of most kids are pure. The enthralling innocence they possess is often admirable by those around them, and their perspective on specific life issues can be as simplistic as they feel.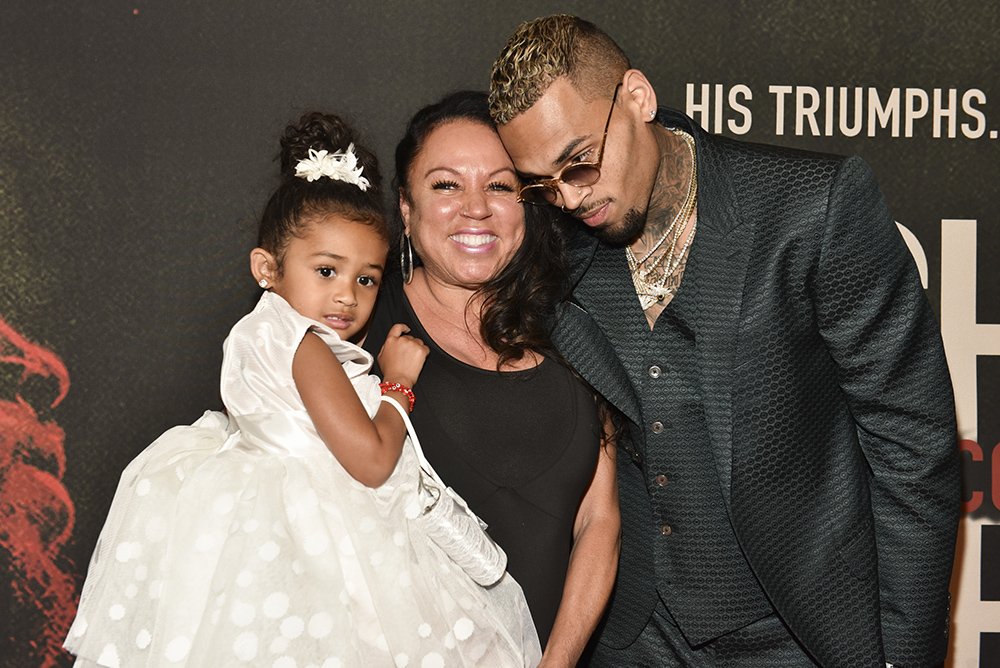 Chris Brown (R), mother Joyce Hawkins, and daughter Royalty Brown attend the premiere of "Chris Brown: Welcome to My Life" at Regal LA Live Stadium 14 on June 6, 2017 in Los Angeles, California. I Image: Getty Images
Chris Brown's mother, Joyce Hawkins, is one proud grandmother. The beauty of her granddaughter's heart is captivating, and she could not help but applaud her for her huge heart.
Hawkins took to Instagram to shower her granddaughter with love by sharing a cute picture of Royalty wearing a customized multicolor hoodie with her hair packed in two ponytails. She looked adorable with her massive smile that showed off her missing tooth.
Hawkins called Royalty her "angel" while indicating that she was proud of her, and the reason was that whenever Royalty saw someone who was homeless, she always asked them to help. She added that:
"It warms my heart to know that she too have this huge heart of gold! God bless her!!!???."
Following the post was an onslaught of comments from fans of Hawkins who admired Royalty. Most expressed that they were glad she has a beautiful heart while some talked about how cute she was.
Someone commented, saying: "She is so small and has a huge heart already I can't even imagine how she is going to change the world," while another alluded that Royalty was an angel in disguise.
Brown's life has been filled with lots of legal troubles.
One fan joked that Royalty was turning out to be a "baby philanthropist." Another person advised that Royalty be encouraged to do these things [take care of the poor and needy] as they were admirable qualities a person could have.
Some other fans simply commented with heart and love-struck emojis, while some reiterated that they were proud of her just like her grandmother was. Someone said:
"Wow, that means she is being raised the right way!! GOD BLESS! ??."
Royalty is the daughter of Brown and Nia Guzman. The pair welcomed her in 2014 when Brown was having an on and off relationship with Karrueche Tran.
Although things between Brown and Guzman were rocky at first, the pair made up and decided to be amazing co-parents to their daughter Royalty.
Aside from Royalty, Brown also welcomed another child, a son Aeko with Ammika Harris. The pair kept the birth of Aeko a secret at first, but since his birth, Brown never fails to share images of his adorable children.
While Brown's life has been filled with lots of legal troubles and weird encounters with fans, it is impressive to know that his daughter is growing up with such a beautiful mindset.
Please fill in your e-mail so we can share with you our top stories!