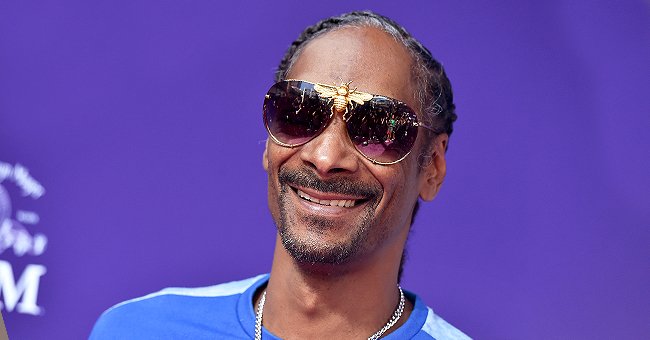 Getty Images
Snoop Dogg's Daughter Cori Broadus Shows off Her Natural Beauty & Casual Outfit in a New Photo

Snoop Dogg's youngest child and only daughter, Cori Broadus, served her online fans a breathtaking shot of herself. She showed off her natural beauty while rocking a casual outfit in her recent post.
Cori has lots of followers on Instagram, and just like many internet users, she gives her online audience a sneak peek of her lifestyle.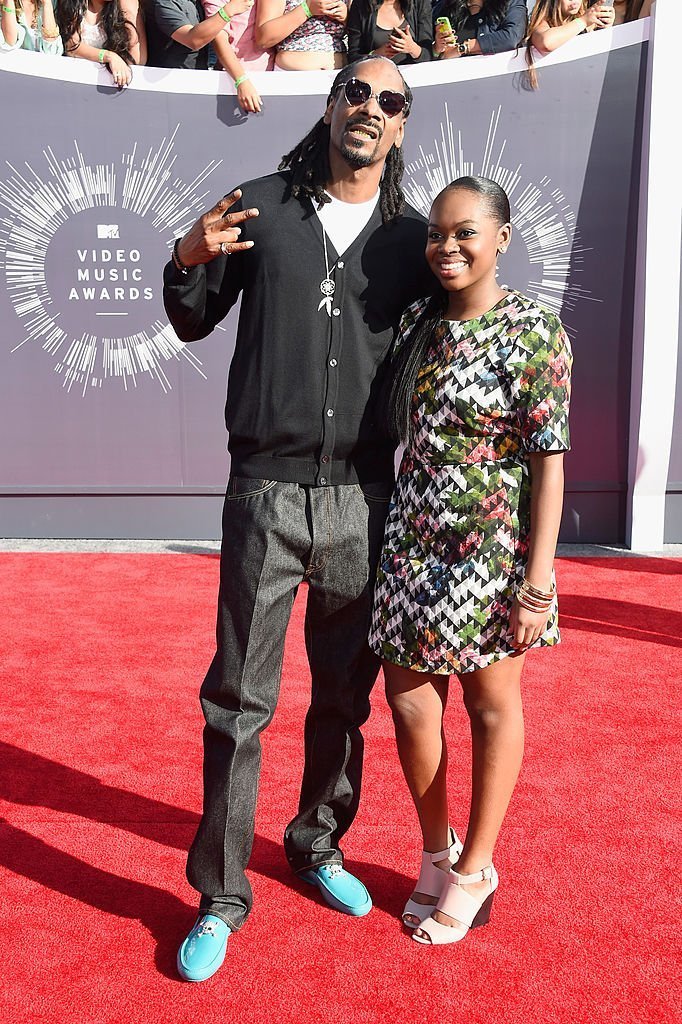 : Recording artist Snoop Dogg and Cori Broadus attend the 2014 MTV Video Music Awards at The Forum on August 24, 2014 in Inglewood, California. | Photo: Getty Images | Photo: Getty Images
She rocked knee-high shorts, with white sleeveless top and jacket. Her hair was patterned to the back, and she opted for a natural look. Cori's nails were adequately groomed and painted, and her slippers matched her dark-colored shorts. Under the post, she wrote:
"cozy in my @fashionnovacurve jacket. fashion nova partner."
The iconic rapper Snoop Dogg has successfully passed his music genes to his daughter. She seems to be interested in the entertainment industry. Last year, her father excitedly showed off her first stage performance online.
She sang in front of an audience in Los Angeles, but singing to an audience is not a first time thing as Cori has been sharing different posts of herself singing via her Instagram page.
The rapper's daughter showed the world that she had a fantastic voice after sharing an incredible post of herself singing "Sittin in My Room."
The young singer is also a confident woman who flaunts her strong personality. In 2018, she opted to cut her hair low, after which she shared snaps of the new appearance.
Cori went on to brag about the peculiar look and said that she would have been a perfect cast member for the marvel fiction, "Black Panther."
Cori was also instrumental in the togetherness of her parents.
The Broadus family are quite proud of their own, and when it comes to celebrating milestones, they go all out to share the news with the world.
Snoop Dogg and his wife, Shante Broadus, share three kids, two sons, Corde and Cordell, and their only daughter, Cori.
When Cori graduated from Ramon C. Cortines School of Visual and Performing Arts, Los Angeles, the father of three shared different snaps showing his daughter smiling and looking rather accomplished as a graduate.
He also shared a family image where her siblings, mother, and himself looked cheerful with wide-eyed grins as they showed support by attending Cori's graduation.
The youngest Broadus has continued to prove herself worthy of her family's love and fans' admirations by passionately following her music career. Over the years, she has released some rhythmic tunes that have resonated perfectly with her fans.
Cori was also instrumental in the togetherness of her parents. When she was younger, the singer suffered from lupus, and later recovered.
During her treatment, her parents were on the verge of divorcing but decided to stick by her bedside to show their love and ended up patching things up as a couple.
Please fill in your e-mail so we can share with you our top stories!