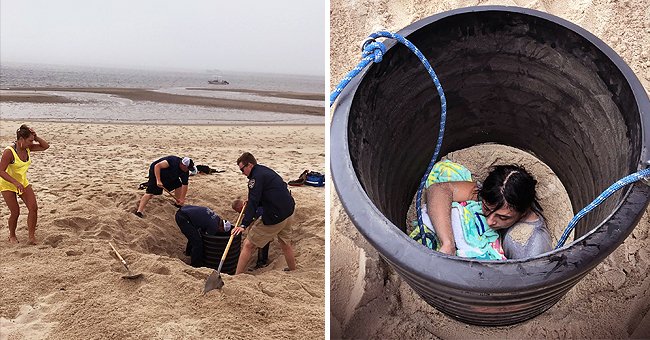 Twitter/Michael7News
15-Year-Old Girl Rescued after Sand Collapsed on Her – What Happened?
In a matter of seconds, the girl went from playing with the sand to be buried by it. The rescue team did their best to successfully get the girl out of the hole where she was for almost half an hour.
Last Sunday, WHDH 7News reporter, Michael Yoshida, posted a message on his Twitter about the news that a 15-year-old girl, Tessa Filmer-Gallagher was rescued after being trapped in the sand. She was digging a hole and it later collapsed on her at a beach in Massachusetts.
According to the reports, a team formed by harbormasters, the Coast Guard, paramedics, and the fire department was needed to help the girl out of the hole, which had her unable to move from the neck down for about 25 minutes.
15-year-old Tessa Filmer-Gallagher after being rescued from a collapsed sand hole at Nauset Island, Massachussets, in July, 2020. I Image: YouTube/ CBS Boston.
Yoshida's tweet read: "15-year-old girl rescued after sand collapsed in on her at Nauset Island off Chatham. The girl's mother says her daughter was digging in the sand Sunday afternoon when she was trapped. Thankfully the girl was rescued & is doing alright. The story tonight on #7News"
WHAT HAPPENED
Tessa's mother, Heidi Filmer-Gallagher said to the media that she knew her daughter was in trouble after receiving a call from Tessa's friends. When she and first responders got to the scene, the girl was trapped up to her neck.
As the harbormaster began digging in order to get Tessa out, it started collapsing even more around her head. To prevent this, the fire department team put a pipe over her body so that her head was protected and she would be able to breathe while the team worked to save her.
It took over 25 minutes to successfully remove the girl out of the hole that kept her unable to move. After getting out, Tessa went through a medical evaluation and since she was in good condition, she did not need to go to a hospital.
BAD EXPERIENCES
Heidi explained to the media that she wanted people to be aware of this kind of event so that this won't happen again. She also mentioned that her daughter lived a difficult and scary situation but she kept surprisingly calm as she was trying to breathe while the rescuers helped her.
Earlier this month it was also reported that another 15-year-old girl was rescued, but this time she was pulled out of the water. Lifeguards and coast guards managed to save the girl from terrible news. However, it is a call to be aware of possible accidents during this summer.
Please fill in your e-mail so we can share with you our top stories!