Antonio Brown Hints at Retirement Again — inside the NFL Player's Family and Custody Drama
Former NFL wide receiver Antonio Brown is an undoubtedly talented player, but his career has been fraught with many on and off-the-field controversies. 
Since Antonio Brown made his NFL debut in 2010, he has amassed more receptions than any other player in the league and was regarded as one of the best players of his generation. 
On February 27, 2017, Brown's status as the league's top wide receiver was cemented when he penned a five-year contract with the Steelers worth an estimated $68 million, making him the highest-paid wide receiver in the NFL.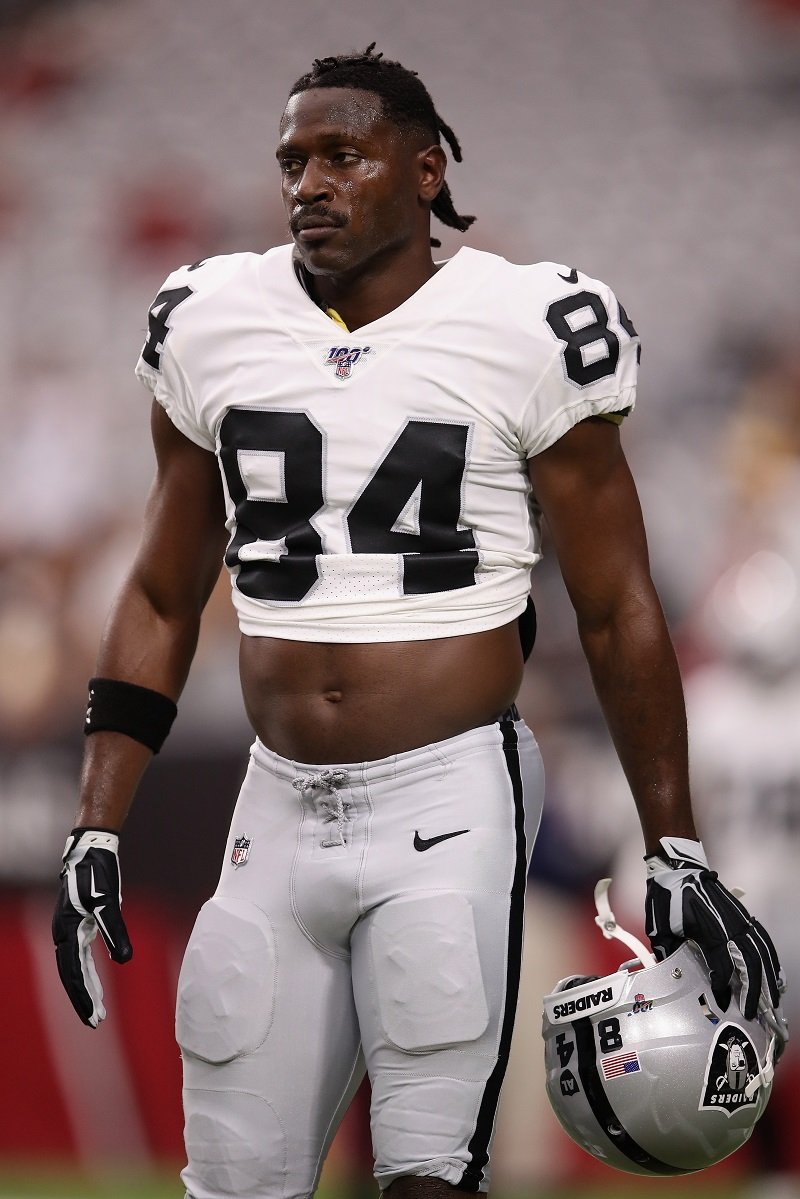 In one of the most shocking fall from grace in recent sports history, barely three years after signing a multi-million dollar contract, Brown is a free agent and on the verge of early retirement.
Antonio Brown's latest threat of early retirement was greeted with indifference by the NFL community, who have now lost patience with the controversial player.
With several off-the-field controversies and continuous legal struggles with baby mamas hanging over his neck, Brown has become too much of a liability for most NFL teams. Here is a look at his stormy personal life.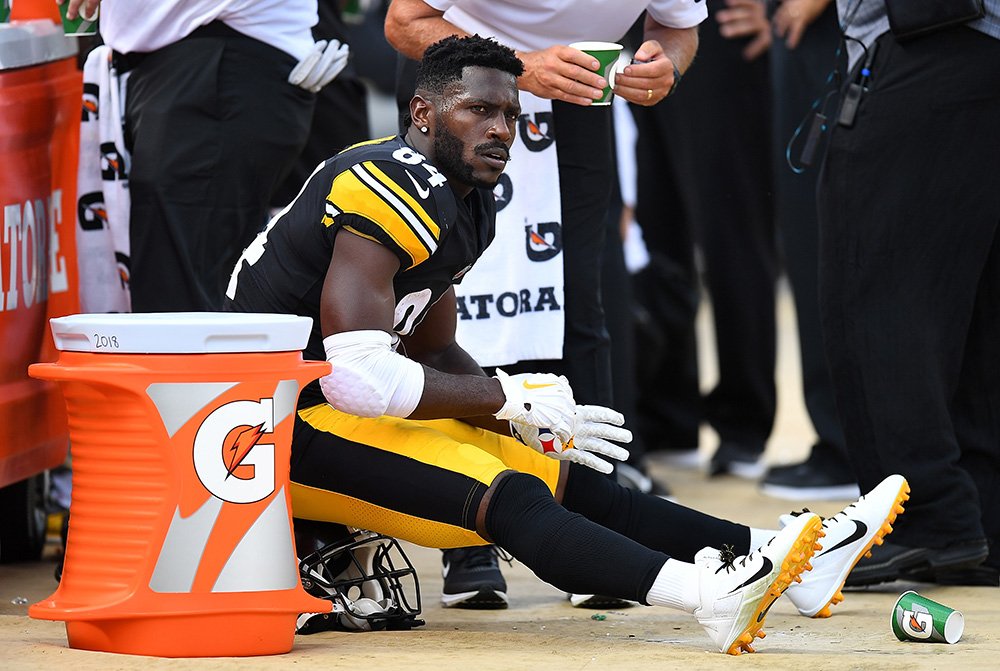 ANTONIO BROWN'S ROCKY RELATIONSHIP WITH CHELSIE KYRISS
Antonio Brown's girlfriend, Chelsie Kyriss, 30, is the daughter of Todd and Lynn Kyriss. Her father, Todd Kyriss, currently works as the Executive Vice-President of Elite Sportswear. 
Brown and Chelsie have been dating on and off for several years, and the pair shares three sons, Autonomy, 6, Ali, 4, and Apollo, 2. Apart from her three sons with the former NFL star, Chelsie has two children, Kellen and Brooklyn Green, from a previous relationship.
Chelsie had always been supportive of her partner in the struggle to save his career, but in 2017 the pair broke up while she was pregnant with their third child. While they were separated, Brown began a romantic relationship with the Instagram model Jena Frumes.
However, his relationship with Frumes was short-lived, and Brown was reunited with Chelsie before their son was born. Things appeared to be back to normal between the pair, but in June 2018, the 32-year-old NFL player shared a cryptic message that showed all was not well in paradise.
ANTONIO BROWN'S LEGAL BATTLES WITH CHELSIE KYRISS
Back in April 2018, Brown approached a court for an order to have Chelsie evicted from the home they shared with their three children and to stop her from entering any of his properties without proper authorization. 
Brown's court petition stated that their romantic relationship had ended and claimed that Chelsie was "causing chaos in the home." He also alleged that she was an unfit mother and sought sole custody of their children.
In December 2019, the out-of-favor wide receiver once again filed legal documents claiming that the mother of three of his children, Chelsie, was a guest in his house and had ignored the notice to vacate his Fort Lauderdale estate.
On January 15, Chelsie Kyriss filed a lawsuit seeking sole custody of their three children. Court documents showed that his ex-girlfriend claimed the former NFL star receiver continued to show an inability to make decisions, which are in his sons' best interest.
 ANTONIO BROWN RECONCILES WITH CHELSIE KYRISS
Barely a month after Chelsie Kyriss sued for sole custody of their children, Antonio Brown made a dramatic u-turn and took to his Instagram page to share a family photo with Chelsie and their three sons. The embattled player accompanied the post with a lengthy apology for his "public outbreaks" and his family's emotional hurt.
The couple surprised everyone a month later when they got engaged. Brown proposed to Chelsie at his home in Florida. He announced the engagement by sharing a clip of him hugging his bride-to-be, while writing, "I just proposed @chelsie."
Despite the ongoing investigations into sexual assault allegations made against Brown by his former trainer Britney Taylor, Antonio Brown's wife-to-be Chelsie Kyriss has remained loyal and supportive of her man.
ANTONIO BROWN'S KIDS
Apart from Antonio Brown's sons with his fiancee Chelsie Kyriss, he also has an older daughter, Antaniyah, with Wiltrice Jackson and an older son, Antonio Brown Jr., with Shameika Brailsford.
Antonio Brown has not had the best of relationships with his baby mamas. In February 2019, Brown sued for custody of his daughter, after allegations of domestic abuse were brought against him by Wiltrice Jackson.
Back in 2012, the pro footballer was involved in a custody battle with his ex-girlfriend Shameika Brailsford over their then 4-year-old son, Antonio Brown Jr. 
Despite his stormy relationship with his children's mothers, Brown is a proud father and has a loving relationship with his children. The father of five always tries to make out time for his kids, and he regularly dotes on them on his social media. 
Despite being a professional NFL player, Brown claims he would not encourage his kids to tow that line due to some health risks.
Back in November 2019, Brown got roasted by fans after he took to his Twitter to boast about his parenting skills. Fans shut him down by pointing out the flaws in what he had bragged about in his tweet.
WHAT IS ANTONIO BROWN DOING TODAY?
The last two years have seen a rapid decline in Antonio Brown's stock as a player. After being sidelined by a foot injury from the wrong choice of footwear during a cryotherapy session, Brown was released by the Oakland Raiders without making an appearance for the team.
On September 7, 2019, the same day the Raiders released Brown, he signed a lucrative one-year deal with the New England Patriots.
However, Antonio Brown's Patriots career ended that same month, after the team decided to cut ties with the controversial player.
Through the difficult times, Brown has been reunited with his father, legendary Arena Football League player Eddie Brown. Despite Antonio Brown not knowing who his dad was initially, the pair has developed an excellent relationship, and he will now be counting on his dad's guidance to get through his career slump. 
Brown has remained without a team ever since, and on Monday, July 20, the talented wide receiver hinted at an early retirement through a series of tweets. In one of the tweets, he wrote:
"At this point the risk is greater than the reward thank you everyone who been part of this journey I sincerely thank you for everything! life goes on 84! [sic]"
Antonio Brown's latest threat of early retirement was greeted with indifference by the NFL community, who have now lost patience with the controversial player. It would be sad to see such a talent go to waste, but at this point, everything is all up in the air.