Trace Adkins' Four Wives and 5 Children
Trace Adkins is one of the most famous faces in the country music scene. Amid his fame and prolific career, he fathered five beautiful children from three past marriages.
With over 20 singles on the country charts and multiple number-one hits, Adkins has cemented his place among the greatest country music artists. Yet another thing that he is known for were his turbulent relationships with women, as reported by Wide and Open Country.
Adkins had been in unstable marriages. After three marriages and legal battles with former wives, the "Ladies Love Country Boys" singer is now living happily with his fourth wife, Victoria Pratt. 
Adkins married Pratt in October 2019, in a ceremony presided over by his fellow country music singer Blake Shelton. The couple exchanged their wedding vows in New Orleans.
Pratt, 49, is an actress who appeared on the TV show "Castle," as reported by Today. He was formerly married to filmmaker T.J. Scott from 2000 until 2016.
Adkins and Pratt met and worked together in the 2013 film "The Virginian." Their romance was on display during the premiere of Adkins' 2019 movie, "Bennett's War," last year, as reported by Taste of Country.
Fans shared well-wishes to the newly-married couple. Shelton's girlfriend, singer Gwen Stefani, also congratulated them, as reported by Today.
Adkins was previously married to Rhonda Forlaw for 17 years. They divorced in 2014. The former couple share three daughters - Brianna, Trinity, and Mackenzie. He also has two daughters from his 1982 marriage to Barbara Lewis named Tarah and Sarah.
Of his unsuccessful relationships with women, his marriage to ex-wife Julie Curtis was the most controversial.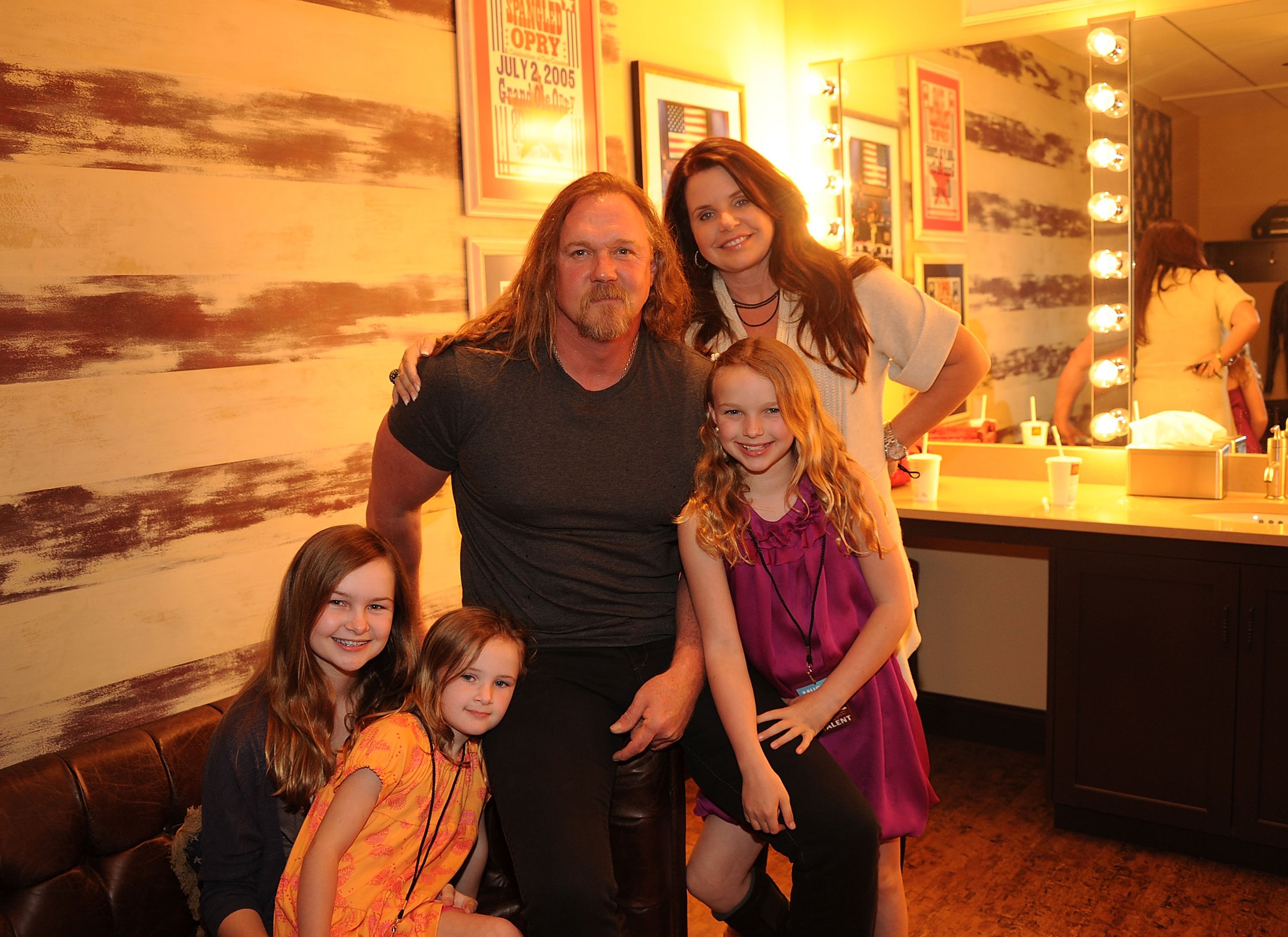 A former publicity manager, Forlaw, was the one who helped Adkins land a deal with Capitol Nashville. Their friendship and professional relationship later turned into a romantic affair, as reported by People.
Adkins proposed to Forlaw during his Grand Ole Opry debut. Their lavish 1997 wedding in Nashville featured an antique carriage and exquisite food for 540 guests.
With drinking history in the past, Adkins promised Forlaw to quit beer, and he was able to hold on to his word.
Of his unsuccessful relationships with women, his marriage to ex-wife Julie Curtis was the most controversial. Their three-year-marriage had a tragic end, as reported by People.
Curtis pointed a .38 gun at Adkins during a heated argument over his drinking. Curtis, who married him in 1991, allegedly shot him. He did not press charges against his ex-wife and it was declared a "shooting accident." He said: 
"[The bullet] went through both my lungs and both ventricles of my heart."
Meanwhile, Shelton, who is one of Adkins's closest friend in the music industry, postponed his "Friends and Heroes 2020" tour dates. The tour schedules were halted due to COVID-19 concerns.
The "The Voice" coach has "growing concerns" about the deadly virus. His tour started in February in Portland, Oregon together with Adkins, John Anderson, the Bellamy Brothers, and Lauren Alaina.