instagram.com/todayshow
Mountain Rescue Crew Brought down an Injured St Bernard from the Highest English Peak
A mountain rescue team in Wasdale Cumbria England rescued ST. Bernard from the highest English Mountain after it sustained injuries while hiking with its owners.
Most animals are known to rescue their owners and other people; however, there are times when animals also need to be rescued from dangerous situations.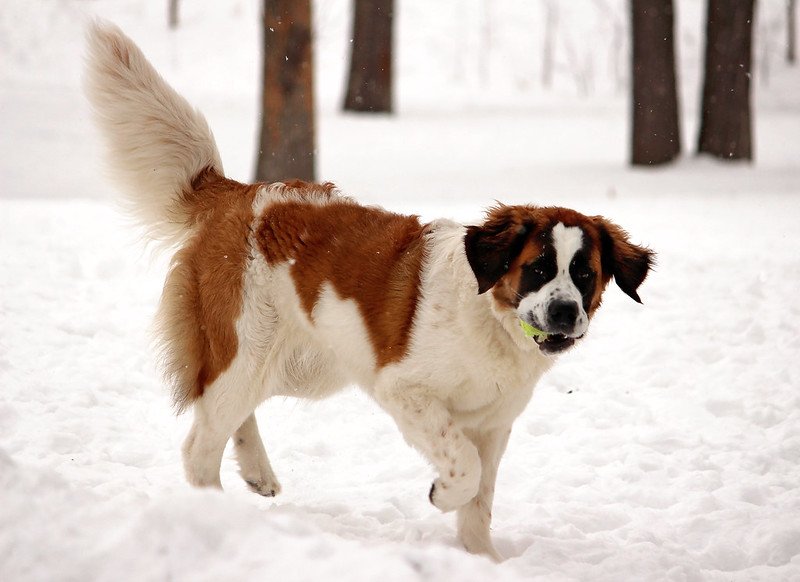 A St. Bernard dog in the snow. | Photo: Flickr
The Wasdale Mountain Rescue Team, a non-profit organization, located in Wasdale Cumbria, recently rescued a 55kg ST. Bernard named Daisy after she could not come down the highest English Mountain: Scafell Pike.
The team had been contacted at night by the Cumbria Police, who intimated them that a dog had collapsed while descending from the mountain.
As per the team's message posted on Facebook, they stated that their mission was to save lives, and the lives were not limited to that of only humans. It was also mentioned that:
"Displaying signs of pain in her rear legs and refusing to move, Daisy's owners were able to keep her well hydrated and fed until team members were able to get on scene."
Prior to getting to Daisy's location, the team sought advice from several local vets regarding pain reliefs, likely problems pertaining to the breed, and the best methods to go about handling such a stressful situation.
On reaching Daisy's location, the team carefully introduced themselves to her, and different tactics were used to pacify the dog in order to get her on the stretcher.
A young boy saved his sister from being attacked by a dog.
With only a few adjustments made, the team was able to carry Daisy down the hill effectively. The evacuation was not different from that of a normal adult-sized human being. According to the post:
"The adorable Daisy, who unfortunately had a hard start in life until she was "rescued" by her current owners a few months ago, has since been reported to have had a good night's sleep."
There were lots of praises for the rescue team, with most people acknowledging that it was a brave and praiseworthy thing they did rescuing people and paying adequate attention to animals also.
In an interesting turn of events where a rescue team saved a dog, a young boy saved his sister from being attacked by a dog.
A six-year-old boy named Bridger Walker saved his young sister from a dog attack by fighting off the dog, after which he had to get almost 90 stitches to his face.
His little act of bravery has earned him lots of praise from Hollywood stars, and even those who play superheroes in movies have reached out with gifts and praises for little Bridger Walker.
Please fill in your e-mail so we can share with you our top stories!