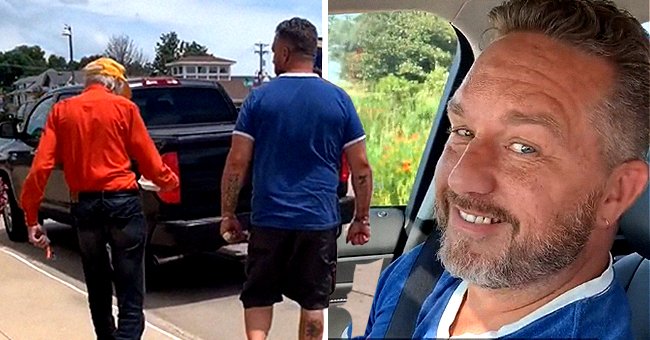 TikTok/hoodsforgood
Check Out This Viral Video of a Couple Spending 27 Hours to Help an Elderly Man Reunite with His Son
An Illinois couple went viral on TikTok for helping a 79-year-old man achieve his dream of seeing his son, who lived miles away from him.
An Illinois man and his fiancée proved that kindness still exists after they became an internet sensation for reuniting an older man with his grownup son that he hadn't seen in 18 years.
NBC15 reported that the couple — Tracy Eckhardt and Elton Hood — went on an impromptu road trip after they met Dennis Milentz at a gas station.
The pair set out for another trip — that lasted for 27 hours — just to make sure that Dennis made it back to his house in one piece.
Just before the trio's meeting, 79-year-old Dennis was struggling with his GPS during a trip from his native Heber-Overgaard, Arizona, to Fremont, Wisconsin, where his son, Steven, lived.
His inability to use the GPS caused Dennis to get lost several times until he met the couple, and Elton penned directions down for him on a piece of paper. Barely 15 minutes after the elderly adult left the gas station, Tracy got a call that prompted her to ask her man if he was ready to drive to Wisconsin.
People added that even though it took the couple some time to locate the 79-year-old after the call, the trio eventually found one another and they drove to Madison with Dennis following behind.
Tracy and Elton managed to form a bond with Dennis with the former documenting their journey for TikTok. Tracy and her man's kind gesture continued even after they found out that Milentz couldn't travel to Arizona with him.
The pair set out for another trip — that lasted for 27 hours — just to make sure that Dennis made it back to his house in one piece. Speaking on the events that unfolded and their decision to help the man, Tracy said:
"We had started it with him and didn't see it through to the end. And neither of us were raised that way. And that's not how we raise our children."
The sweet story comes nearly a year after People revealed that Airbnb promised to send a man and his grandma to Hawaii after the pair went viral for their plan to pay a visit to all the national parks in the United States.
Since they began their mission, Joy Ryan and her grandson, Brad, have been to 29 out of the 61 National Parks and have covered "25,000 miles on the road." In response to their achievement, Airbnb tweeted, "500 likes, and we'll send grandma to Hawaii."
The home-sharing platform's followers outdid themselves and gave the tweet over 1,000 likes. Airbnb subsequently announced that they couldn't wait to receive Joy and Brad in Hawaii.
Please fill in your e-mail so we can share with you our top stories!