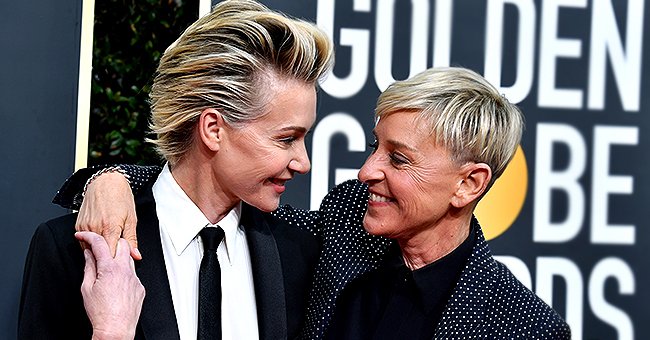 Getty Images
Ellen DeGeneres' Wife Portia De Rossi Breaks Silence Amid Workplace Allegations – See Her Message to Fans

Portia de Rossi showed public support for her wife, Ellen DeGeneres, amid internal investigations that followed anonymous complaints that branded her show as a "toxic" environment to work in.
When former employees of "The Ellen DeGeneres Show" anonymously complained that the workplace was a "toxic" environment, it set a range of actions in motion. Most recently, that includes Portia de Rossi taking a public stand next to her wife.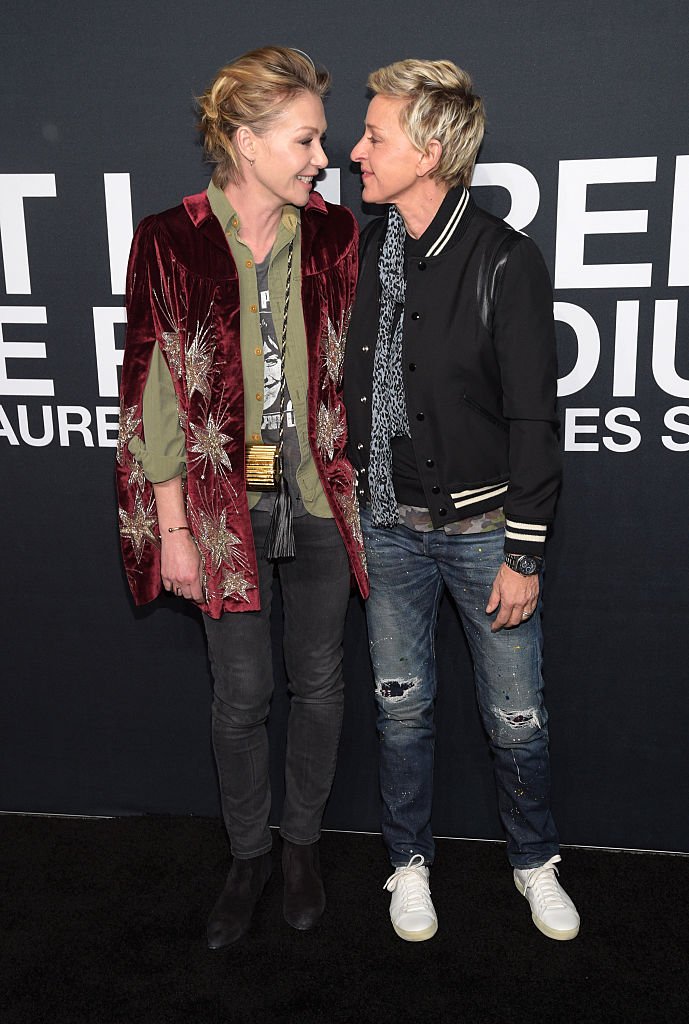 Portia De Rossi and Ellen DeGeneres attend the Saint Laurent show on February 10, 2016 in Los Angeles, California. | Source: Getty Images.
Bold in blue, Portia de Rossi made her statement on social media with big letters scrawled across the image that spelled out, "I stand by Ellen." In the caption, the actress sent a shout out to all her wife's fans that showed their support and wrote:
"To all our fans....we see you. Thank you for your support."
Portia also added several hashtags to the post, that included, #stopbotattacks, #IStandWithEllenDeGeneres, and #bekindtooneanother."
The 62-year-old talk show host issued an apology to her staff members last week, and openly addressed her desire to resolve issues and her commitment to "ensuring this does not happen again."
An internal investigation into the allegations soon followed, and DeGeneres expressed her dismay at not having been able to "stay on top of everything" as the show grew. Determined to "correct the issues," DeGeneres added:
"[I] relied on others to do their jobs. Clearly some didn't. That will now change and I'm committed to ensuring this does not happen again."
As the talk show host takes responsibility for everything that happens on her show, she assured everyone that she would do her "part" to make things right. Seeing it as an opportunity to "learn and grow," DeGeneres said that it reminded her to be mindful of the effect our "words and actions" have on others.
To both DeGeneres and Warner Bros., it is important that their employees feel the freedom to speak up when they think a situation needs to be addressed. To that end, both parties are dedicated to doing what it takes to address the issues.
Warner Bros. already "identified several staffing changes," discussed the best ways to address the raised issues, and began with their first implementation steps - which may or may not include the reported departure of a senior member of the team.
According to Variety, Ed Glavin, an executive producer, is set to leave the show. When allegations became public, Glavin, along with the other executive producers Connelly and Lassner, reportedly said in a statement that they took full responsibility for the day-to-day operations of "The Ellen DeGeneres Show."
Ellen DeGeneres reportedly didn't form a part of the investigation, as allegations fell under the umbrella of those who handled the show's daily operations.
The allegations from former employees more specifically pointed out inappropriate workplace behavior, termination without real cause, and microaggression.
Please fill in your e-mail so we can share with you our top stories!