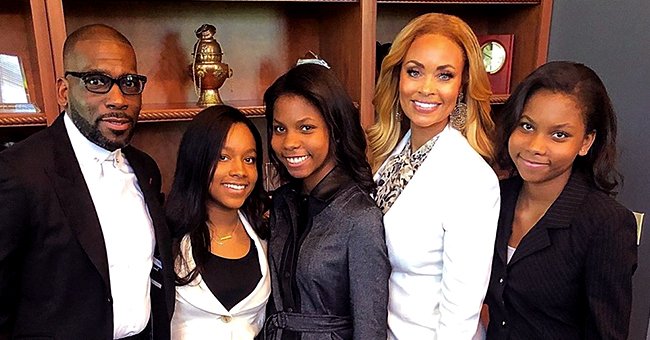 Instagram/gizellebryant
RHOP Star Gizelle Bryant's Daughters Do Not Want Her to Get Back Together with Their Dad Jamal – Here's Why
Gizelle Bryant's daughters with her ex-husband, Jamal Bryant showed disapproval about their parents getting back together in a recent episode of "The Real Housewives of Potomac."
It is often believed that children whose parents are divorced often advocate for their parents to get back together. For Jamal and Gizelle Bryant's daughters, that's not the case.
Gizelle and Jamal H. Bryant at the 36th Annual Atlanta UNCF Mayor's Masked Ball in December 2019. | Photo: Getty Images
During a recent episode of "Real Housewives of Potomac," Gizelle spoke to her three daughters, Adore, Angel, and Grace about the possibility of reconciling with their father. But the girls were not receptive to the idea.
While one of them noted that whenever Jamal was around, it never felt like they were a complete family, another agreed by saying it always felt fake.
The first one continued by saying that it felt like Jamal only called them to prove to Gizelle that he was doing his part as a parent, and the second daughter added,
"He calls us and then two seconds later he calls you. Just to tell you that he called us."
After hearing this, Gizelle immediately tried to convince the girls that Jamal did not call them to impress her, but only because he was really interested in talking to them.
Gizelle mentioned that she wanted the girls to trust her, but one of them quickly responded that they only want the best for her because of everything Jamal did in the past.
Earlier this year, rumors came out that Jamal fathered a child with a member of his congregation.
Gizelle and Jamal tied the knot in 2002 and welcomed their first child, Grace, two years into their wedding. In 2006, the couple welcomed twin daughters, Adore and Angel, and with their recent graduation from middle school, the girls are definitely growing up fast.
During Gizelle's marriage to Jamal, they enjoyed quite an enviable lifestyle living together in a $1.5 million waterfront condo in the Canton neighborhood. However, the couple began to experience marital problems after news of Jamal's adultery began circulating in the church where he pastored.
Before his marriage to Gizelle, Jamal was already a father to daughter Topaz whom he welcomed with a woman named Crystal Madison.
In 2007, Jamal acknowledged that he had a second daughter after the girl's mother, Michelle Wedderburn, filed a child support lawsuit against him.
With all of the rumors and controversies surrounding their marriage, Gizelle and Jamal filed for divorce. Although Gizelle's initial petition was withdrawn, she reportedly confirmed that their divorce process was finalized in 2009.
Following their divorce, the couple remained close friends and are currently in a long-distance romantic relationship, with Jamal in Atlanta and Gizelle in Maryland.
Earlier this year, rumors came out that Jamal fathered a child with a member of his congregation but Gizelle rose to her boyfriend's defense and denied the allegations.
Although it remains unclear whether Gizelle and Jamal will remarry, the duo seems to be in a good place and appear to be happy about their rekindled love.
Please fill in your e-mail so we can share with you our top stories!