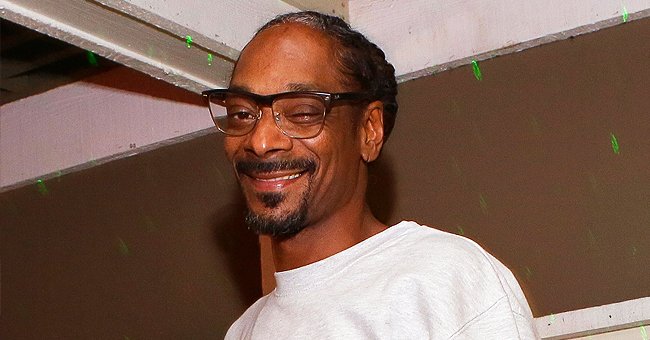 Getty Images
Snoop Dogg's Daughter Cori Broadus Poses for a Fierce Picture Wearing a White Denim Jacket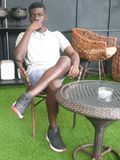 Legendary rapper Snoop Dogg's daughter, Cori Broadus looks beautiful in a recent Instagram post following the announcement of her EP, "21."
Cori Broadus is a stunner and she knows how to show off her beauty. The 21-year-old beauty recently took to Instagram with a stunning photo of herself. Captioning her post, Broadus wrote,
"Take care of your mind, body, and soul? @fashionnovacurve jacket fashionnovapartner."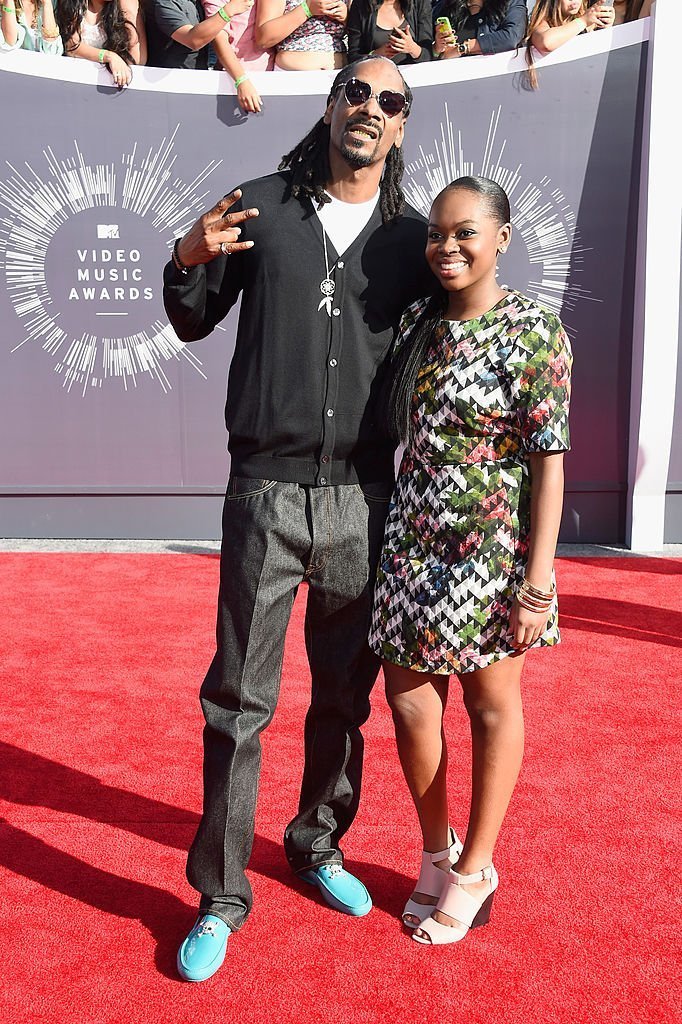 Snoop Dogg and Cori Broadus attend the 2014 MTV Video Music Awards on August 24, 2014. | Photo: Getty Images
The inspiring caption accompanied the picture of Cori dressed in a casual outfit of gray sweatpants and a white jacket layered over a plain black top.
The rapper's daughter was sporting a bare face without a speck of makeup, showing off her natural beauty and her flawless skin.
The picture captivated her followers who flocked to the comments section fawning over the 21-year-old and gushing over how beautiful she looked.
The snapshot of Broadus lounging in her casual wear came only a few days after the young beauty released the official album poster for her soon-to-be-released extended play, "21."
She also shared a one-minute teaser trailer of the music video for "21" which heartwarmingly featured her boyfriend, Wayne. Captioning the teaser, Broadus announced, "August 31st? #twentyone @geekgod."
That life-changing moment brought Snoop and Shante closer than ever as they prayed and hoped that their daughter would escape the disease unscathed.
As expected, Broadus' fans and followers were beyond excited with the announcement of the coming release of her EP. Many supporters dropped encouraging words for her in their comments cheering her on.
The release of "21" would not be the first attempt Broadus has made at music. Over the years, it has become evident that Snoop's daughter inherited his knack and passion for making music.
The 21-year-old who goes by the stage name Choc released her first single, "Sittin in My Room" at the age of 17 and released a video for the song as well. The song was an ode to R & B singer, Brandy's 1995 hit song, "Sittin' Up In My Room." Among those cheering her on was her proud dad, Snoop.
A few years later, the aspiring artist hit a milestone in her career when she got to perform for a Los Angeles crowd in 2019.
No one was more supportive than Snoop as the veteran West Coast rapper rushed to his Instagram with a clip of his baby girl's performance showing his love and support.
.
The proud dad has always been by his daughter's side cheering her on. When she graduated from high school in 2017, he was jubilant among the audience and shared pictures and videos of himself goofily dancing and celebrating her success.
Broadus will always have a special place in her father's heart. The rapper even revealed that she was the reason that he and her mother, his wife of many years, Shante, decided to stay together.
Back then, the young Broadus was battling lupus, a serious autoimmune disease. That life-changing moment brought Snoop and Shante closer than ever as they prayed and hoped that their daughter would escape the disease unscathed.
Now with those darker times behind her, Broadus has grown into a beautiful, strong woman capable of making bold and inspiring decisions like chopping off all her hair to teach others that personal growth is real and that they should not be afraid to try new things. Go Cori!
Please fill in your e-mail so we can share with you our top stories!