Check Out the Gorgeous Maternity Shoot Pictures of 'Botched' Star Dr Paul Nassif and Expectant Wife Brittany
"Botched" star Dr. Paul Nassif's wife, Brittany, looks absolutely divine in newly released maternity photoshoot pictures taken on a scenic beach.
E! Network's "Botched" star Paul Nassif is one lucky man to have a stunning wife. The plastic surgeon recently shared some stunning maternity pictures of himself with his gorgeous wife, Brittany, who is 7 months pregnant. He tweeted:
"7 months pregnant, and she's never looked more beautiful... #MaternityShoot ❤️@oxanaalexphotography."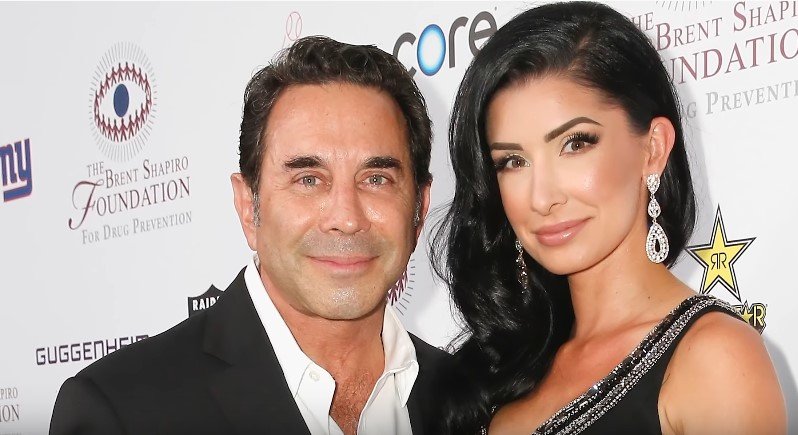 The three pictures Nassif shared were beyond stunning. The first of the three featured Brittany looking radiant in red as she struck a pose with her hubby. 
The beauty wore a floor-length figure-hugging cranberry-colored dress with off-the-shoulder sleeves, a becoming sweetheart neckline, and a majestic train.
Brittany's beauty was played up all the way with subtle makeup while her dark raven hair was swept to the side to let the wind play with the long locks.
The second picture was absolutely mind-blowing. Brittany wore her gorgeous red dress, but this time a long red cape attached to the dress was swept up by the wind billowing aesthetically behind her as she cupped her baby bump with affection.
In the third picture, Nassif was wearing a casual outfit of a pink polo shirt and dark denim pants while he hugged Brittany from behind and placed a tender kiss on her cheek. 
The expecting mom was now wearing a floor-length pink gown, giving the official nod that the coming Nassif baby is a girl.
7 months pregnant and she's never looked more beautiful... #MaternityShoot ❤️@oxanaalexphotography pic.twitter.com/mj9dz0Xmd0

— Dr. Paul S. Nassif (@DrPaulNassif) August 4, 2020
The beautiful couple exclusively shared more snaps from the beach photoshoot with E! News. There were more photos of Brittany modeling her gorgeous pink dress as well as her captivating red number. 
The graceful 29-year-old also showed off her dazzling pregnancy curves in a white swimsuit with a one-shoulder neckline, accessorizing with a large straw hat on her dark locks. 
Brittany did not leave the social media celebrations to her hubby. The dark-haired beauty took to Instagram to pen a lengthy, heartfelt message about her pregnancy journey and how amazing and life-changing it was. 
She wrote that she thought it crazy how bodies could do such amazing things and handle so much with the hormonal changes, physical changes, and mood changes.
Her most exciting moments were when they got to see those little feet kicking and when they saw the tiny little face and toes on the ultrasounds. 
Hitting the third trimester made her feel more protective and ready, careless of other people's opinions. At the end of the day, the only thing that mattered was what she had next to her — her family.
Nassif and his darling wife tied the knot in September 2019 in a small private affair held in Los Angeles. Days later, they had a picturesque destination wedding on the breathtaking Greek island of Santorini.
The couple was reportedly first spotted together in July 2017, and they have been going strong ever since. Baby girl Nassif joins the family as the fourth child and the first girl. The little cherub would be coming into a home filled with love and happiness.